Matar ka Nimona is a unique curry from the state of Uttar Pradesh. I remember my mother making this during winter when the fresh green peas are in abundance. Peas is my favourite vegetable but over time I stopped making peas as a curry, and mostly use as filler vegetable in pulavs and mixed vegetables etc.
This year, I was reminded of this traditional curry and I made matar ka nimona again. It has become a favourite all over again.
Nutritional benefits of green peas
Peas are full of nutrition and are fairly low in calories.
Half cup of peas can give you about 4 grams of protein and are also rich in antioxidants.
Green peas is rich in fibre and aids in digestion.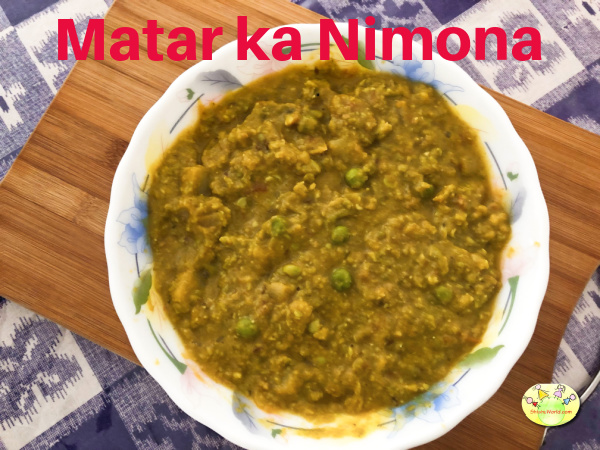 Ingredients
2 cups fresh green peas shelled
1 medium potato cut into small pieces
1 onion chopped fine
2-3 tomatoes chopped fine
Green chillies as per taste
1 tsp cumin seeds
1/2 tsp ginger paste
1/2 tsp garlic paste
1 tbsp mustard oil
Whole garam masala ( 2 cloves, 2 cardamom, 1 bayleaf, 1 piece cinnamon)
1 tsp haldi powder
1 tbsp coriander powder
Fresh coriander
Salt to taste
Recipe
Make a paste of the shelled green peas coarsely. You can save a few whole peas.
Make a paste of onion, ginger, garlic, green chillies, coriander leaves.
Heat mustard oil in a kadhai. You may also use ghee, but traditionally mustard oil is used.
Fry the potato pieces till they get browned.
Add cumin seeds and allow to sputter. Now add the whole spices and cook. for a minute.
Add chillies and onion masala paste and cook till masala is browned.
Add chopped tomatoes.
Add haldi and coriander powder and cook the masala till oil separates.
Once the masala is cooked, add the peas paste and whole peas and cook.
Add 1 cup of water and mix.
Add salt. Cover and cook on low heat.
After 5 minutes, add fried potatoes and mix well. Cook for another 5 minutes.
Add garam masala and mix well.
Garnish with coriander leaves.
Serve Matar ka Nimona hot with chapatis or rice.
Tips for Matar ka nimona
Matar ka nimona is best made with fresh peas during winter season. It will not taste the same with frozen peas.
Do not make a smooth paste of peas while grinding. A little texture is needed in the gravy.
Matar ka nimona tastes well with chapati, paratha and even puri. You can also serve it with jeera rice.