Today I am writing about something which is a little hat ke from what we usually see here but relevant nonetheless. As most of you know that I live in Bangalore and have been living here from almost a decade now. It is our home now and we bought an apartment a few years back. It was our first own house and as expected we were quite sentimental about it. I still remember the visits to Majestic/ Chickpet market to handpick the electric fittings and accessories. We put in so much effort and money into making it perfect, it truly was and is a labour of love.
So after it was ready with interiors done, we chose an auspicious day to have the Griha Pravesh or house warming ceremony and then moved in. The house is even more special, as it is also my daughter's first home. She was born a year after we moved in that house.
Now you must realize how emotionally attached I am to this house and how special it is for us. Unfortunately, within a couple of years of construction we started facing many problems. There was seepage in the bathroom and bedrooms. The builder was contacted and he did something, but it never really recovered fully and there would be seepage every year around Monsoon time. The gaps started to show between the tiles. Basically, the house started looking old within 3-4 years.
Cut to now, I recently received an invite to attend an event by Dr. Fixit/ Pidilite that featured waterproofing. Needless to say, I was interested. The event took place as a part The Economic Times  AceTech in Bangalore International Exhibition Centre.

Roff / Pidilite had an awesome stall there and it was an overall very informative experience. They had some amazing models to explain their products and the representative were so responsive that even a complete layman like me could understand what they were trying to tell. 
Roff from Pidilite provides tile and stone fixing solutions for homes. The two things which really impressed me are their waterproofing solutions and grouting solutions.
Grouting Solutions
I know many of you might not be aware of the term grouts. I also came to know of it while getting our home built. You know that flooring is done using tiles in most homes and there is this tiny gap between tiles which needs to be filled and sealed.
Roff provides Tile Epoxy Grouts and as they said, the right grouting methods make the surface of tiles look like a flawless piece of canvas while a bad one can make the most beautiful of tiles look shabby and worn out.
Epoxy grouts are superior to cement grouts.
Roff provides 3 epoxy grouts:
Roff Rainbow Tile Mate (RTM)
Roff Rainbow Tile Mate (RTM) Epoxy
Roff Rainbow Tile Mate (RTM) Wide Additive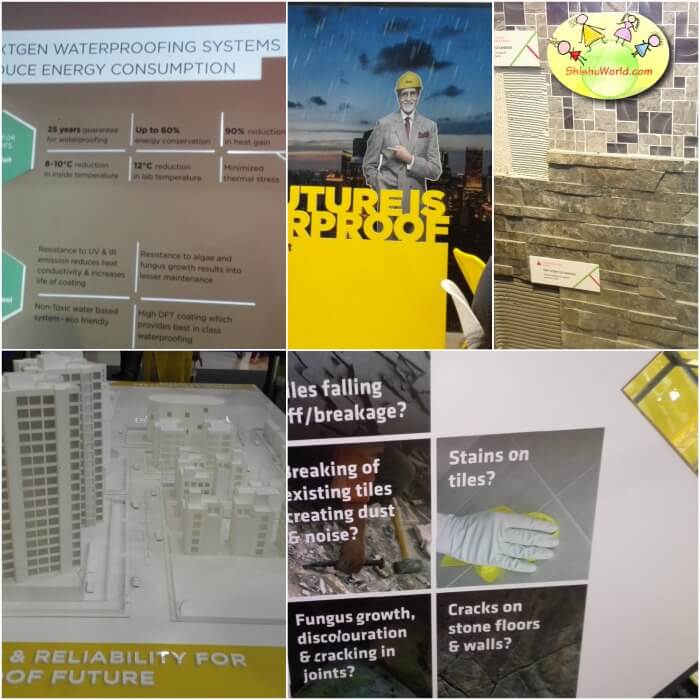 Waterproofing Solutions
Rains can cause havoc in house where waterproofing has not been done. Water can weaken the structure and cause damage both internally and externally. Waterproofing is a method that forms a protective layer on a building or structure and prevents water from seeping through. What I was amazed to learn is that waterproofing is actually not a big expense at all and yet a lot of builders ignore it. I wish our builder had done or at least we knew about this before so we could have asked the right questions.
Benefits of waterproofing:
• Cost saving
A good waterproofing solution will last a long time and there will not be a need to fix seepages constantly.
• Increases the life of the building
When used during construction, waterproofing solutions can make the structures last longer because they won't come in contact with water.
• Gives you peace of mind
Waterproofing the entire structure all at once provides one with peace of mind. It ensures that the structure is completely protected from the elements and leads to a longer lifespan of the building.
Roff provides a number of repair and waterproofing solutions that treat leakages, pooling and cracks on walls, effectively.
I am so glad that I have this information now and I am definitely pass all this to my brother who is soon going to build a house for himself. I also hope that this information will arm you with the right kind of know-how to question your builder and know what is needed.
If you want to explore this further, please visit the official site of Roff India, where you can learn all about their product range which by the way is much bigger than what I have mentioned here. You can also speak to their experts on the toll free number provided on the site. I will also mention it below.
Website: http://roff.in/
Toll Free No-1800 2255 02
So, have you had an harrowing experience like I had? Do share with us, so we can empathize with each other and learn from each other's mistakes to make better decisions later.