I received a nice hamper from Himalaya with their new range of products for moms. If you follow my blog, you must know that I love their products for babies and children. I have also used a few of their products for grown ups like their body lotion and have liked it, so when I heard of them launching a range of products especially for mums, I was naturally excited to try them.
So, the hamper contained:
Soothing body butter
Toning massage oil
Anti rash cream
Nipple care butter
Today I am going to review the body butter, as I have been using it for past few days and can give you my opinion of it.
Soothing Body Butter from Himalaya for MOMS  review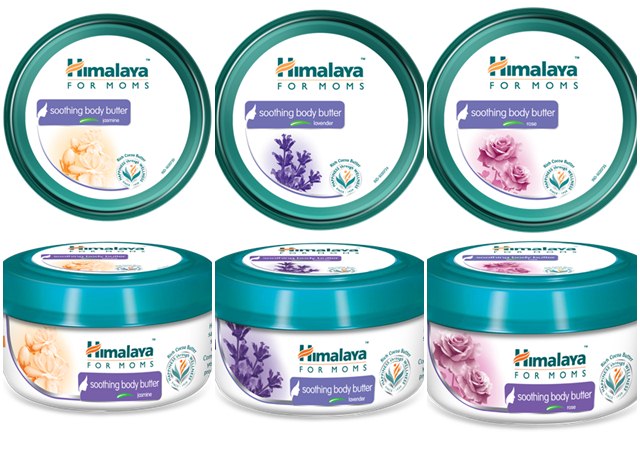 Packaging
I really like the packaging of this body butter due to :
It comes in jar form, which makes it easier to take in hands and apply.
The jar is sealed/ covered with an easy to handle cover and not foil like a lot of other similar products.
Ingredients of Himalaya FOR MOMS, Soothing Body Butter
Cocoa butter
A natural antioxidant, cocoa butter soothes, hydrates and balances the skin.
Glycerine
A favorite ingredient when you want to relieve dryness, glycerine locks in the moisture and keeps your skin hydrated for longer.
How I like the Himalaya FOR MOMS, Soothing Body Butter
The body butter is thick and moisturizing. Since during pregnancy and afterwards, a woman's body goes through a lot of expanding and shrinking, it can get dry and itchy. It needs extra care and this body butter with vitamin E, cocoa butter and glycerine can relieve itchiness and soothe dry skin. There are 3 pleasing fragrances which can help in relieving stress too.
How to use Himalaya FOR MOMS Soothing Body Butter
I have been using the body butter every day for almost a week and find it quite effective as a night cream too because I get up with my skin feeling soft and supple.
You may also use it post your bath and as a hand cream after every hand wash. It will also be great for foot massage after a pedicure at home because of its glycerine content.
Pack size and variations
Himalaya FOR MOMS Soothing Body Butter comes in three fragrances:
Calming fragrance of Lavender
Rejuvenating fragrance of Jasmine
Uplifting fragrance of Rose
Available in 50ml, 100ml and 200ml packs.
Price
Price of this body butter is reasonable as most of their products.
50 ml pack is available for INR 120
100 ml pack is available for INR 200
200 ml pack is available for INR 320
You may order this from below link:
Have you used this body butter yet? I feel it is quite good for this price. What has been your experience?