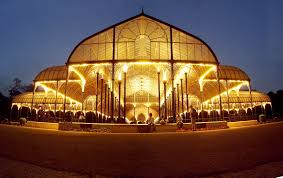 "What do you do on weekends?"
"There is nothing to do, yaar! We visit malls and children play in the play area there"
This is a conversation, almost all of us must have had with our friends. It is true that in new areas, you will find no parks and at least 4-5 malls within 5 kms radius. I live in Bengaluru, but this is true for most of the metros across India.
In this situation, most of us end up visiting shopping malls, eating in food courts or restaurants there or catching a movie weekend after weekend.
I recently read an article about "Things to do in Mumbai" and that inspired me to do this post regarding Bangalore. There is so much to do in our lovely city. It only takes a little planning to make the weekend memorable for your children and also give them a more wholesome way of deviation and rejuvenation after the school week.
I have personally visited all these places with my daughter barring one or two, so I can give first-hand experience of most of these and few that I have not visited, I have got great feedback from others.
1) Lalbagh Botanical Gardens
The first place that comes to my mind is "Lalbagh Botanical Gardens". Spread over 240 acres, it is a must visit. My daughter just loves the expansive parks, huge trees some of which are hundreds of years old. You will find hundreds of people walking, running, families having a picnic. The lotus pond, lake with its ducks and fishes are a special attraction. You may also plan your trip around the events like flower shows, fruit  melas etc.
2) Visit Cubbon Park

Cubbon park is another huge garden and landmark of Bengaluru.
Address:
Kasturba Road, Sampangi Rama Nagar, Bengaluru, Karnataka 560001
3)
 

Bal Bhawan

For children though, a visit to Bal bhawan is a must, which is located within the premises of Cubbon Park. It has a toy train, loads of swings and water bodies, horse rides, a doll museum and even planned activities.
There is also an aquarium within the premises.
4)
Visvesvaraya Industrial and Technological Museum

Yet to visit this, but it is supposed to be a family-friendly technology & science museum with exhibits on engines, space, biotechnology & more. Waiting for my daughter to grow up, so we can visit this place.
Address: Beside Karnataka State Government Museum, Kasturba Rd, Sampangi Rama Nagar, Bengaluru, Karnataka 560001
Phone: 080 2286 6200
5) Visit Lumbini Gardens
Another garden with a beautiful lake, boating activities, food court and rides.
Website: http://www.lumbinigardens.com/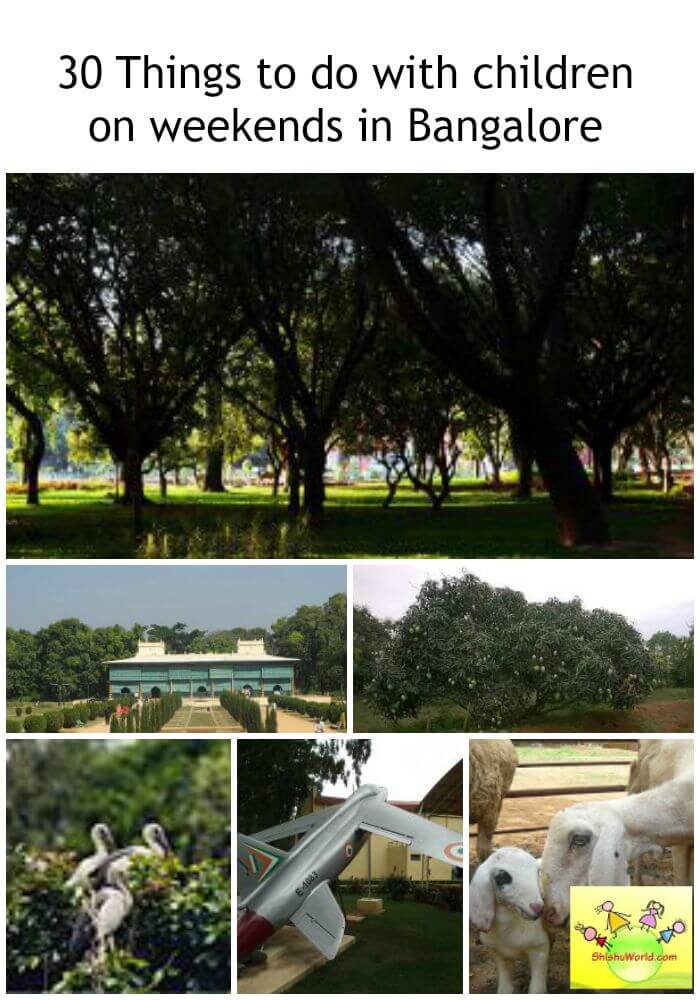 6) Visit Fun World
Fun World is a amusement  park located near Palace grounds. We have visited it a couple of times and daughter enjoyed the rides very much. You may also visit Water world which is water park within Fun World.
Website: http://www.funworldblr.com/
Visit Ulsoor lake/ Madiwala lake and do boating
7) Ulsoor Lake:
Location:     Near M.G. Road
Main Attractions:     Boating and sightseeing
8) Madiwala Lake:
Location: Underpass at Madiwala at the junction of Hosur Road and Inner Ring Road, Bangalore.   
Main Attractions:     Boating and sightseeing
9) Innovative film city
Visit Innovative film city on the outskirts of city. It has loads of things for children of every age as well as adults from wax museum to dino parks to rides. We even spotted emus there once.
Website: Innovative Film City
10) Bangalore Palace
Visit Bangalore Palace and take its guided tour with older kids to help them learn about the history of the city.
Address: Near Mount Carmel Institute of Management, Palace Rd, Vasanth Nagar, Bengaluru, Karnataka 560052
Phone: 080 2336 0818
11) Visit Bannerghatta National park
We love the Park safari and the zoo and have visited it many times. Visit the Butterfly Park and your children will never forget the life-cycle of a butterfly ever.
Website: http://bannerghattabiologicalpark.org/
12) Take a metro ride on weekend
There is no rush over weekend and children get a kick out of travelling in the metro.
13) MG Road Boulevard
Visit MG Road Boulevard for a nice playarea and activities like story-telling and theatre for children. Do not forget to have some piping hot delicasies at Dasaprakasa there.
Address: MG Road Boulevard, beside MG Road Metro Station, near Anil Kumble Circle, MG Road, Shivaji Nagar, Bengaluru, Karnataka 560001
Phone: 080 2296 9265
14) Jawahar Lal Nehru Planetarium
Yet to visit this, but have heard rave reviews about it.
Address:
Sri T. Choudaiah Road, High Grounds, Opp. Indira Gandhi Musical Fountain, Bengaluru, Karnataka 560001
15) Indira Gandhi
 

Musical Fountain

Visit Indira Gandhi  Musical Fountain for 30 minutes long beautiful musical show to the tune of patriotic songs with fountains water play.

Address: Opp to Jawahar Lal Nehru Planetarium, Raj Bhawan Road, Bengaluru, Karnataka 560001

Phone: 080 2286 4125

 
16) HAL Aerospace Museum
 Awesome  place for children to visit to see aircrafts and helicopters firsthand as well as learn about Indian aviation history.
Address

:
Varthur Rd, Marathahalli, Bengaluru, Karnataka 560037
Hours:9:00 am to 5:00 pm
17) The Martin Farm
Visit Martin's Farm with your children for a picnic with farm animals. Kids will love spending a couple of hours meeting and interacting with animals, while you take the opportunity to escape from the humdrum of the city and reconnect with nature.
Address: 33, Sarjapur Road, Carmelaram Post, Chikkabellandur, Bengaluru, Karnataka 560035
Phone:098457 79666
18) Hamsha organic farm
Visit Hamsha organic farm for mango picking and an experience of the farm life.
Facebook: Hamsah Organic Farm
Address: Kodathi, Bengaluru, Karnataka 560099
Phone:097390 97356
19) RangaShankara
Keep a lookout for theaters for kids in Shankar Nag's RangaShankara. They organize theatre festivals for kids where plays in various Indian languages as well as International production are staged.
Facebook: RangaShankara
20) Go for a nature walk within your apartment or outside
One weekend, do not go anywhere. Just explore the vicinity of your apartment or house. I was so surprised to see almond trees growing on roadsides. Try to locate butterflies, birds and various trees and plants with kids. No lesson in science can teach them better.
21) Picnic with friends
Plan with a few other friends who have kids of similar age and plan a picnic to any park or lake mentioned above.
22) Have a baking/ cooking day
Involve your children in some cooking one weekend. It could be something simple as popcorns or maybe muffins or a cake.
23)Have a crafts day
Keep one weekend for crafting activity with kids. Use all the pamphlets your get with newspaper to make boats, aeroplanes and fans. Find some great craft activity ideas on kidsactivitiesblog and schedule some for your crafts day.
24) Festival Pandals
When in season, visit festival pandals like Ganesha and Durga Puja
25) Library/  Bookstore
Visit a library or a bookstore close to your place
26) Visit friends, relatives at their homes
Keep one weekend for socializing by inviting friends and relatives over or visiting their homes.
27) Go for a drive to Kolar
If you live in east Bangalore,drive out to kolar. The road to Kolar has rose and marigold fields on both sides and is very scenic.
28) Visit a haat, open market like HAL market, Whitefield market or madiwala market
29)  Visit a temple/ church/ gurudwara/ dargah near your place. A nice change for them.
30) Visit Nandi hills
Drive out of the city with your family to Nandi Hills. The sunrise is supposed to be beautiful, but even a visit to the place in evening is good fun for children.
31) Srirangapatna
Visit nearby historical places –We love visiting Srirangapatna and Tipu Sultan's Summer palace. These are outside Bangalore but you can drive out and have a fun day trip with your family and come back the same evening
32) Visit Ranganthittu Bird Sanctuary
Close to Srirangapatna, is the beautiful Ranganthittu bird sanctuary also known as Pakshi Kashi of Karnatak. You can see hundreds of storks and other birds near the water body.
 Pics source: Wikipedia
Further Read:
If your like this article, do share it with your friends and family. Do leave a comment to ask a question or let us know your feedback.  You can follow us on Facebook, twitter and pinterest.