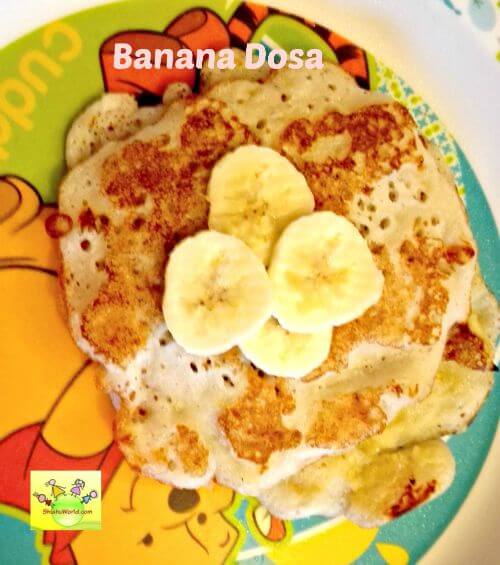 Dosa is a favorite breakfast/ snack in my house. We all love it including my 4 years old daughter. It so happened that we visited the M.G.Road boulevard last weekend and no visit there is complete without a visit to Dasaprakash upstairs. Their dosas and idlis are the best I have eaten anywhere.
So, while we were devouring our dosa and uttapams, the owner paid us a visit and offered some samples of dosas. One of them was a Banana dosa with a sweet chutney.
My daughter loved them and it means I was soon asked to recreate them at home for her evening snack. Now, I usually try and keep the snack in evening simple and quick to make so as not to waste too much time.  Thankfully, I had dosa batter at home and this took just a few minutes and I had the joy of seeing my little one enjoying her snack before heading to the play area. I am not a fan of added sugar, so I do not put any kind of sugar and jaggery in this, but I serve it with honey in place of the chutney that we were served.  But if you like, you may add a little  sugar or jaggery (gur) to taste.
I have now given made it a couple of times and even given it to in her snack-box. And this has become her favorite after Star Paranthas
So, it is hit  in my home. Hope your children will like it too.

Ingredients
1 cup ready dosa batter
1 large / 2 small bananas
Ghee to fry
Recipe
Mash or grate bananas in a bowl.
Add the dosa batter on to the mashed bananas.
Mix the batter well.
Heat the dosa/ non-stick pan to medium heat.
Brush ghee on the pan.
Now, put a ladle full of banana dosa batter on pan.
Spread it to desired thickness.
Once you see some holes forming, put some ghee on the sides.
Flip and cook on the other side too.
Take off and make more dosas similarly.
Serve with honey on side. Heaven!! 🙂
If you like this recipe, please do not forget to share it! It keeps us motivated. You can follow us on Youtube, Facebook, twitter and pinterest.
More dosa/ pancake/ chilla recipes: