Snacks are important for growing children and nutritionists and paediatricians recommend at least 2 snacks between meals for growing bodies. Snacks not only keep children full till the next meal, but they are essential for optimal growth.
Usual snacks like milk, fruits or biscuits can get repetitive and kids may get bored with them after a while. At the same time, as a parent, you do not want to be spending a lot of time preparing the snack too. We get loads of queries to share easy snack ideas for kids, so we will be sharing some easy kids-friendly snack recipes over the next few weeks. 🙂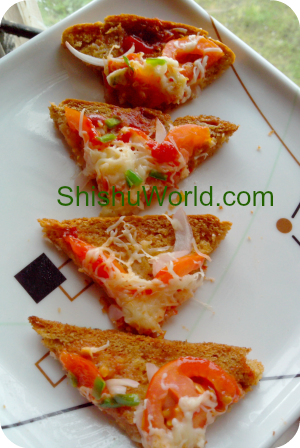 So, here we have a quick-fix pizza made from brown bread and whatever you have in your fridge. This is also prefect for those days when you child want only pizza and you have neither the resources not inclination to make it from scratch. This can also form a wholesome meal on a finicky or a busy day.
All that you need is bread( we prefer wholewheat bread, but you may use whichever kind you and your child likes). For toppings, you may use whatever you find in your fridge. Onions, coloured bell peppers, tomatoes, corn, mushrooms, broccolis, cooked meat, salami, anything that you have at hand can be used.
We have also made this video to help you understand the process better. Do not forget to subscribe to our channel to get new baby and kid-friendly recipes each week.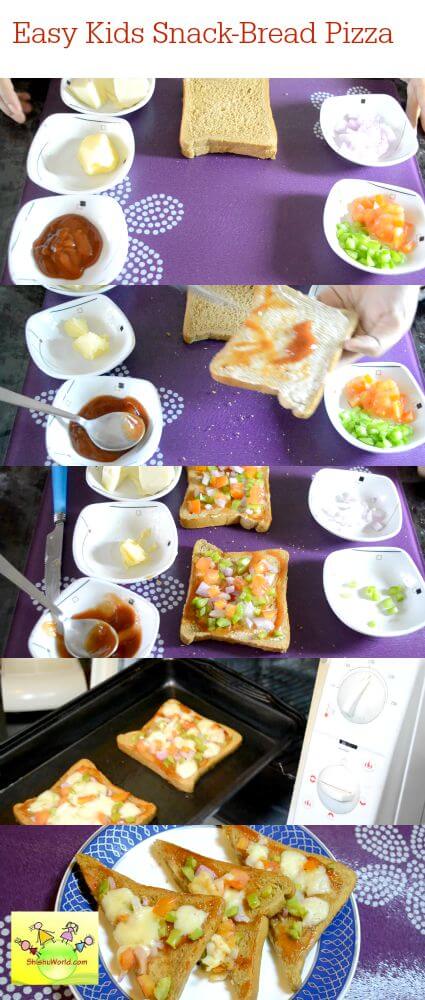 Ingredients
Wholewheat/ Brown/ White bread – 2 slices
Butter as required (room temperature)
Tomato ketchup as required
Toppings – Sliced/ chopped onions, capsicum, tomatoes, mushrooms etc.
Mozzarella / processed cheese as required
Salt and pepper
Oil to grease
Recipe
Preheat oven to 180 degrees C.
Spread butter on one side of the bread slice.
Now spread the tomato ketchup.
Top it with your child's favorite veggies. (You may also add cooked chicken pieces or egg).
Sprinkle a little salt and pepper to taste.
Grate cheese over the toppings generously.
Grease a baking tray using a little oil.
Place the prepared slices on the baking tray and bake them in the oven for 10-12 minutes till the bread becomes crisp and the cheese melts.
Cut into your child's favourite shape and serve topped with a little ketchup.
P.S. You may also add oregano or mixed herbs if your child likes.
Tips:
1) This recipe is perfect as finger food for toddlers and young kids too.
2) Mozzarella cheese is best for pizza because it gives that nice stringiness typical to pizza but you may use any other cheese too. 
3) When you buy mozzarella cheese, it is usually in a big block and must be kept frozen for longevity. Cut the large block into quarters and store them in separate air-tight and freezer-proof boxes. Now freeze them. Take out only one box at a time use as required. This will ensure you are not thawing the whole block for use and will keep the cheese fresh for long.
Recommended: