Daliya Khichdi for Babies, Toddlers and Kids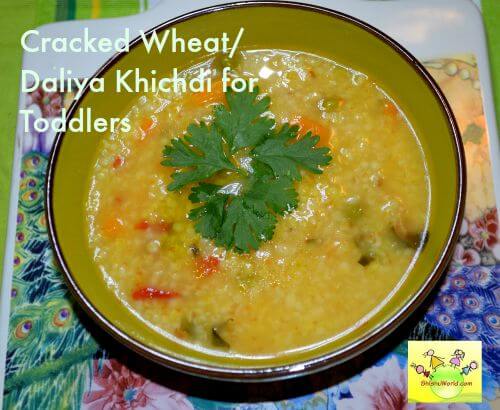 Cracked wheat or Dalia khichdi is one of my favorite comfort meals. Usually khichdi is made with a lentil or dal and rice along with any vegetables that you like. It is a wholesome one-pot meal which provides all the nutrients. This makes khichdi a popular meal for children. Using daliya or cracked or broken wheat makes it even more nutritious and rich in fiber.
You may also make it with dal, rice and moong dal as we featured in 3 Daliya recipes for kids, but here we are using equal quantities of moong dal(green gram lentils) and cracked wheat(daliya). Moong dal is very easy to digest and is recommended not just for babies and kids but elderlies and also when you are recovering from an illness. Daliya too is easy to digest and since it is wholewheat cut or broken into smaller pieces it contains the wheat bran as well as germ making it way more nutritious than flour.   Daliya comes in thick and thin varieties. Thin daliya is often used to make porridges, sheera, upmas or kheer, which makes them quick to cook. For khichdi we will use the thick variety or you can use a mixture of thick and thin daliya.   It is also a complete meal with mixed vegetables which can be a challenge to feed children but khichdis make them so easy. Serve this khichdi with a dollop of homemade ghee on top and enjoy this hearty meal with a side of curd. You may also replace wheat dalia with corn dalia. That will taste amazing too.   Here is the video recipe of cracked wheat khichdi. Subscribe here to get new video recipes every week!    
Ingredients
½ cup moong dal
½ cup dalia(broken  wheat)
½ tsp cumin seeds(jeera)
¼ tsp asafoetida (hing)
1 medium onion chopped (optional)
1 medium tomato chopped
1 cup chopped mixed vegetables (potato, carrots, peas, corn, cauliflower etc.)
1 tsp ghee/ oil
Turmeric ½ tsp
Salt to taste
Water as required
Recipe
Wash moong dal and daliya till clear and soak them in water for half an hour.
In a pressure cooker, heat ghee or oil.
Add asafoetida and cumin seeds .
When cumin starts spluttering, add chopped onion and saute till transparent.
Now add all the vegetables and sauté for about a minute.
Now remove the water from dal, rice and dalia and add to pressure cooker.
Roast the daliya and dal with vegetables for a few minutes. Add a little water if needed.
Add salt and turmeric.
Add tomatoes and mix with everything.
Sauté till everything gets mixed well.
Add 1-2 cups water and mix well. When it starts bubbling, close the pressure cooker and cook for 4-5 whistles.
Open the cooker only after the pressure gets released on its own.
This khichdi should be cooked well and remain a little watery. If upon opening  cooker, you see all the water has been absorbed then add some water and cook for a minute or so to get the right consistency, especially if you are going eat after some time as khichdi tends to get thicker when rested.
 Serve topped with ghee and with a side or yogurt/curd or raita.      
Tips:
This recipe has been prepared with toddlers in mind but if you want to make this for older kids or adults, you may add garlic  and green chillies or chilli powder as per your taste. You may garnish with some coriander leaves. Adults may also like pickles and papad with this khichdi.  
Recommended Read:
10 Ragi recipes for kids 20+ recipes for 6-9 months old babies Recipes for 9-12 months old babies Finger food for toddlers 18 Healthy meals for picky kids