Himalaya baby diaper rash cream review
Why babies get diaper rash?
How to apply diaper rash cream?
What does Himalaya Baby diaper rash cream contain?
Every child and every mother has gone through the traumatic diaper rash phase at least once during the first year. It is common knowledge that babies who wear disposable diapers all the time have higher chances of getting diaper rash than babies with cloth diaper. 
My daughter too got diaper rash, when I had to change her diaper brand as her regular brand was unavailable. It felt terrible to see her suffer. I tried the common practices like air time and coconut oil etc., but the rash was stubborn. We went to the doctor and she gave us an ointment. Unfortunately, the ointment did not help my daughter much. I also found it very rough on her skin.
At that time, I bought Himalaya baby diaper rash cream. I like Himalaya's products because they are natural and  herbal.  The cream was really soft on baby's skin  and it worked like magic. It remained a permanent part of my baby's diaper bag ever since. Today I will share my review and experience of Himalaya baby diaper rash cream.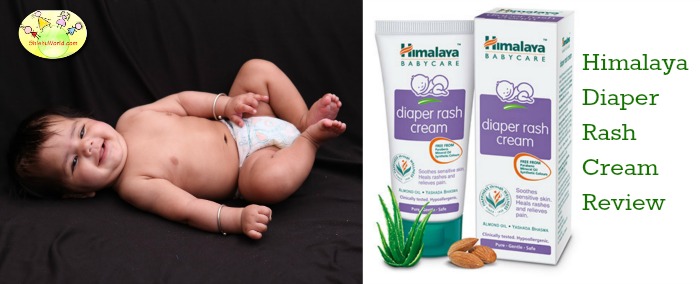 Why do babies get diaper rash?
Rashes commonly occur due to excess moisture. If the diaper is not changed for a long time or the material is not able to absorb the moisture in diaper region, it may cause rashes. There are other reasons also like fruits rich in vitamin C etc., which have been known to cause rashes.
How does Himalaya diaper rash creams work?
Himalaya diaper rash cream forms a protective layer on baby's sensitive skin that reduces rashes and eventually heals them. This cream is made with natural products like aloe vera and almond oil which not only treats the rashes but also soothes and nourishes the skin.
What does Himalaya Baby diaper rash cream contain?
Himalaya Baby diaper rash cream is an herbal product that contains natural ingredients:
Yashada Bhasma  or natural zinc  keeps baby's skin dry as well as helps in healing rashes . It is also known to have antiseptic and astringent properties.
Almond Oil is an excellent skin softener. It moisturizes baby's skin and keeps it soft and supple.
Aloe Vera is used in Ayurveda for treatment of wounds, burns, dermatitis and other skin ailments. It acts as an antibacterial agent and an astringent, which accelerate the healing of baby's skin. It also soothes and moisturizes baby's skin.
Nirgundi or Five-Leaved Chaste Tree contains anti-inflammatory, antibacterial and antifungal properties. It is useful in the treatment of sores and skin infections.
How to use Himalaya Baby diaper rash cream
Apply generously on clean skin after bath or every time you change diaper on diapers and complete diaper region.
I actually used to apply a little amount everyday after bath, even after her diaper rash had healed.
Pros of Himalaya Baby diaper rash cream
This cream is an herbal product with natural ingredients.
The cream in thick and stays on skin for long.
It has a very mild and pleasant smell which does not cause discomfort to baby.
The cream is affordable.
It is available in small packs which can be carried easily in baby's diaper bag or a first-aid box.
This cream is easily available in all medical stores, baby stores and even super markets. You may also order it online.
Price and Packaging
Himalaya Baby diaper rash cream is available in two pack sizes.
20 grams – INR 55
50 grams – INR 95
Verdict
Highly recommended
Have you use Himalaya Baby diaper rash cream for your baby? How was your experience with it? Do share it with us and our readers.
Recommended:
Common baby rashes during first year
Himalaya Prickly heat powder review