How to make almond milk powder?
Recipe for homemade kesar badam milk powder
Many of you know that I have been progressively moving away from packaged food. I make my own peanut butter and we made homemade cerelac/ cereals for a friend's baby.
My daughter is a relatively good eater, as in she eats most things and prefers healthy food, but for milk which has always been a challenge. I have tried some health drinks but most of them are full of sugar.
One friend suggested using badam powder as it is natural and tasty. I liked the idea but was disappointed to see that the two brands which I checked, had more than 80% sugar. Can you believe it? In "Almond milk powder' there are barely any almonds. Here are the snapshots of the ingredients from two renowned brands. I was completely dis-illusioned, once I saw them.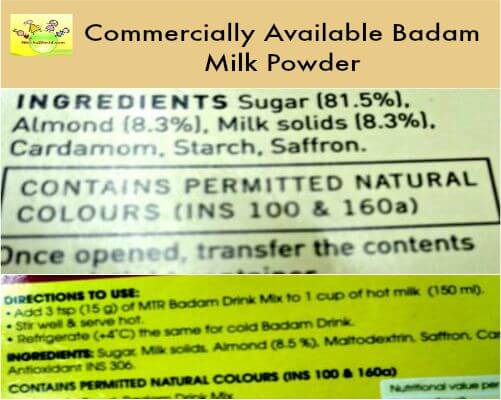 In our homes, we used to make badam milk by soaking almonds, peeling them and making a paste with saffron strands and other spices like cardamom. I am sure you all know how delicious it is, but it is not practically possible to do this everyday for kids and you cannot keep the paste for too long.
This led me to try this almond milk powder for my daughter and it turned out delicious. So, I am sharing the instant kesar badam milk powder.
One big problem that is faced by many when we make any nut powder is that it turns pasty. This usually is because of over grinding which releases the natural oils from the nuts turning it to paste. I will share with you a trick to avoid that.
It is best to make to these powders in small quantities so that they do not become stale. Once prepared, you must store them in dry, air-tight containers preferably in refrigerator.
Go to next page for detailed step by step  and video recipe to make almond milk powder.
Also read:
Homemade peanut butter for kids