A lot of people wonder if a teether is actually necessary, but teethers can be life-savers for parents of a teething baby. Even though baby's first tooth might appear no sooner than 7-8 months or even later, symptoms start as early as 3-4 months and teethers help in comforting baby during teething.
Baby need to chew on things, it could be a cloth, side of the cot or even unsuspecting grown-ups. Chewing soothes baby's sore gums and helps them get through the painful period of cutting first teeth.
Teething Toys
There are a variety of teething toys available in market, in different shapes and sizes. You may have to buy more than one because what works for one baby does not work for the other. Keep in mind a few basic things while buying a teether.
·

      

Buy a teether that is BPA free. Most reputed brands sell BPA free baby products. Read more on why it is important to buy BPA free baby products.
·

        

Choose a teether which is easy for baby to handle.
·

        

Your baby will be putting the teether into mouth quite often, so choose one which has different textures.
·

        

Choose a teether which is washable and easy to maintain.
·

        

Choose a teether which is strong so that it does not break open by constant chewing.
·

        

Choose teethers which serve the dual purpose of teether and a toy. There are plenty of different designs available – rattles, keys etc.
·

        

Check whether the teether is safe to put in refrigerator or not.
Despite everything, baby might like one teether one day and may not want to do anything with it the other. You can use some other soothers too.
·

        

A wet wash-cloth or teething blanket. Many parents swear by this method. It can be washed and replaced every day. Keep a clean, soft wash-cloth in freezer for 15-20 minutes and then give it to baby to chew on.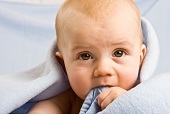 ·

        

A teething biscuit can also give relief to a teething baby. Stale bread or rusk is also good.
Recommended:
Teething in Babies- symptoms & Remedies
Home remedies to ease teething pain