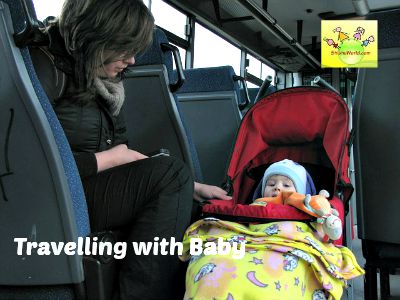 Your first holiday with your baby is bound to be an exciting one. But, with a baby in tow, there will also be fair amount of anxiety. You will do good to keep close to home during the initial few months. Baby will need constant care, feeding and changing and risk of contracting infections in young infants is also great. Even you will be exhausted and the rest will do you world of good.
Once the baby is a little older and you have got some of your energy back, you can plan for a holiday. You should forget about spur of the moment holidays, you used to take earlier. With a baby, planning well ahead is key. With a little planning, you can have that wonderful vacation which you have been waiting for. We took our trip with our daughter when she was just over 6 months and with care and planning it went super-smooth.
Read more on travelling with baby by air and by train and by road. Get a checklist of what all to keep in mind while packing for baby.
Here are some simple tips to keep in mind while planning a trip with your baby.

Relaxed Schedule
Ensure your schedule is not too tight.

Don't try to visit too many places in one go.

Move at a relaxed pace, always allotting extra time than you consider necessary.

It is best to stay in a single place and move around rather than try and visit 2-3 places in a short time

Timing of the trip
It is very important to keep in mind the timing and season of the trip.
Check for the timing of your arrival at the destination. Ensure the arrival time is not too late.
If you are going reach at night, see that your baby is comfortable around her bedtime.
Also find out the expected weather at the destination. Keep warm clothes for your baby at hand if weather is going to be cold at arrival. You do not want to have to search through your bags at the airport or station for warm clothes.
Take baby's clothes accordingly. If it is expected to be raining or cold, take some warm clothes.
Reservations
Forget the days when you could land impromptu at any location and then search for a hotel or take the first flight or train available. You MUST plan ahead now that you have a baby with you.
Book all your travel tickets and hotel reservations much in advance, so that you get your preferred seats, rooms etc.
Choose family friendly hotels and resorts.
Check if the hotel will provide baby-friendly fresh food like khichdi or daliya if required.
If possible, you may also book serviced apartment or a suite with an attached kitchenette, which makes it easy for you to boil water or cook something for your baby.
Appropriate Baby Gear
Carry important baby gear like a lightweight buggy or a baby carrier. Otherwise, you will remember the vacation for the aching muscles which you will get after carrying the baby everywhere.
Carry enough bottles, brushes and sippers. carry any favourite plates if required.
Find out whether the hotel provides strollers on rent etc., else take yours. It also act as a makeshift cot for your baby in case s/he feels unsettled in big bed.
Many hotels provide baby cots on request. Enquire about the same and book one for your room if the facility is there.
Medical Precautions
Get immunizations done atleast a couple of weeks before travelling. This will ensure there are no surprises while travelling. Consult baby's doctor and tell him where you are travelling and for how long.
Carry all medication prescribed as well as basic first-aid box for baby. You do not want to be stranded in a place with a sick where medicine is not available.
Also, carry the prescription, in case medicine gets broken or lost.
34 must-haves in a baby/toddler first-aid box 
Plan outing according to baby's schedule
Try to stick to baby's regular schedule whenever planning outings, that includes nap time, sleep times and feeding times.
Food and Water
Carry enough formula and baby food for baby.
If you are breastfeeding, it is best and you should continue it for the duration of trip too.
If you want to give convenient homemade food to baby, you may make simple instant cereals at home, which can be given to baby just by adding hot water.
If your baby has been exposed to variety of solids, carry some fruits for the duration of travel. Also carry travel-friendly food items like raisins, nuts, puffed rice, etc.
Entertainment for Baby
Take your baby's favourite stuffed toy and some simple and not too bulky toys to play with.
If your baby likes to be read to, carry a few colourful picture books as well.
No Major Changes
Try not make any big changes to baby's routine days before travelling. If you have been planning to get rid of that night feed or wean the baby from breast, wait until you are back from the holiday. New places, unfamiliar surroundings are not easy for baby to deal with. Do not add extra stress of losing the comfort of breastfeeding.
Confirm all Bookings
Couple of days before departure, confirm all bookings from flight to trains to hotel. Call to check departure times before you leave home. You do not want to be stranded in railway station for 5 hours, because train is late and you didn't know.