Tips for flying with baby
How to fly with an infant?
How to travel by plane with an infant?
Flying with baby for the first time can seem daunting, but with a little care, you can make the journey easier and enjoyable for both you and the baby.
Flying has the advantage of usually being the fastest way to reach your destination. Here is how you can make a flying trip with baby pleasant and stress-free.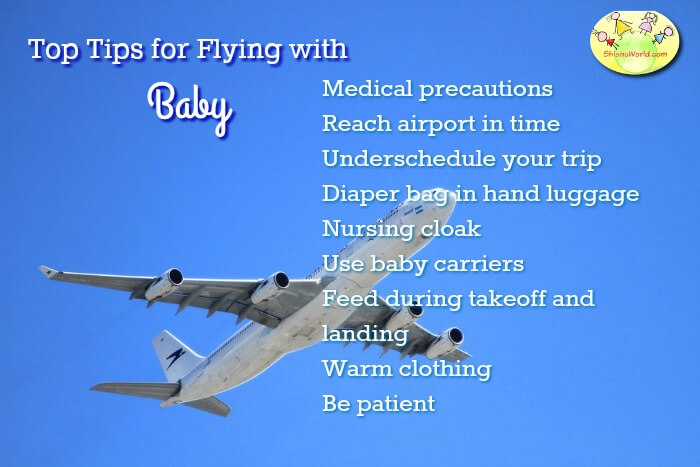 Read more on travelling with baby by road and by train and planning a trip with baby. Get a checklist of what all to keep in mind while packing for baby.
We first travelled by air with my daughter when she was 6 months old and it was a very pleasant trip. We were travelling to Kolkata for her annaprashan and I remember planning the trip meticulously to ensure nothing goes wrong.
Medical Precautions when flying with baby
Taking medical precaution is of utmost importance when you are planning to travel with your baby. We made sure she had her vaccination done and also asked the doctor to do a well-baby check up. We also discussed our plans with her doctor and asked for advice. I had the doctor's number saved in my mobile as well as in my diary to contact him in case of emergency.
I also carried a travelling first-aid box with all her medications and emergency first-aid supplies.
Things to keep in mind while flying with baby
Reach airport well in advance to ensure you don't have to rush through things.
We reached the airport almost two and half hours in advance and checked in our luggage. We also got the bulkhead seats so there was enough space for us and baby to move. It also meant changing her, feeding her etc. was easier. Having enough time also means you can change or feed baby in case you want to.
Keep baby's diaper bag in your hand luggage.
Make sure you keep baby's diaper bag in your hand luggage as rest of the baggage will be unavailable to you during the journey. Keep pre-measured formula and boiled cool water in flask with you. Carry some ready to eat stuff, like biscuits, fruits like banana and cereal if your baby has started solids.
Carry a nursing cloak or a dupatta
Carry a nursing cloak or a dupatta with you to cover yourself while breast-feeding during the flight.
Use Baby-Care facilities in airports
Airports have baby-care rooms where you can comfortably feed and change the baby, so make use of those facilities. 
Use Baby Carriers when flying with baby
Using a baby carrier when travelling with baby will keep your hands free for other things like holding bags and rails.
Coordinate feeding with takeoff and landing
Try feeding your baby during take-off and landing. There is change in cabin air-pressure during take-off and landing and it can cause discomfort in your baby's ears. Feeding formula or expressed breastmilk or even water using a bottle can ease the pressure buildup and baby will be comfortable during ascent and descent. Nursing may not be practical during these times as baby needs to be buckled up during takeoff and landing.
Warm clothing during air-travel
Carry a sweater or jacket or a blanket to keep baby warm during the flight. Aeroplane cabins can get quite cold, so it is important to cover your baby in layers to keep him/her warm.
Ask for help
Flight attendants will be quite happy to assist you in case you need help, so do ask for it when you need help. You can ask for help in case you need to visit the lavatory or f you want your baby's food warmed.
Be Patient
Once the aeroplane lands, everyone is in a hurry to deboard. When you are flying with a baby, try and wait till most people have got off the plane to avoid unnecessary squeezing and jostling. It will also give you time to get all your stuff in order and ensure you do not leave anything back in the plane.
Hope these tips will help you in planning your next travel with baby by air. If you like this article, do share it in your circle. You can follow us on Facebook, twitter , pinterest and Youtube.