Travelling with baby by train -When travelling with the baby, trains can be comfortable and a very good mode of travel. It can also be economical as compared to air travel. But travelling with a baby or a toddler by train has its own challenges. You can however have a memorable trip with a little planning.
Keep in mind, below points while travelling with baby by train.
Book tickets well in advance to get bookings that you want.
You do not want the stress of not having confirmed tickets at the last moment, so if you are going to travel with baby by train, you must do all the bookings much in advance. This way you can also get preferred berths, coaches etc.
Plan for the most direct route
Look for most direct route to your destination, so that you don't have to go through unnecessary changes. This will reduce the stress of journey and also ensure you don't miss any connecting trains.
Keep your schedule comfortable
Forget the days when you could have whirlwind tours and cover 5 destinations in 3 days. With a baby in tow, you must have a relaxed travel schedule. Set a modest pace with plenty of time to unwind.
Take medical precautions
Ensure that your baby's vaccination schedule is on track and meet with your doctor before leaving for general check up. Discuss any precautions that you need to take while travelling during the checkup. Ask doctor to prescribe all emergency medicines that you can carry while travelling.
I always carry my basic first-aid box for travelling with my daughter's medicines for fever, cold, congestion, ear pain, nasal saline drops, thermometer, antiseptic liquid etc. I also carry bandages and cotton.
Also take your doctor's phone number in case you need to contact him/her for an emergency during the travel.
Try to time your travel to baby's schedule
If possible, book tickets on train such that the timing does not clash too much with your baby's schedule. For example, if the time to board the train is your baby's feed time, it can get very stressful. In such a case, feed baby beforehand so that baby is comfortable till your have boarded and settled.
Do not plan any major changes in baby's schedules just before travelling
If you have been planning any major changes like weaning the baby off breastfeeding or bottle, hold off your plans till the trip is over. You do not want unnecessary stress for baby in addition to the changes in routine that travelling will bring.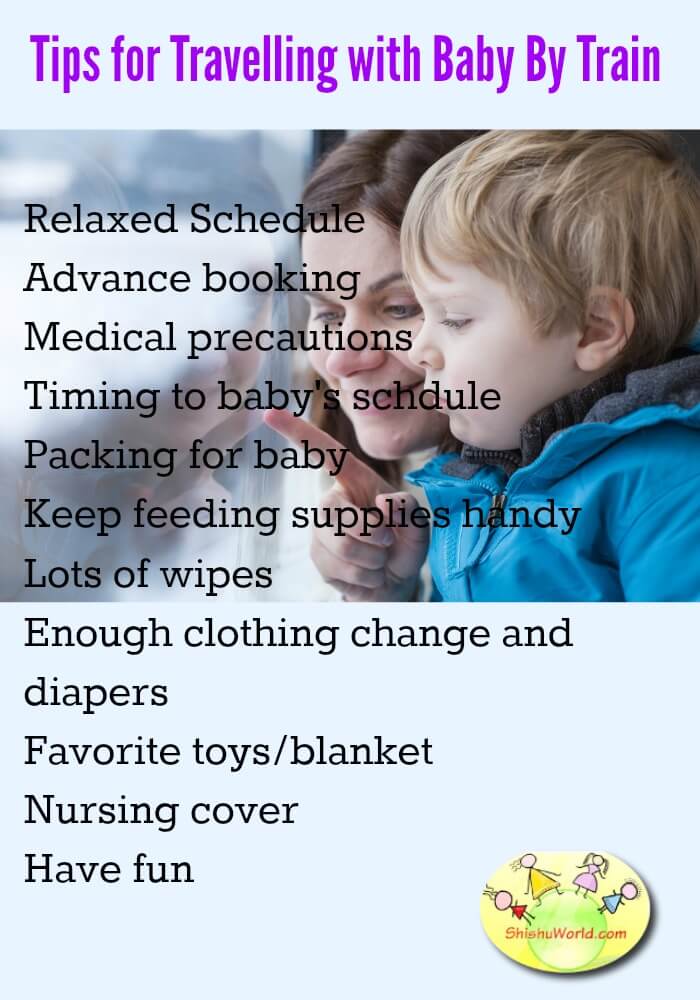 Packing for travelling with baby by train
Follow our comprehensive packing checklist for travelling with baby / toddler, to have a smooth travelling experience.
Other than that keep these simple tips in mind while packing for travel by train.
Keep baby's stuff in a separate bag
Keep baby's stuff in a separate bag, with most things easy to reach, as train journeys are longer and you will have change your baby a few times. Take at least 4-5 sets of clothes per day while travelling. You may have to change baby's/ toddler's clothes after every feed so keep complete sets handy.
Keep baby's feeding and changing supplies handy.
Keep things like enough formula, boiled water in a flask, diapers, wipes, bibs etc. in a baby's diaper bag so you do not have to open bigger bags every time you need these. Also keep a separate plastic/ cloth bag for keeping baby's used clothing, so they do not get mixed up with fresh clothes.
Keep baby/ toddler's food close to hand as you will not be able to feed outside stuff to baby. Keep dry food like biscuits and fruits handy. You can even prepare some

cooked food

for the first day at home and carry. Ensure food is alright before giving it to baby.
Here is detailed article on Feeding baby/toddler while travelling
Pack favourite toys/ blanket
Do not forget to take baby's favorite toys to keep baby engaged and to entertain her in case she gets upset about something. A favourite lovey can be a great source of comfort for baby in case of unsettling events like new faces, crowds, noise etc.
You may also take his/her favourite blanket to make sleeping easier.
 

Carry a nursing cover or shawl with you to cover yourself while

breast-feeding

during the journey.

You can buy these cute ponchos and nursing covers from amazon.
Carry lots of wet wipes to clean baby and any spills. Also carry enough sanitiser and liquid soap for travel.
Carry enough warm clothes as air conditioning in trains can get too much at times and you will have no way of reducing it.
Carry old  newspapers and plastic bags to dispose all waste.
Be sensitive to fellow travellers and try not to cause any discomfort to others.
How to make the train travel fun for baby/ toddler
There is so much to look while travelling in train that most toddlers will love the travel. Point put different trees, animals, farms, people that your see outside. It will keep them entertained forever.
Travel by train is also quite comfortable with ample space to sleep and walk around.
For a toddler/ preschooler, do not forget to carry simple toys, colouring supplies, puzzles etc. They will really enjoy drawing what they see. Drawing and colouring supplies have always come to our rescue whenever  we have travelled with our daughter.
Also carry some books to read and look at while travelling.
Here is how I pack our busy bag for my daughter
Recommended:
Top 10 tips for travelling with baby
How to help a child with travel sickness