Continued from: Almond Milk Powder/ Instant Kesar Badam Milk Powder Recipe
So, we saw how commercially available almond milk powders are more than 80 percent sugar and very little real almonds. This recipe here will give you an almond powder with real almonds and is so easy to make that it can be made in barely 15 minutes and can then be kept for almost a month easily.
I have also made this video recipe for you to understand better. Do subscribe to our channel to get more baby and child-friendly recipes.
Ingredients
1 cup almonds
1/2 cup rock sugar/ misri or sugar (You may reduce the quantity even further, if you like)
5-6 cardamom pods
10-15 strands of saffron
Recipe
You may use almonds with peel or you may choose to peel them, though I prefer to make this without peeling the almonds. We will give both the methods here.
First of all we need to blanch the almonds to take out their peels. You may choose to make this powder with peel, but peel can be slightly bitter sometimes, though I do it both ways.
In traditional recipe, almonds are soaked for a few hours and then they are peeled but we do not want any moisture in our almonds so we will blanch them.
How to make blanched almond milk powder:
Boil water in a pan.
Add almonds to boiling water for 1-2 minutes and immediately transfer them to cold water.
Strain them and dry well on an absorbent kitchen towel.
Now peel the almonds to remove the slightly bitter peel.
Again dry the almonds on a dry towel.
To remove any leftover moisture, roast the peeled almonds in a heavy bottomed pan for a 2-3 minutes on medium heat.
Make sure you do not roast for too long as that will trigger its oils to make the powder pasty when you grind.
Keep aside and let it cool completely.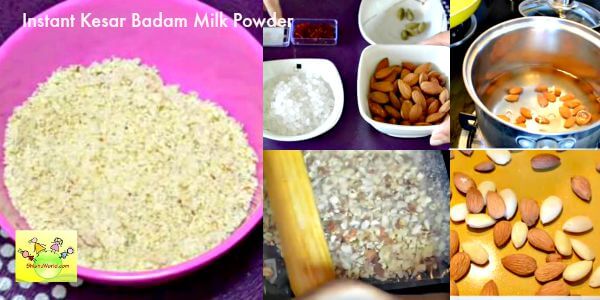 For unblanched almond milk powder, roast the almonds on a heavy bottomed pan for about a minute and keep aside to cool.
Now grind the misri or sugar along with cardamom seeds and saffron strands in blender to a fine powder.
Once your almonds are cool and ready to be ground, fill them in a ziplock bag ,lock them and bash them using a rolling pin into a rough powder as fine as possible. Doing this ensures the powder remains dry and does not become pasty when you grind the almonds in the blender.
Take out the cardamom seeds while discarding the shells. You may add the shells to your tea for a lovely favour.
Now, transfer the crushed almonds to sugar mixture and blend in intervals of just a few seconds.
Add crushed almonds to the same jar and blend in an interval of 2-5 seconds. This will make sure your blender does not over heat and you can also check the consistency of the powder. Keep redistributing the almonds every few seconds and checking the consistency.
Once you get a fine enough powder take it out. Ensure not to over blend or it will release its oil turning to paste.
Now mix almond powder with sugar mixture and store in a dry and air-tight jar
How to prepare Almond milk using Almond milk powder
1) Heat 1 cup milk to boiling point.
2) Add 1-2 tsp of almond milk powder to the milk and mix well.
3) This powder has sugar, but if you or child likes a little more sugar, you may add some at this point.
4) Keep it covered for 5-10 minutes for flavours of cardamom and saffron to seep into milk.
5) When milk becomes warm to lukewarm, enjoy the almond milk.
6)You may also keep it in fridge to enjoy chilled badam milk.
Tips:
Keep this powder in air-tight container in a fridge to make it last longer.
You may also use this to make quick kesar badam kulfi. Reduce full-fat milk to half. Add kesar badam milk powder. Adjust sugar to your taste and freeze. Enjoy yummy homemade kulfi.
Recommended for you:
18 healthy meals for picky kids
If you like this recipe, do share it in your circle. It keeps us motivated. Leave a comment to ask a question or let us know your feedback. You can follow us on Youtube, Facebook, twitter and pinterest.