When my daughter was about 4-5 months old and I started researching about what are the best first-foods to give her once she turned six months, I received many advices.
One suggestion that I got from almost everyone was daal ka paani. From my mother and mother-in-law to doctor and friends, many advised to start with it as first food.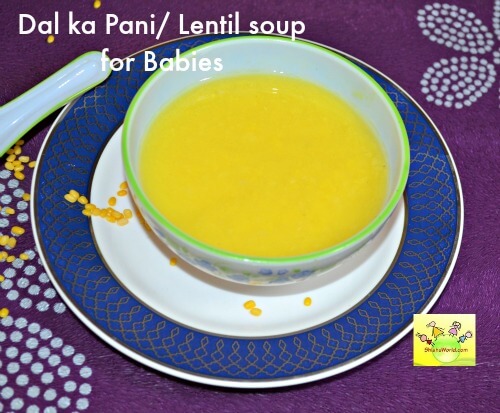 Even though most people suggested dal ka pani or soup, but most of them also suggested their own ways to make it. Some even suggested just skimming the water on top of our regular dal, but I was not sure as it would contain salt and I did not want to start salt before 1 year. Later, I realised that earlier people used to start supplementing baby's milk as early as 3 months, hence stuff like dal ka pain and rice water used to be given but as you can imagine, it will have very little nutrition if any and this was just to get the baby used to  something other than milk. Probably somewhere the reason was also that our elders knew baby's body is not ready to digest solids at that age.
Since now the majority advice is to wait to introduce solids till baby turn 6 months or is at least close to it, it does not make sense to give just the skimmed water. I used to make a sort of soup for my daughter. I started her on solids when she was 5 and half months and started with applesauce and mashed banana. Then I gave her this dal ka pani and she took it beautifully.
We have made a video to explain this better. hope it helps. If you like it, do not forget to subscribe to our Youtube Channel for new baby and toddler friendly recipes every week.
How to make Dal ka Pani for Infants
Ingredients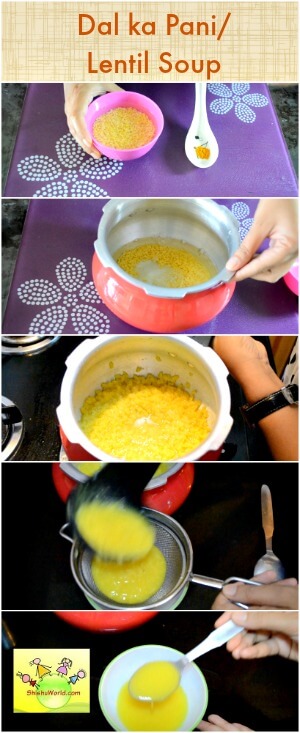 1/2 cup moong dal
1 pinch turmeric
Method
Wash moong dal in running water 4-5 times.
Soak the dal in drinking water for half an hour.
In a pressure cooker, add soaked dal, turmeric and 1 cup water.
Cook for 4-5 whistles and do not open till all the pressure is released on its own.
Open the cooker and mash the dal using a ladle.
You may add some boiled and cooled drinking water at this point to thin the consistency.
Now take a sieve and pass this soup through the sieve. Use more boiled water if needed. use a spoon to help it pass.
You will get an absolutely smooth soup that you baby can easily have.
Use a baby-friendly spoon to feed this soup.
Tips:
Do not give solids in a bottle. Use a baby friendly bowl and spoon to feed this soup.
Follow 3-day wait rule when just starting solids to monitor any adverse reaction to the food given.
Sterlize baby's utensils before use to avoid any contamination.
Do not add salt and sugar to any food till 1 year