After the success and popularity of Suji and Apple kheer, I received many requests for more apple recipes.  Ragi or nachni is a super food and we have earlier too shared 3 ways to prepare ragi porridge for babies and 10 ragi breakfast recipes for kids, which are very popular too. So, this time I thought of combining the two and came up with this yummy apple, ragi halwa which is full of goodness and as all our recipes can be made in jiffy.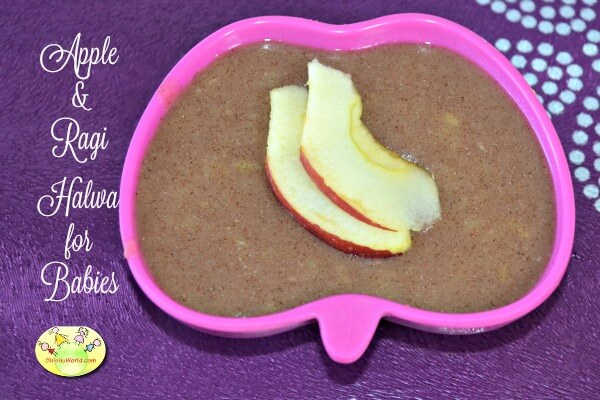 This recipe is great for babies around 9 months.
Apple Ragi Halwa for Babies
Ingredients
This recipes requires only three ingredients. We are not using any sugar and sweetness from the apples should be enough, but if you are making it for toddlers, you may add a little sugar or jaggery as per your preference.
1 tbsp ragi or nachni flour (I used sprouted ragi flour for this)
1/2 tsp ghee
1 large sweet apple 
Water about 1.5 cup or as needed
Recipe
Wash the apple well and cut it into quarters.
Take off the seeds and peel the quarters.
Grate the apple using a grater and keep aside covered to avoid oxidation. Do not grate the apple too much in advance. It is best to do this just before you start cooking.
Now add the ragi flour to the pan in which you will cook the halwa.
Add half a cup of water to the pan and mix well to make a slurry of rage. Do this off heat.
Once ragi has mixed well with water, switch on the heat and bring it to boil gradually while stirring constantly. This will make sure there are no lumps in your halwa.
Add grated apple and mix well. Add 1 cup water at this point and mix well.
Cook this for 4-5 minutes till apple looks well cooked.
Add ghee and mix well and let it cook for another minute. Do not thicken it too much as it keeps thickening once it cools down.
Now take the halwa out to serve.
Serve it lukewarm.
Tips:
You may also add a pinch of cardamom powder to this to add a nice flavour and aroma.
For toddlers, you may add a little sugar or jaggery.
You may also puree the apple instead of grating, if you want zero lumps in your baby's food. In that case, cook for less time.
You may also blend the halwa using a blender once it is ready. But it is best to introduce soft, lumpy food to get baby used to chewing.
More Weaning recipes for Babies
3 ways to make Ragi porridge for babies
Pumpkin and potato puree/ mash
Dal ka paani/ lentil soup for babies
Homemade Instant khichdi cereal
20 weaning recipes for 6 to 9 months old babies
Recommended:
10 Healthy Ragi Breakfast recipes for kids
If you like this recipe, do share it in your circle. It helps us stay motivated. Do leave a comment to ask a question or let us know your feedback.  You can follow us on Facebook, twitter , pinterest and Youtube.