Mustard Oil Benefits for Babies, Kids & Adults – Mustard oil is native to South Asia and it is used in many ways. It is also known as "sarson ka tel" in Hindi, "sorshe tel" in Bengali, "rai ka tel" in Punjabi, "Kadugu Ennai" in Tamil. Mustard are little seeds and can be black, brown or yellow in color. The oil is extracted from these seeds.
 It is best to use cold pressed or kachchi ghani mustard oil.  Mustard is also used as a spice all across India and South Asia in various preparations.Mustard greens or sarson ka saag is eaten widely during winter months due to its warming properties.
Mustard oil is used for cooking, for burning lamps and for body massage. Benefits of mustard oil range far and wide. Since I grew up in North India, I have seen it being used in home almost every day in various forms.  In Eastern states of India, it is the preferred cooking medium and it is used as a spice allover. It is also considered to have lots of medicinal benefits and is used extensively for babies and kids.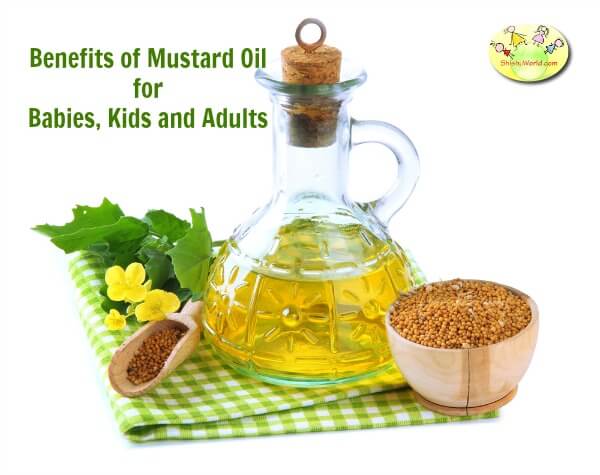 Mustard oil benefits for baby & kids
Great for baby massage
Mustard oil is extensively used for massaging babies. When you want to massage baby, take a little oil and warm it a bit. Take the warm oil in your palms and gently massage baby's body. It improves blood circulation and helps in muscle and bone growth.
Warming properties
Mustard oil is naturally warming and thus is recommended for baby massage during winter season. You may want to avoid it during summer and use some other oil like coconut or almond oil, but plenty of people use it all year round
Read on to see how to massage baby and also mustard massage oil recipes
Cold and congestion home remedy
Mustard oil massage with a little garlic or ajwain seeds is my mother's number one home remedy for all kinds of cold, nasal and chest congestions.
Just heat oil with garlic or ajwain seeds in it till they turn back. Let it cool down. Now strain and use it for massage on chest, back and feet. It provides relief in case of chest congestion too.
If your child's nose has dried due to medication, you may touch your finger in mustard oil and apply just at the tips of nostrils. It will provide relief.
Natural skin moisturiser
Regular application of this oil before bathing will keep your child's skin soft and supple. It is also rich in vitamin E, thus promoting healthy skin.
Mustard oil for soft lips
This is my mother's tip and I have no clue why it works but it does. If you or your child have chapped lips,  put a drop of mustard oil on naval at bedtime. You will get soft lips within a couple days of doing this.
Treats rashes and infection
You can apply cool mustard oil if your baby/child has any rash or infection. It's antibacterial and anti-fungal properties helps in treating rashes/ infection.
Mustard oil for hair to promote hair growth, reduce dandruff
It is also known to stimulate and promote hair growth. A good massage with lukewarm mustard oil will stimulate hair follicles and also reduce dandruff.
It can be used to massage baby's head if baby has cradle cap.
Natural remedy for asthma and respiratory diseases
Mustard oil can benefit and provide relief in asthma and other breathing conditions by opening the sinuses due its natural pungency.
Other than the above mentioned garlic mustard oil, you may also add a little camphor to mustard oil and do a massage over chest and back. This will help get rid of the congestion and makes breathing easier.
Mustard oil is anti-bacterial and anti-fungal
Natural insect repellant
Mustard has a natural pungent smell and will provide moderate relief from insects. This is also the reason it was used in lamps in olden days, as it repelled mosquitoes.
Aid digestion
Mustard oil is known to stimulate secretion of gastric juices thus helping in digestion. It also stimulates excretory system healthy. This is also the reason it is used in a lot of condiments like chutneys and pickles.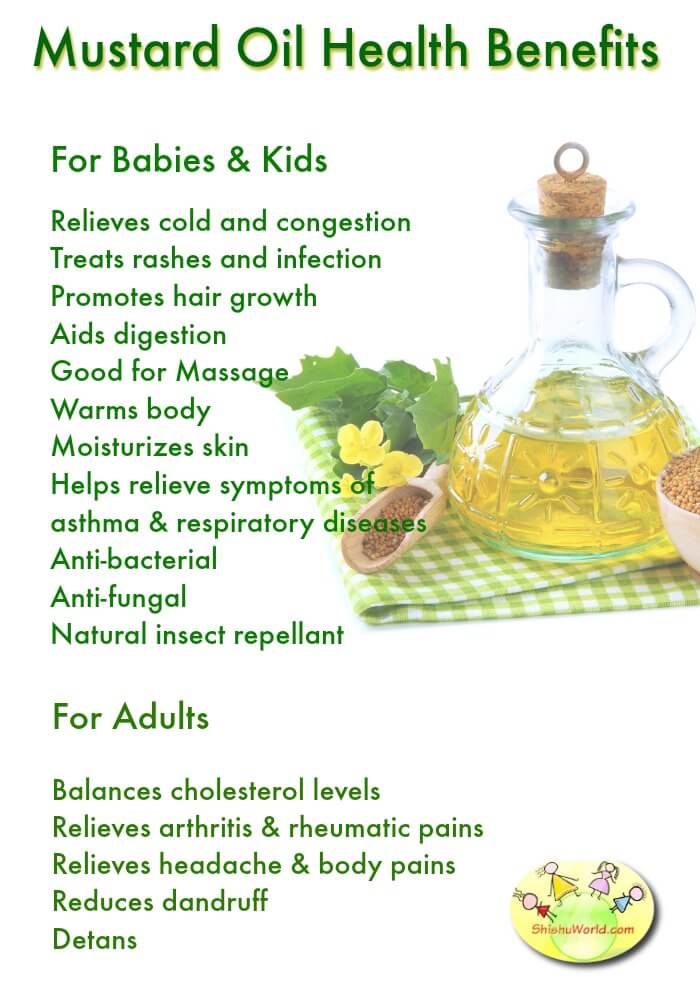 Mustard oil benefits for adults
Home remedy for headache and body pain 
Balances cholesterol levels- It is rich in monounsaturated and polyunsaturated fats. It gas Omega-3 and omega-6 fatty acids which help in reducing the bad LDL cholesterol and increases the amount of good HDL cholesterol, thus balancing good cholesterol level.
Anti-rheumatic & anti-arthritic – It is a traditional home remedy for people with arthritis and rheumatic pain. Apply topically for relief. 
Anti inflammatory properties
Stimulates joints and muscles
Detans naturally – Apply an uptan made from gram flour (besan), curd and mustard oil. Apply on tanned area. Leave for 10 minutes and then rub it off before washing. 
Risks of Mustard oil for babies
It can be too pungent and can cause irritation
Can cause allergic reaction in some babies. Always test on a small portion of body to see if baby is able to tolerate the massage oil. If you do not see any adverse reaction for next couple of days, then you can use mustard oil to massage baby.
You can buy organic and cold-pressed mustard oil here:
Recommended:
Benefits of Almond oil for baby massage
Mustard pillow to avoid flat head in babies