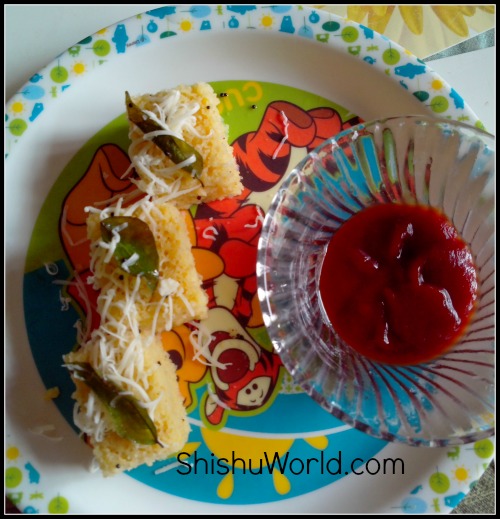 Dhokla is a favourite breakfast with people all across India and away. It is light, fluffy and healthy. Traditional dhoklas are made by soaking dals and fermenting them overnight, while the instant version usually uses gram flour(besan) or semolina(suji). Here we make one using whole maize flour or cornmeal or make ka atta. This is a good way of introducing cornmeal in your child's diet.
Ingredients
½ cup cornmeal/maize flour( make ka atta)
½ cup fine semolina (suji)
½ cup curd
1 tsp ginger paste
1 tsp sugar
1 tbsp lemon juice
1 tbsp oil
1tsp Fruit salt
1 pinch Turmeric
1 cup Water
Salt
For Tempering
1 tsp oil
1/2 tsp black mustard seeds
1 pinch asafoetida (hing)
Curry leaves
1 tsp sugar
1 pinch salt
1 tbsp lemon juice
½  cup water
Green chillies (optional)
Recipe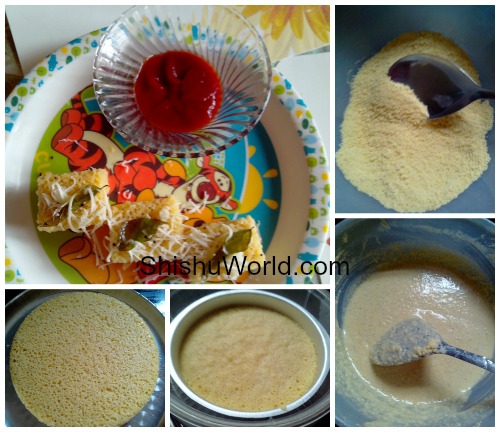 Mix together maize flour and semolina in a large mixing bowl.
Add curd and ½ cup water to make a thick, smooth batter. Leave aside for half an hour.
Add salt, turmeric, lemon juice, sugar, oil and ginger paste and mix well.
Add water to make a batter of pouring consistency but not too thin.
Boil water for steaming.
Grease the mould with a little oil.
Add fruit salt to batter, mix quickly and immediately pour into the greased mould.
Steam it for 15-20 minutes. Check using a knife.
Take it out and let cool for some time and then cut into pieces.
Tempering
In a bowl dissolve sugar, salt, lemon juice with water.
Heat oil in a small frying pan.
Add mustard seeds, asafoetida, curry leaves and green chillies.
Turn off the heat and leave for a minute.
Add sugar and lemon juice solution to this and mix well.
Pour this tempering all over the dhoklas.
Let the dhoklas soak in the water for yummy, soft dhoklas.
Serve with green chutney or tamarind chutney.