Sweet potato is a versatile vegetable which can be made into a variety of preparations. It is not just one of the oldest root vegetables known to humans, but also one of the healthiest and most nutritious foods around. Sweet potatoes are lower in calories than regular potatoes and higher in fiber and nutrients. It can be cooked in many ways – boiled, steamed, baked, fried, roast and so on.
Sweet potato is also loved by most kids and following section is a special for this versatile vegetable. There is an added emphasis on recipes being healthy since they are meant for kids but these are delicious enough to had by toddlers and older kids as well as adults and they will love them.
Tip : Always boil sweet potatoes in their skin, to retain maximum nutrition.
Healthy Sweet Potato Fries
Kids love fries and finger chips, but we all know having too many is not good for them. Here we give a healthy recipe of baked sweet potato fries, which will keep both your kid and you happy.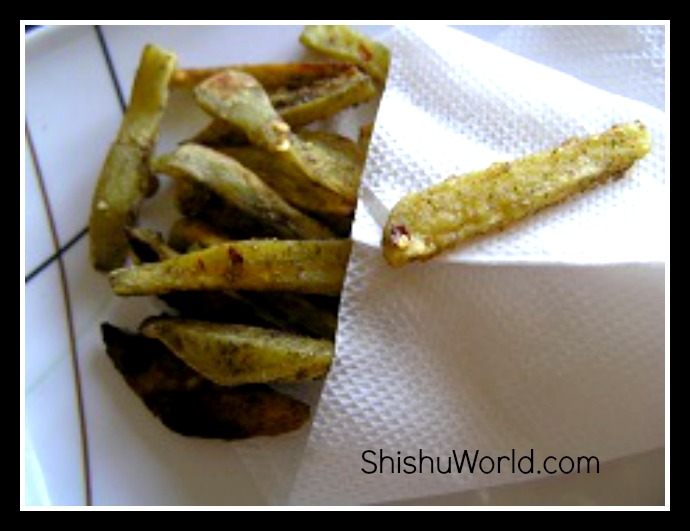 Ingredients
2 sweet potatoes
Salt and pepper (or any other seasoning your child likes)
Oil
Recipe
Par-boil the sweet potatoes slightly (they should be just  about 30-40% done).
Peel and cut into ¼ inch wide chips.
Preheat oven to 250 degrees C.
Sprinkle salt, pepper and any seasoning of your choice.
Place the chips on aluminum foil in a single layer.
Lightly drizzle chips with oil.
Place the foil on the baking tray and bake for 10 minutes ( turn once after 5 minutes).
Let it cool for 5 – 10 minutes.
Healthy sweet potato fries are ready. Serve with tomato sauce.
Sweet potato parantha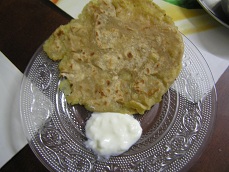 Ingredients
1 cup wholewheat flour (atta)
Water to knead
1 sweet potato ( boiled and peeled )
A little salt and pepper (optional)
A pinch of Cumin powder
Oil/ ghee
Recipe
Dough
Knead the flour with water into a soft dough.
Cover and keep it aside for 15 minutes.
Filling
Mash the boiled and peeled sweet potato well, so that there are no lumps.
Ensure there is not too much moisture in the filling.
Add a little salt and pepper and cumin powder depending on your baby's preference.
You can also add very finely chopped coriander if your baby likes it.
Leave aside for 5 minutes.
Preparing the parantha
Take a small ball of dough, enough for a small chapatti.
Make a similar sized ball of the filling.
Flatten the dough ball using your fingers or a rolling pin, as we do for any stuffed parantha.
Place the filling ball in the center and cover completely with the dough, making sure there are no holes.
Keep aside for two minutes.
Roll using a rolling pin with the help of some dry flour.
Roll it to the size of a small chapatti.
Heat the girdle or tawa or a frying pan.
Put the parantha over it.
Once it gets slightly cooked on one side, flip it over.
Smear it with ghee or oil using a spoon or spatula.
Press a little with spatula. This helps in even cooking.
Let it cook on the other side for a minute or so, till you see spots.
Flip it again and smear with ghee/oil on this side as well.
Let it cook for about 30 seconds and take off the fire.
Serve with yogurt or yogurt dip.
You can cut into pizza like slices and give it your toddler as finger food to eat on her own.
Sweet potato Tikki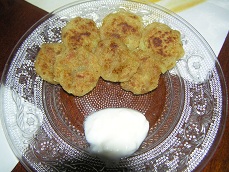 Ingredients
2 sweet potatoes (boiled and peeled)
1 medium sized potato (boiled and peeled)
2 slices of brown bread
1 teaspoon chopped coriander
Salt and pepper (to taste)
½ teaspoon Cumin powder
Recipe
Mash boiled sweet potatoes and potato together.
You can also grate them to ensure there are no lumps.
Add a little chopped coriander.
Add salt and pepper to taste.
Add cumin powder and mix well.
Slightly wet the bread slices (If your mixture already has some wetness, do not add water).
Mix bread slices with mixture well and knead to a smooth mixture.
Make small 1 inch tikkis  out of all the mixture.
Heat some oil/ ghee in a pan and lightly shallow fry the tikkis.
We do not want them to be very crisp, just give a little color so that it retains the goodness of veggies.
Serve with tomato ketchup.
Your toddler will love them.
Sweet Potato Pancake
Ingredients
2-3 sweet potatoes
1 cup wholewheat flour (atta)
Salt and pepper
Ghee/Oil – 1 tbsp
1/2 cup water
Recipe
Cut sweet potatoes into pieces and cook in a pressure cooker till soft.
Peel the boiled sweet potatoes and mash them well.
Add salt and pepper to taste
Add flour(atta) to sweet potatoes and add water.
Make a thick batter and let it sit for half an hour.
In a flat frying pan, heat a little ghee or oil.
Spread the batter on pan using a ladle to make small panackes.
Cook on both sides with oil or ghee.
Serve it with a yogurt dip or chutney.
Sweet Potato Salad
Ingredients
2 sweet potatoes boiled and peeled
1 cucumber cleaned and peeled
1 tomato
1 cube cheese
1 lemon
Salt and pepper
½ teaspoon of olive oil
Recipe
Cut sweet potatoes, cucumber and tomato into even sized cubes.
Mix them all together.
Prepare the dressing in a separate bowl by mixing olive oil, juice of ½ lemon, salt and pepper to taste.
Mix all of these well using a beater.
Add it to cut veggies in a deep bowl.
Cover with a plate and toss well or use a spatula to mix it well.
Serve in a bowl with grated cheese on top.
Sweet Potato Chaat
Ingredients
2 sweet potatoes boiled and peeled
1 cup chickpeas – soaked overnight
Little oil or ghee
½ cup curd
Salt and pepper
1 tsp Sugar
Tamarind chutney
Chat masala
Roasted cumin powder
Recipe
Boil chickpeas in a pressure cooker, till they are cooked but not mashed.
Cut sweet potatoes into cubes.
Heat a little oil or ghee in a frying pan.
Lightly toss the sweet potato cubes in ghee or oil.
Add a teaspoon of sugar to cup of yogurt, and mix well to sweeten it lightly.
Assembling the chaat
In a big bowl, mix sweet potatoes and boiled chickpeas.
Add a little salt and pepper and chat masala according to taste.
Add tamarind chutney. Mix well.
Finally put in the serving bowl and top with sweetened curd.
Sprinkle a little roasted cumin powder and a little sev.
Note: You are free to change the seasonings as per your child's preference. You can add chopped coriander leaves too if your kid likes it. 
Sweet Potato Wada
This is a variation of regular batata wada (Potato wada) using much healthier sweet potato and with no compromise on taste.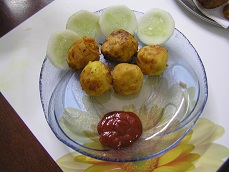 Ingredients
For filling
1 large sweet potato boiled and mashed
Garlic – 1-2 cloves crushed
Ginger paste – ½ tsp
Turmeric powder – ¼ tsp
Cumin powder  – ½ tsp
Coriander powder – ½ tsp
Salt to taste
Chilli powder to taste( Omit if your kid does not like chilli)
For Batter
Besan (gram flour) – ½ cup
Salt to taste
Chilli powder to taste
Water as required
Oil to deep fry
Recipe
Mix sweetpotato and all other ingredients for filling in a large bowl.
Make small balls and keep aside.
Prepare the batter by mixing besan, salt and chilli powder. Add a little water at a time and keep whisking to ensure no lumps are formed. Make a thick batter to coat sweetpotato balls.
Heat oil in a pan or kadhai to deep fry.
Dip sweet potato balls one by one in the batter and fry in hoil oil till golden brown from all sides.
Take out on an absorbent paper and serve with green chutney or tomato ketchup.
Hara Bhara Kabab with Sweet Potato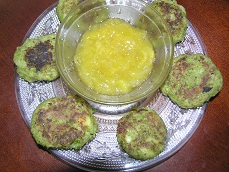 Ingredients
2 Sweet Potatoes – boiled
1/4 cup – spinach leaves
1 cup – peas
1 tsp ginger grated
Green chilli – optional – depends on your kid's preference
Coriander leaves
Cumin seeds
Salt and pepper
Oil/ Ghee for shallow frying
Bread crumbs
Recipe
Peel and grate sweet potatoes and keep aside.
Blanch spinach leaves by dipping in boiling water  and for 1 minute and then dipping in cold water immediately.
Boil peas well.
Blend together spinach leaves and peas to a thick paste. Do not add any water while making the paste. You can also add green chilli to this paste if you want spicy kababs.
In a mixing bowl, mix together grated sweet potatoes and spinach and peas paste.
Add salt, ginger, pepper, cumin seeds and coriander leaver.
Mix well all the ingredients.
If the paste is a little loose, add some breadcrumbs.
Make flat, round kababs and keep them in fridge for some time.
Heat oil in a frying pan.
Shallow fry kababs on both sides till golden brown.
Serve with chutney or ketchup.