During pregnancy, a woman goes through a number of changes both physically and mentally. During the second trimester, as the uterus expands, the skin on abdomen stretches to accommodate the growing uterus. Another common change in your body is the  enlargement of breasts as body prepares to nourish a young life.
12 early pregnancy signs before missed period
This stretching and enlargement often leads to sweating, itchiness and rashes caused by normal skin bacteria. Other prone areas can be arm pits and the thigh region.
Often the advice given in such situation is to use powder so it soaks up the moisture, but that is only a temporary solution. I was thus excited to see the third product from Himalaya FOR MOMS range, which is an Anti-rash cream for moms.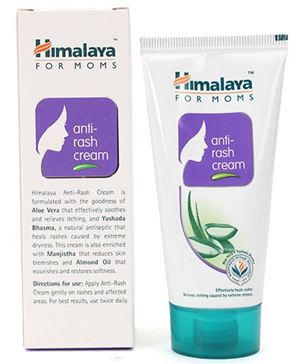 Everyone has heard of anti-rash creams for babies and I can swear by the diaper-rash cream by Himalaya BabyCare
See our review here
Himalaya BabyCare diaper rash cream review
But this anti-rash cream for mums is a welcome. So, today I introduce you to the same here.
What Himalaya FOR MOMS Anti-Rash Cream Does?
Himalaya FOR MOMS Anti-Rash Cream is an herbal formulation, as expected. According to Himalaya, it effectively reduces itching and rashes, and gently soothes the skin. It is very useful in relieving rashes during pregnancy.
Not just during pregnancy, it is also useful in other dermal cuts and scratches which cause minor itching. It has a soothing Lavender smell.
What Himalaya FOR MOMS Anti-Rash Cream contains?
Yashad Bhasma
Yashoda bhasma is a natural anti-septic and is known to lock in moisture and have astringent properties. It is helpful in treating eczema, itching and other skin disorders.
Aloe Vera
Aloe vera is the wonder remedy for skin and it helps to heal wounds and soothe skin.
Almond Oil
Almond oil is one of the best nourishing oils for skin.
Almond Oil is rich in Vitamins A, B and E, is easily absorbed, and helps to maintain skin moisture. It is known to nourish the skin and make it soft and supple.
Manjishtha
Manjistha is known to soothe and treat skin conditions such as acne. It has antioxidant and anti-inflammatory properties and is known to provide blemish-free, clear skin.
Packs & Pricing
Himalaya FOR MOMS Anti-Rash cream is available in two pack sizes.
20gm – INR 75
50 gm – INR 150
Have you used this product yet? if you have, do share your experience with us in comments.