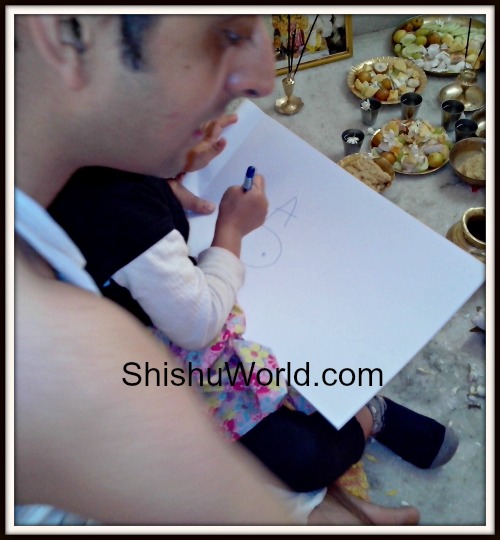 'Haathe khodi' which lierally means 'chalk in hand' is a Bengali tradition in which children write their first letter. This is supposed to be the beginning of their literal journey.
'Haathe Khodi' is done on the day of Saraswati Puja or Vasant Panchami( fifth day  of Spring). According to Hindu mythology, Saraswati is the goddess of learning, knowledge, art and music. So, children start writing from this day with blessings of goddess Saraswati.
Saraswati Puja is conducted on Vasant Panchami in many parts in India . In West Bengal, it is one of the more important festivals. Most schools have special celebrations on this day and children are forbidden to read anything on this day.  Many musicians begin theirmausical education on this day. Vasanti or yellow is the color of this day with people wearing clothes of this color and eating sweets and food which are yellow.
The event of haathe khodi is conducted in the presence of a priest and friends and family. Traditionally, a new chalk and slate/ chalkboard is kept and priest helps the child to write their first letter. If chalk and board is not available, a notebook and pen/pencil can also be used.