8 Month Baby Food Chart Indian
By now the baby has been introduced to many basic foods and she is now ready to have three solid meals. We do not specify the quantity because it will differ for every baby. Always go by your baby's cue and comfort. Once your baby is comfortably finishing a certain amount at a mealtime, you may add a couple of teaspoon to see if she wants more.
At 8 months your baby may already have a few teeth, but  even if there are none her jaws are strong enough to tackle small chunks. You can replace smooth purees with lightly mashed but well-cooked food. Food should still be well-cooked and soft.
We cannot stress enough that during the first year, breastmilk or formula must form the bulk of your baby's intake gradually getting replaced by solids. If at all you are in doubt  about anything, always check with baby's doctor.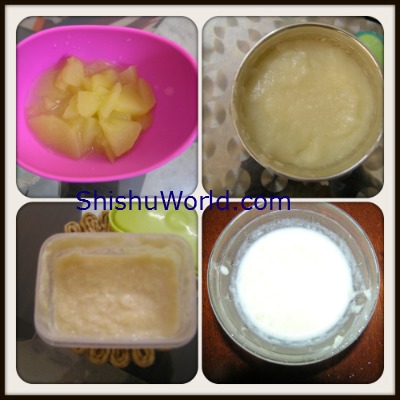 Follow the 3-day rule whenever introducing anything new.
Vegetarian food chart/ meal plan for 2 years old
Non-vegetarian food chart/ meal plan for 2 years old toddlers
| | | | | | | | |
| --- | --- | --- | --- | --- | --- | --- | --- |
| | Early Morning | Breakfast | Mid-Morning | Lunch | Afternoon | Dinner | Latenight |
| Mon | BM/ Formula | | BM/ Formula | | BM/ Formula | Roti soaked in dal | BM/ Formula |
| Tue | BM/ Formula | | BM/ Formula | Idlis soaked in dal | BM/ Formula | Bottle gourd sabji with rice | BM/ Formula |
| Wed | BM/ Formula | | BM/ Formula | | BM/ Formula | Fresh mashed paneer | BM/ Formula |
| Thu | BM/ Formula | Rice cereal with stewed apple | BM/ Formula | Mixed veg soup and mashed rice | BM/ Formula | | BM/ Formula |
| Fri | BM/ Formula | Banana smoothie | BM/ Formula | Plain Curd rice | BM/ Formula | Khichdi mashed | BM/ Formula |
| Sat | BM/ Formula | | BM/ Formula | | BM/ Formula | Idli soaked in vegetable soup | BM/ Formula |
| Sun | BM/ Formula | | BM/ Formula | Homemade Curd rice | BM/ Formula | | BM/ Formula |
More Recipes for babies:
20+ recipes for 10-12 months old babies
20 weaning recipes for 6 to 9 months babies
Apple Ragi porridge
3 ways to make ragi porridge for babies
Points to Remember:
This 8 month baby food chart/ timetable is just a guideline to help you plan your baby's meals at this stage. Please remember that every baby is different and while few babies will be ready to take solid meals three times a day, others may not be ready yet. Please use your discretion when planning meals.
We never mention exact quantities because this not an exact science. Your baby will most probably have all three meals one day and will not want more than a few bites on another day. It is completely normal and expected.
Do not cut back on baby's breastmilk or formula during first year. It is best to feed on demand, while gradually increasing solid intake.
Do not compare your baby's feeding schedule with other babies.
At any point if you are in doubt, always discuss with your baby's doctor.
Do not continue pureed or mashed food for too long. Introduce lumpy food as early as possible while making sure that it soft and well-cooked.
Your baby might not want to eat as usual if s/he is suffering from some sickness like fever or cold and cough. Do not force the baby to eat, while continuing with breastfeeding in this case. The appetite will come back as soon as baby is better again.
Check out 30 cold and cough home remedies for babies, toddlers and kids to help your baby recover with natural ways.
By now, your baby might have sprouted a tooth or two. If not, then it is just round the corner. You may see a lot of drool and irritability due to teething.
Here is how to know if your baby is teething and how to soothe the teething pain
Hope this 8 months baby food chart will help you in planning your baby's food. If you like it, do share it in your circle. Do leave a comment to ask a question or let us know your feedback.  You can follow us on Facebook, twitter and pinterest.