With winter at its peak, we keep getting questions about caring for infants and young kids during the cold months. Winter brings with it seasonal colds and persistent coughs, which are heartbreaking to say the least. This is specially true in case of babies whose immune system and skin barrier are still developing making them prone to viral and bacterial infections.
So, we have curated this article for you all who have questions about what and how to do to take care of infants and young kids.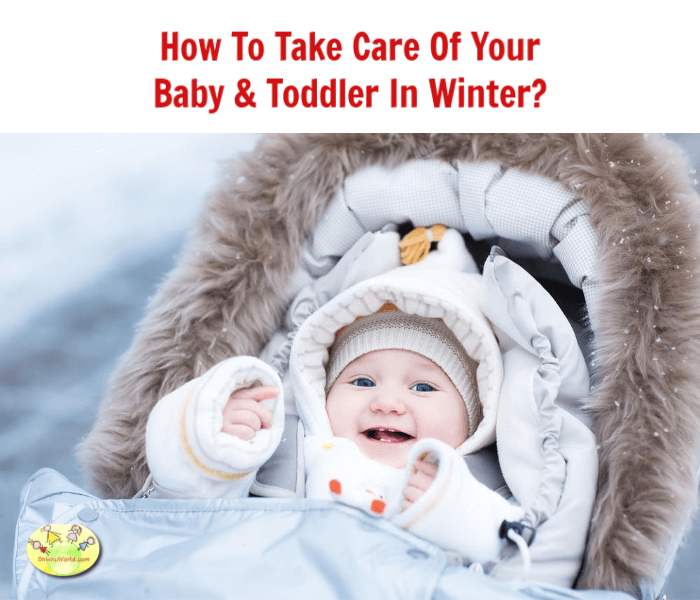 How to select clothing for babies during winter
Babies under 6 months have greater body surface area ratio to weight, so they need a little more protection. Dressing babies during the cold weather can be a little tricky. In our zeal to protect them from cold, we tend may end up over dressing them which can make them uncomfortable. If you see that baby is crying because of no apparent reason, one reason can also be that she is feeling too hot.
Dress in layers
It is best to dress baby in layers rather than a single thick piece of clothing. One common to trick to figure how many layers to make the baby wear is by checking how cold you are feeling. If you feel the need of 3 layers, then dress baby in one extra layer. A thermal or fleece layer is quite effective.
Hat and socks
Babies lose a lot of heat through head and feet, so a woollen hat and socks or booties to protect the head and feet is much needed. You can also add mittens or gloves if you are taking baby going out.
How to select clothing for toddlers during winter
The rules remain much the same when dressing the toddlers too. Dress them in layers rather just 1 or 2 thick layers. You can get multiple layers while having a top woollen layer. You can also add a hat and scarf when toddler is heading out of the house.
Is it OK to give massage to baby during winter?
Yes, you can give massage to baby during winter. In fact, it can give much needed moisture to the skin. You can give massage to baby before bath. Keep everything ready for bath before you undress baby. You can give baby a short massage when sun is shining or if not, then make sure the temperature in room is comfortable. You can give a short 10 minute massage.
What kind of massage oil to use?
It is best to use a natural oil or a blend of natural oils for massaging baby. During winters you can use oils like mustard oil, sesame oil, olive oil or almond oil. Coconut oil can be used along with other oils, though on its own it has cooling properties.
How often should one give a bath during winters
You can give bath once everyday or even once in two days. Babies do not really get dirty, so skipping a day will not cause any problem.
Bathing routine during winters
To bathe baby during cold weather, make sure that the temperature is warm and comfortable and not too hot.Give a quick bath. Do not use too many products for baby. If you use a bath wash, then select something which can be used for body as well as hair. You may also use a no tears shampoo if you are using a soap. Choose a product which is parabens-free. You can give bath every alternate day when mercury is really low.