Few months ago, one of my friends told me about a traditional recipe from Rajasthan called "raab". She used to give this to her child when he was a baby and started solids. This raab is also given in Gujarat and is much similar to halwa or lapsi .
This raab recipe is made with bajra or pearl millet.
Benefits of bajra or Pearl Millets:
Pearl millet is an almost forgotten millet now, but has plenty of benefits for children as well as adults. It is known as bajra in Hindi, Bengali, Punjabi , Kambu in Tamil and Kannada, Sajjalu in Telugu and Kambam in Malayalam
> Bajra is rich in iron, so can help in keep anemia off.
>It is a good source of fibre.
>It is rich in vitamins and minerals.
You should give this sometimes while giving the regular food that you give otherwise.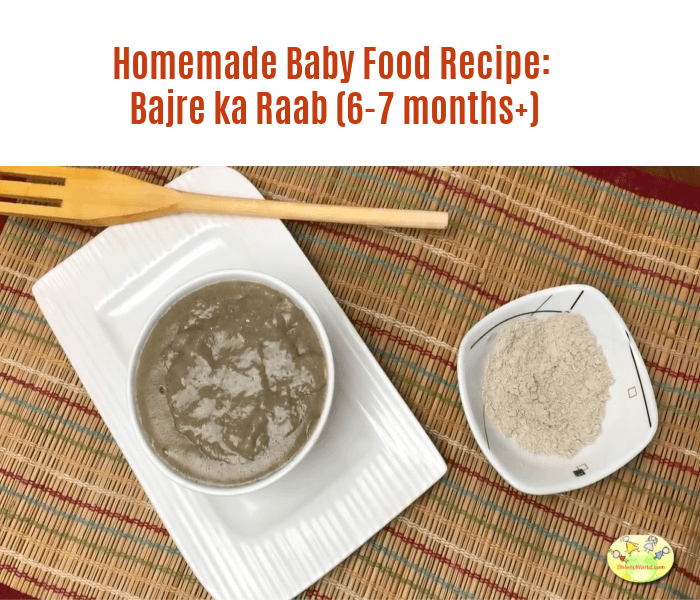 Bajre ka raab recipe for Babies
This traditional raab recipe from Rajasthan can be made for babies who are 6 months and above. You can give this as a cereal for breakfast, lunch or dinner in place of store-bought cereals.
Ingredients
Bajre ka atta ( Pearl millet flour) – 1/2 cup
Ghee – 1 teaspoon
Jaggery – 1 table spoon
Water – 2-3 cups
Recipe
Take a heavy bottomed pan and place it on medium heat.
Add ghee and allow it to melt.
Add bajre ka atta and roast for 2-3 minutes while stirring continuously
Once flour gives a roasted aroma, add hot water and stir to make a smooth slurry.
Add jaggery and more water if needed.
Mix well to make sure there are no lumps.
Let it simmer for 4-5 minutes.
Serve lukewarm to baby with a spoon. It will thicken as it cools down.
Homemade Baby Food Recipe: Bajre ka Raab (6-7 months+)
Bajre ka raab recipe for Toddlers and Kids
You can also give raab to toddlers and older children as a morning breakfast drink or evening snack. This recipe can also be given to growing children and pregnant women.
Ingredients:
4 tbsp – Bajra flour (pearl millet flour)
1 tbsp – Ghee
1/2 tsp – Ajwain seeds (carom seeds)
2 tbsp – Jaggery powder (or grated jaggery)
1/2 tsp – Dry ginger powder
2 tsp – Almond powder
1 tsp – Cashew nut powder
4 cups – Water
Salt to taste
Method:
Make a jaggery syrup by heating water and add jaggery to it. keep stirring till jaggery dissolves completely. Remove any impurities
Take a heavy bottomed pan and heat ghee on medium flame.
Once the ghee is hot, add ajwain seeds and fry for a few seconds.
Add the bajra flour and dry roast for 2-3 mins till you can start to smell the aroma of roasted bajra.
* Add salt, ginger powder and the jaggery water to roasted bajra. Be careful while adding water as it might sputter.
* Mix well to ensure that there are no lumps.
* Bring to a boil with continuous stirring and then let it simmer for 5 minutes.
* Empty into glasses and serve hot.