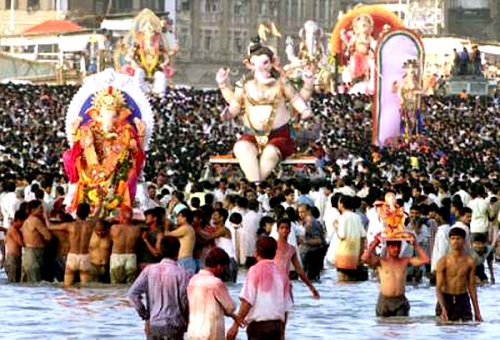 Pic courtsey:shivalaya.org
Ganesh Chaturthi or Gowri Ganesha or Ganpati festival is just round the corner. In North of India, you may not find too many festivities around this time but in the western and southern parts of the country it is one of the biggest festivals of the year, specially Maharashtra and Andhra Pradesh.
I have been fortunate enough to have seen the celebrations up close during my stay in Hyderabad. The enthusiasm just blew my mind. There was a "Ganesha pandal" in every lane. The temples were decorated from top to bottom. People there celebrate it for 10 days. Ganesha idols are brought with great pomp and show, worshipped for 10 days and then on the tenth day, they are submerged in water. There are idols which are more than 100 feet tall and on the day of submerging, there is a huge queue on Hussain Sagar lake and the festivities and joy cannot be put in words. I have seen similar scenes in Bangalore which is my home now and have heard stories about celebrations in Maharashtra. Ganapati ji is brought to each home with great fervour and then sent away with a heavy heart and hope to have the deity back again next year.
As the festival comes to a close, we also hear reports of the amount of pollution that the various water bodies have suffered during the festival. Our environment is already reeling under the pressures of air, water and noise pollution, we must look at minimizing the damage that we do during such festive occasions.
This can also be celebrated as an opportunity to educate our kids. Let us have a look at some ways to celebrate this and many other festivals in an eco-friendly way.
Bio-degradable idols
Easiest thing to do is buying an eco-friendly unbaked, un-colored clay idol. Say no to PoP or plaster of paris which is non-biodegradable and very bad for environment. Clay idol even if immersed in water will simply dissolve. These clay or green idols are easily available these days.  Pic courtsey:udaipurtimes.com
Celebrate as a community
Ganapati festival is a community festival. Instead of buying individual idols for each home, celebrate together with neighbours and friends. This can easily be done in apartments.
Use this occasion as an opportunity to plant trees
Make it an occasion to plant trees. At least one tree for each day should be the motto. Make it a group exercise and take children along if possible.
Organise competitions for kids
Whenever time permits, try organising small competitions for kids. Fancy dress, art, poetry, singing anything at all. This will create fond memories of the celebrations for times to come
Immerse in designated place
Do not immerse idols in rivers or large water bodies which will get contaminated. Ideally, try submerging them in your own place. One friend told me that they immerse Ganapati in a bucket in their garden and once the idol has dissolved they throw the water there. Such an easy and eco-friendly solution.
Many people also just take the idol to water and then bring it back. The same idol is worshipped each year. This way God is never leaving your home.
Eco-friendly decorations
Avoid the use of non-biodegradable materials like thermocol or plastic. Paper, cloth, flowers can be used instead. Shola pith is a completely natural alternative to thermocol or plastic. It is a plant product and is traditionally used in Durga Puja decorations. pic courtsey:www.cohands.in
Use LEDs
It is common for puja pandals to illuminated the whole night. Use LEDs instead of conventional incandescent bulbs to protect environment. Try to limit the lighting to only as required after the peak traffic of visitors is over.
Do not play loud music
Keep the decibels down by not playing very loud music. This not only causes sound pollution but also causes discomfort for people living nearby, especially young children and elderlies. Remember to follow the legal guidelines
Reuse, recycle stuff
Wherever possible try reusing same stuff each year instead of buying new. This will not only be easy on your pocket during these tough times but also be good for mother nature.
Make a compost
Flowers, leaves, fruits are essential in any Hindu puja. Create a compost pit at a convenient location and fill it to create natural fertilizer for your apartment's garden. Check this link out for info on how to make a compost pit.
We have taken Ganapati as an example but it can be any festival in question, be it Durga Puja or Deepavali. Let us vow to do our bit to leave a safer planet for our children.