Many of you know that I have been travelling for last couple of months and have I covered many cities during this time. So I and Aanya have been to Delhi, Lucknow, Kanpur, Noida, Shenzhen, Hong Kong and Bangalore in this short period. Now two of my biggest concerns during travel are mosquitoes and public toilets. I received mosquito bands and pee-safe which put my mind at ease regarding these. Here is my experience with both these products.
Mosquito Banditz Mosquito repellent bands
We received mosquito bands and realized that the recommendation is for children 3 years and above. I however gave them to my 6 years old nephew and he found that they were quite effective. They look so funky and that my daughter wanted to wear them too and I allowed that for limited time over clothes.
These bands are completely natural, coated with citronella oil and available in four awesome themes- froggy, lizzy, spidey and batty. Yep, all these feed on mosquitoes and will keep your child safe while outdoors.
Price
INR 399/- for a set of 2 bands
They are offering 10% discount on the purchase of 2 packs.
My only issue is that the bands lasts for only 15 days which may not be very economical but when you think that this much money can save your child from diseases like malaria and dengue, it does not appear so much. It also looks good and children do not mind wearing it. I saw children calling it their watch and proudly showing off to friends.
Pee-safe Toilet Seat Sanitizer
Now this is one product I have always wanted. I and many people I know are scared of public toilets, but you cannot avoid them. You have to use them whether you are in a restaurant, shopping mall, airport and even in your office. With a recently toilet-trained child, the concern increases even more.
The danger of contracting infections is always there. Yes, there are toilet seat covers available but they are cumbersome to use and you still doubt if it is safe enough. And it is not the just toilet seats, but faucets, door knobs and so on. When I came to know about this product called Pee-safe which can disinfect a toilet with just a spray, I was intrigued.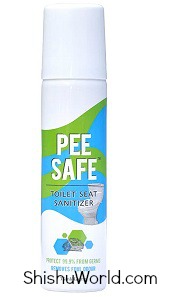 Features
The product comes in a handy spray can. It can easily be carried in your hand bag.
To use it simple spray from a distance of 25 cms on the entire surface. Wait for 5 seconds and the seat is ready to be used.
It gets rid of 99.9% germs on the sprayed surface.
It also deodorises and leaves a nice fragrance, so you also get rid of any bad smell.
Price:
INR 120/- for a 75 ml can.
Considering the can last up to 150 sprays the price seems reasonable. At the moment they are offering 15-25% discount on various packs of pee-safe so you take advantage of the offer.
Both these products are available online on SafetyKart.com