Ear piercing for kids  is an important ritual in India. I recently got my daughter's ears pierced. And I had plenty of question before we took the plunge, so I realised that there must many parents across the country and the world who must be having similar questions.
Ear piercing is a common ritual which has been followed through generations and it is common both for girls as well as boys. There are various rituals and traditions which are followed in different regions and families. We will look at some of the common queries that we usually encounter.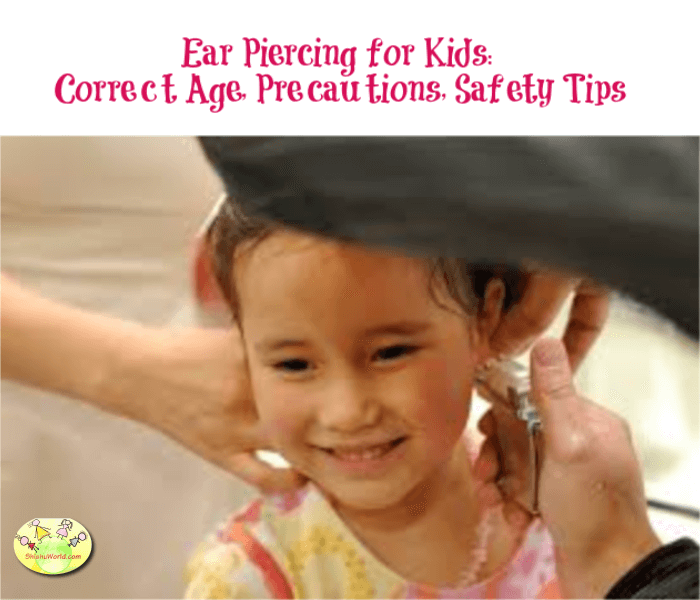 What is the right age for getting ear piercing for kids?
This is a personal choice and there are many traditions which are followed regarding when to get ears pierced for a baby. In some cultures, baby's ears are pierced as early as 13 days, while in others it is 3 years or even later. I my family, we do not have any boundation of time, so we were not sure when to get it done. We got it done last week, as she is almost 8 years old.
Here are a few things which we can keep in mind :
Child is ready for piercing : My daughter had seen her friends wearing ear rings and was quite keen to get her own ears pierced.
Child is neither too young not too old : It is said that if you wait too long to get ears pierced, child's skin becomes mature and it becomes difficult to pierce them. Late piercing can also be more painful and may cause pus and delay in healing.
It is recommended that you can go for piercing when the child is between 8 and 10 years.
Which Metal is Best to Use for First Piercing?
Silver and gold are considered the best when it comes to first time piercing. Choose sterling silver or 22 carat gold for first piercing. Both silver and gold and pure metals and are hypo-allergenic and do not cause any allergies to skin.
Metals like platinum are also available and you can use those, but try not to choose alloys which have nickel or cobalt as they are known to cause allergies.
Where should one get piercing done?
You can get piercing done at many places. It can be done at a hospital or a jeweller.
Check if a doctor or nurse in a nearby provide this facility.
Many jewellers also provide ear piercing facility. Make sure you go only to a renowned jeweller for this.
Ask around where your friends and family have gotten it done and how their experience was.
Which piercing method is best ear piercing for kids ?
There are a couple of ways in which ears are pierced.
Piercing gun is commonly used these days. It is quick and less painful according to many.
Traditional piercing is done either through a piercing needle or through beginner ear rings which have sharp ends for piercing. This method too is painless now.
In both cases, an ointment will be applied to numb the ear lobe to reduce the pain. Important thing is to make sure that the piercer's hands are clean and uses gloves and sterile tools, so that no infection is caused. So, you can choose either way.
Ear rings or Studs – Which is better for ear piercing for kids?
This too is subjective and depends on personal choice, but rings are considered better as they allow movement during the healing process and are also easier to clean.
How was our experience of ear piercing?
We got my daughter's ears pierced at a renowned jeweller near our house. We bought 22 carat gold beginner ear rings there itself.
The piercer gave us an anaesthetic gel to apply on her ear lobes and asked us to wait for 10-15 minutes. After that, he put exact marks on the lobes where to do the piercings.
He simply used the beginner ear rings to to pierce. She did whimper a little during the piercing, but it got over in just a second. She did not complain of major pain after that and her ear has healed beautifully within a week.
Post piercing care for kids
The ear lobe and surrounding area remains sensitive as it heals. We followed a simple cleaning routine twice a day, during the next 6-7 days after the piercing.
Wash your hand with soap and water before handling the piercing.
Take warm water with a pinch of salt in a bowl. You can also use over the counter saline solution.
Dip a cotton ball in the water and gently wash/clean the ear to get rid of any buildup around the pierced skin. Do not pry around too much to remove dry skin etc. Just washing gently with warm water suffices.
Rotate the ring gently so that hole stays and doesn't get closed.
Do not allow the kid to fiddle with the rings too much.
Avoid using alcohol or any antiseptic cream on the area.
Keep the initial ear rings for at least 2-3 months and only after that you may change to other rings or studs. Otherwise, you kid can continue to wear them for as long as you want.
How to know if ear has been infected?
It is normal and expected to have slight redness or swelling during the first couple of days. But if you see below signs, you should consult a doctor.
Ear swells up a lot of swelling does not go down after a day or two.
You notice pus oozing from the piercing.
Doctor may prescribe antibiotics if an infection is there.
In extreme cases, you may have to remove the ear ring and wait for the lobe to heal completely.
Wait for at least 8-10 months before attempting another piercing.
Hope this article answered most of your questions regarding ear piercing. do leave a comment to add anything to this or ask a question.