10 Cute Navratri dresses for girls and boys 
Navratri or the festival of Dussehra is approaching. This festival may be called by different names in different parts of the country but it is celebrated all across. The ten day festival is called Dasara in South India and involves lovely Golu dolls decoration, In North India, it is called Dussehra and signifies the victory of Lord Ram over Ravan. Effigies of Ravan are burnt and there are huge carnivals set up for 5 days. In Eastern India, these days, more importantly the last 5 days are celebrated as Durga Puja. In West India, the celebration lasts for nine days and is called Navratri. The celebration means Dandiya and Garba dance dressed in traditional finery.
Whatever it might be called, the festival involves a lot of good food, revelry and dressing up. I thought  of doing some cute looks for children this festive season. All these are simple and comfortable, which can be used in schools too for ethnic days.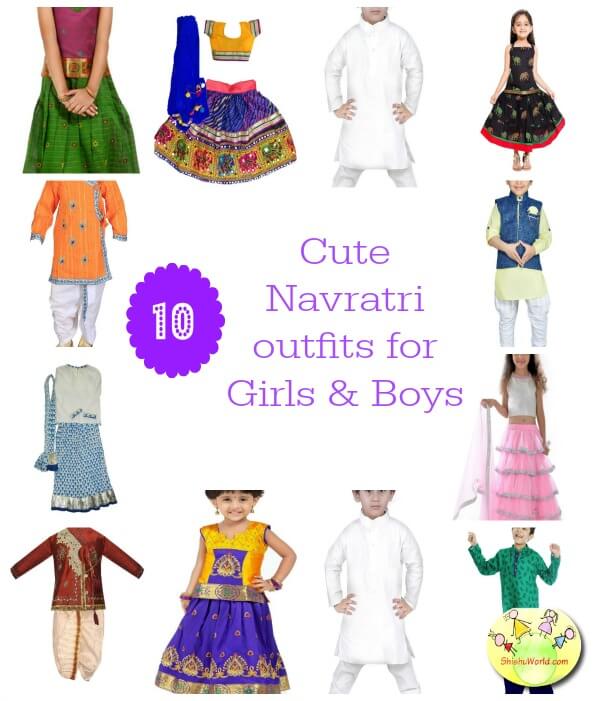 Navratri dresses / looks for girls
Frock style lehenga for girls
This is a very cute lehenga for girls for any occasion. It has frills on the lehenga which makes it unique.
You can buy this lehenga here.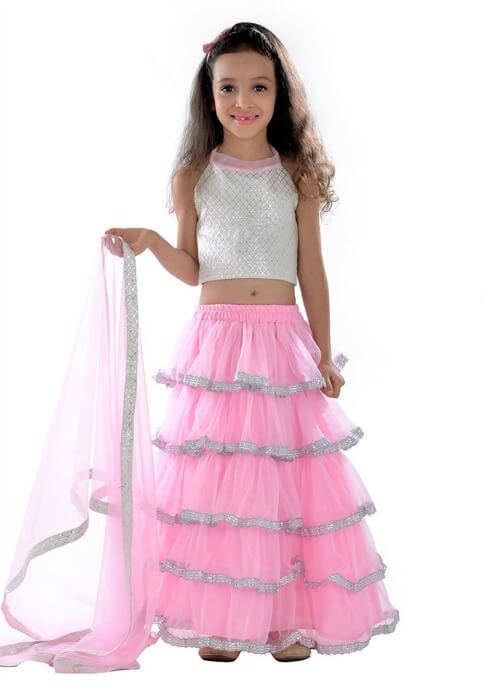 Cotton Lehengas/ chaniya choli
Cotton lehengas and chaniya cholis are the best when it comes to navratri season. They are comfortable and traditional too. And you can reuse them for school ethnic days as well as Janmashtami Radha look.
This is a really simple yet elegant cotton lehenga for girls. With pleasant colors and a simple got pati work, this lehenga will work for any occasion.
To order this lehenga, you can go here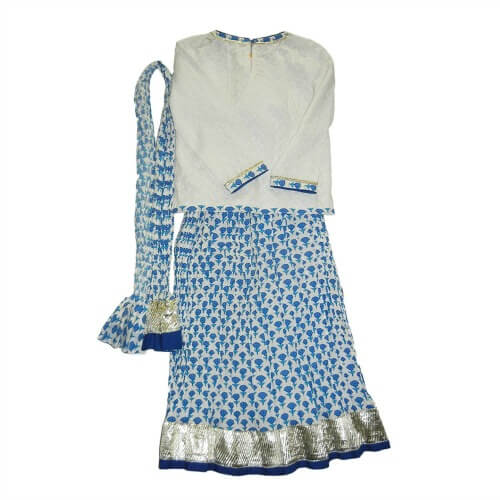 Cotton lehenga for litle girls
I love this little lehenga choli set and am ordering this for my little girl. It is very simple for young girls and still gives the traditional look. The camel and elephant motifs give it a unique yet traditional look.  
To order this lehenga, you can go here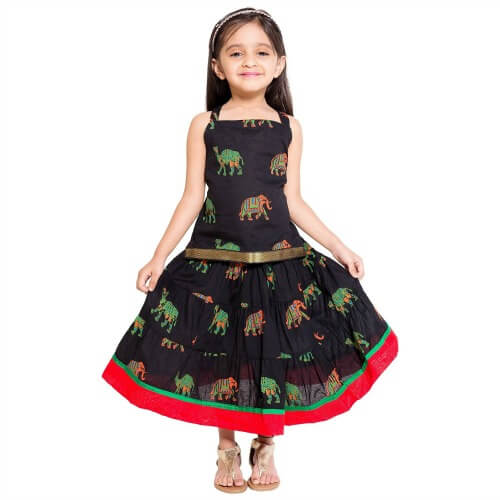 Cotton Chaniya choli
This is a traditional chine choli which will look great for navratri or even a garba/ dandiya night.
To order this lehenga, you can go here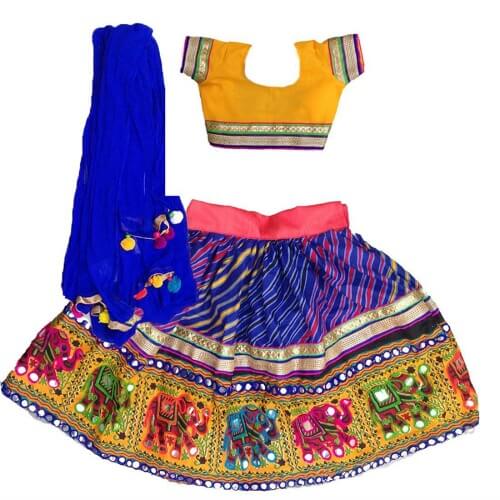 Self Design Girl's Lehenga Choli
This is a patty pavadai from south of India, a really cute look for little girls. The bright colors in these pattu are just right for festive feel.
Go here to get this look.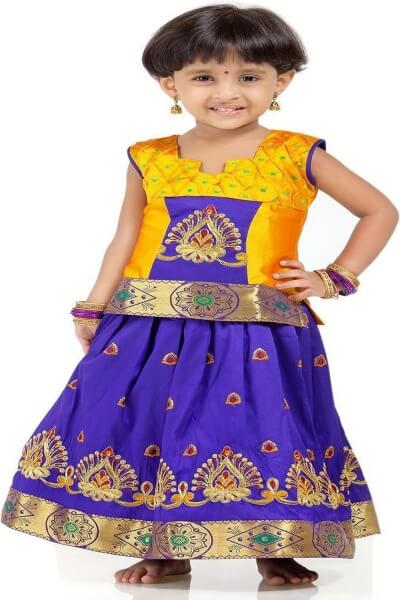 Navratri look for Boys/ Ethnic wear pics for boys
As much as I love little girls in cute lehengas and salwar suits being a mother of a girls myself, I equally love little boys dressed up in ethnic wear too. From kurta pajamas to angrakhas to dhotis to indo-westerns, choices are quite a few. Let su take a look at five of our favourite looks for little boys this navratri or even for Diwali.
EMBROIDERED KURTA and dhoti PANT SET FOR KIDS
I love this kurta and pant set. It appears comfortable and still is quite festive. You may even reuse it for the Janamashtami dressing next year as it is the perfect color and design. This set is available in few other colors too like blue.
Get this elegant angrakaha here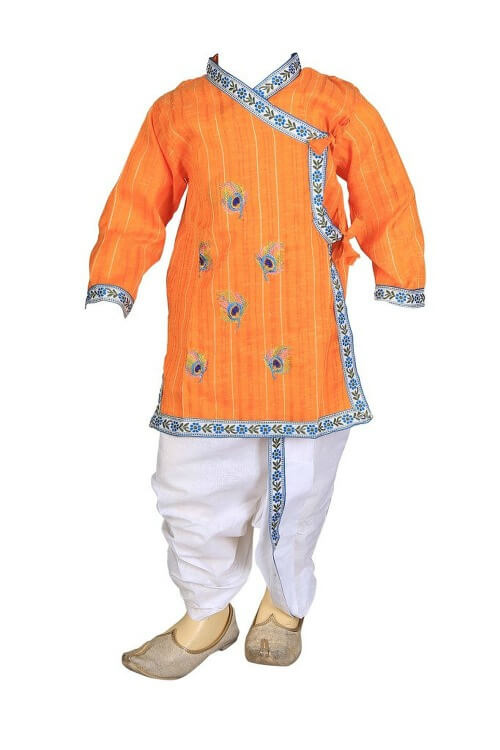 Kurta Pyjama and Waistcoat Set for Boys
This is another very cute look for boys. Kurta pyjama and waistcoat sets are really in these days and look really cool.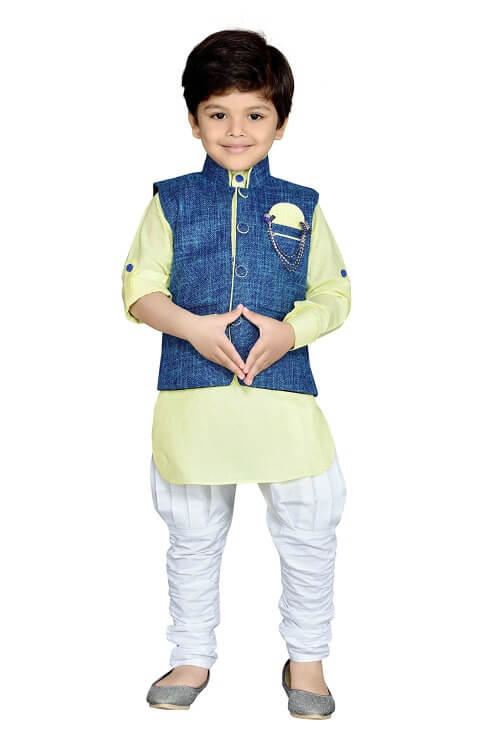 White Pure Cotton Kurta Pyjama
This is the evergreen white kurta pyjama look for boys, perfect for any occasion and this can be used for ethnic days in school too.
Get this kurta pyjama set here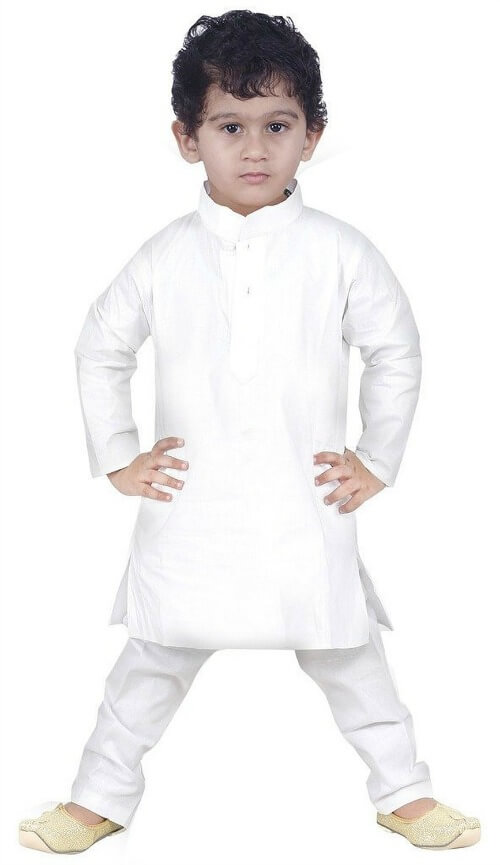 Bengali Dhoti Kurta set for boys
If you are from Bengal and are looking for the traditional kurta and dhoti look for your boy this Durga Puja, then this set is perfect for you.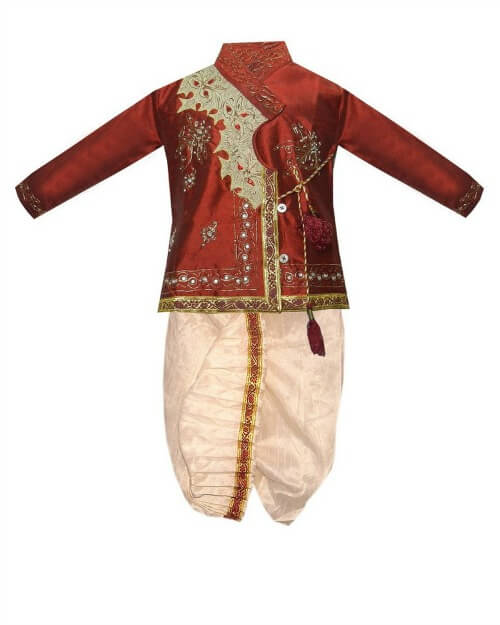 Kurta Pyjama for boys
This is a pretty unique kurta pyjama set for boys as it does not have the typical churidar but the salwar with printed kurta. This one is sure to catch eyeballs.
You can order this set here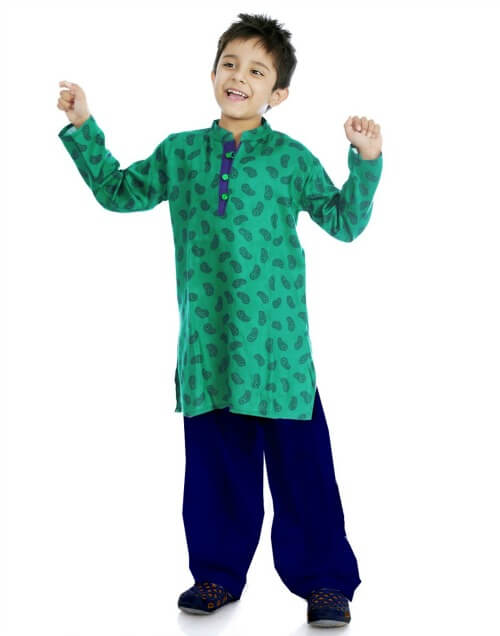 If you choose any of these looks for your prince or princess, do let et us know through a comment.