Back to School Snacks & Lunchbox Menu & Recipes
Dear Parent,
We know how stressful and busy lives can get with office, deadlines as well as school projects and homework. At the same time, we want our children to get the best nutrition while spending as little time as possible in planning the snacks and lunch boxes.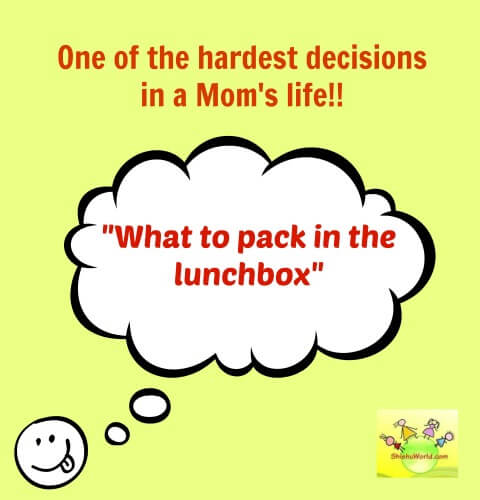 On popular request, we are bringing back the offer on this eBook.
You can order this book now at a discount of INR 100 till June 30th.
Use discount code "BACKTOSCHOOL2018" to avail the discount.
So do not lose this time, if you missed the last launch offer.
"Back to School Snacks & LunchBox Menu & Recipes" helps you in planning your child's meals by doing all the hard work for you. In this eBook, you get:
40 Snacks and Lunchbox ideas along with recipes, so your child gets something new every day of the month.
Menu plans for 4 school weeks ( 1 month). Every weekly menu plan has been designed to ensure wholesome nutrition throughout the day for your child.
You also get tried and tested tips to pack a lunchbox which your children will actually enjoy eating.
Every recipe has tips like suggested accompaniments and the preparation that you can do the previous night so that you can prepare the lunch in the morning with minimum effort.
You also get bonus lunchbox notes.
You get a PDF file, which you can print or view in your tablet, mobile or laptop to refer at your convenience.
We hope this book will help you in planning your child's school meals. Here are some excerpts from the book.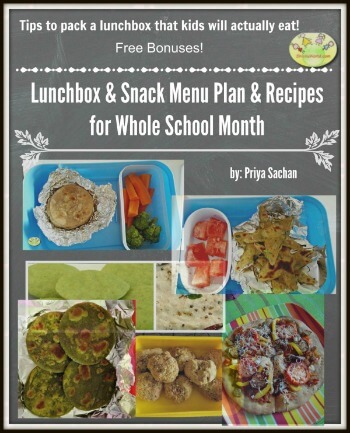 Excerpts from "Back to School Snacks & Lunchbox menu & recipes"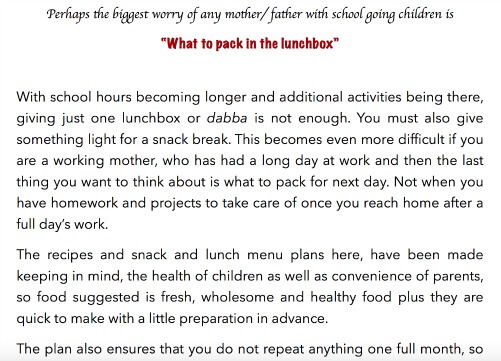 How to pack a lunchbox that kids will actually eat!!
A young child looks for variety, color and fun in school. Same goes for their lunch.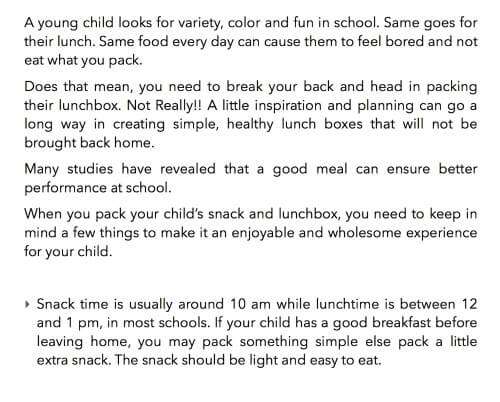 Here is a snapshot of Week 1 snacks and lunch plan for kids.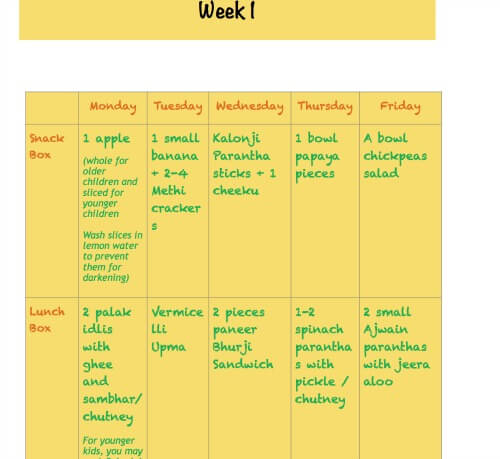 Here is a recipe snapshot from the book.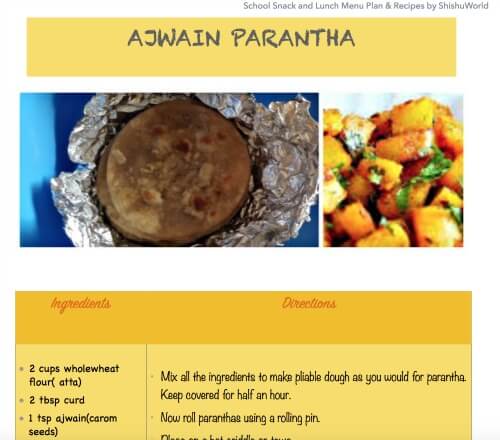 Here is one of the first feedbacks that we have received!!

Click here to Buy this Book Now