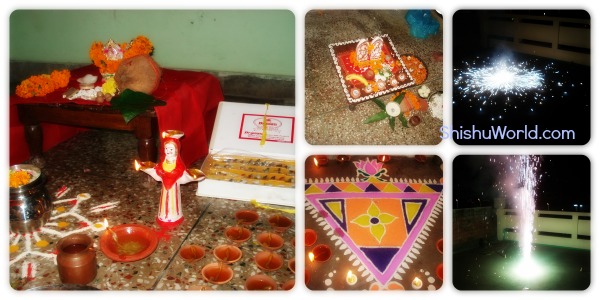 Diwali has always been the most special occasion in our family. Even though I and my brothers stay in different parts of the world now, Diwali is one time when all of us try to visit my parents.Now that they stay alone, this is the one time that they want their whole family with them. Due to a family emergency , I visited them during Dussehra holidays and am not able to visit during Diwali this year. This is bringing back fond memories from our childhood, when I and my two brothers used to wait for this time of the year. Other than the usual, cleaning and shopping, Diwali was synonymous with delicious food.
The preparations used to start many days before. Doodh wale Bhaiya( Milkman) was asked for extra milk from many days before, so  that homemade khoya could be made out of it. That khoya was then used to make sweetmeats like pedas, barfis and gujhiyas. Savouries included mathris, samosas and dahi bhallas. The one constant treat during Diwali is my mum's Lauki ki barfi. Ohh! my mouth is watering at the mention of it.  The actual preparation of these goodies was a family affair too. In our house, this was a combined effort and was not just left to my mother. We all contributed as best as we could under the instructions of the team captain, that was my mother. From grating and preparing dry fruits to rolling puris and cutting of mathris, all of us helped. These goodies were made not just for the family but enough to distribute to neighbours and feed guests. Store-bought sweets were a rarity.
Diwali started with Dhan Teras, when some new metal was brought home. From a silver coin to a new set of steel spoons, it could be whatever was necessary for the house. Bursting of crackers started too from this day. Neighbours lighted fireworks together and children used to enter neighbouring houses as and when they pleased. The festival's pinnacle was the amavasya or Diwali day, when Laxmi-Ganesh pujan was done in every house. Houses were decorated with flowers, alpanas, lightings, diyas and candles. Everyone dressed in new clothes, an elaborate feast was prepared in the evening and fireworks went all night. Some of the fireworks were invariably saved to be fired on the New Year's eve and on an Indian victory on cricket field .
The next morning was dedicated to cleaning up the debris from last evening. Prasad from puja along with sweets and goodies was sent to neighbours house, so one got to have variety of goodies. Everyone from the maids to milkmen to postman were treated to Diwali goodies.
We lived in an Indian Oil township, so employees of IOC from across India used to live together and celebrate the festival. Diwali Milan was quite a popular tradition in the township that we lived in. Basically the ladies and children of the neighbourhood got together and went to visit each other's house post Diwali. I feel those simple, social interactions have been lost these days in the times of Facebook and Whatsapp.
The festival culminated with the Bhai-dooj which was as big as Rakshabandhan. Being the only sister to two brothers, it was a day of pampering and gifts for me. A day that I remember very fondly and miss not being able to be near them every year.
When we are here in Bangalore, I try to bring the same enthusiasm and joy in my own house and try to create the same fond memories for my daughter as I have. Since, my husband belongs to West Bengal where this day is celebrated as Kali Puja, we worship Kali too that day. This is my ghar wali Diwali, what are your memories from those times.