We have been posting quite a few craft and DIY projects for the past few days and love how positive the response has been. I received a few messages to share some more simple toy projects for kids and that reminded me of this toy camera that we had made some time back and it was published on our sister site. I decided to include the project in ShishuWorld as this means that this craft toy camera project has the potential to reach many more people.
Children have their whims every now and then and my daughter had asked for a Dora camera few days back (Dora is her favourite obviously). Now, I am a big believer in DIYing toys rather than buying store-bought toys at the drop of a hat. I still need to declutter so many of her toys which she keeps receiving as gifts.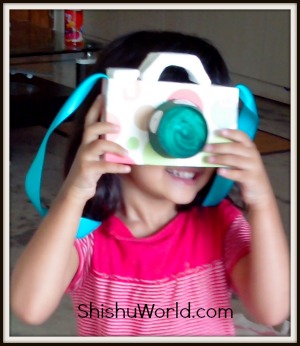 I did this before, when I made her microphone which is still one of her favorites. This time we made the camera using thermocol from packing stuff.
What you need to make DIY craft toy camera for kids
2 inch thick thermocol
1 small paper cup
Colored printed sheets
Stickers to decorate
1 inch ribbon – around 2 feet long
Adhesive tape
Double-sided tape
Scissors and glue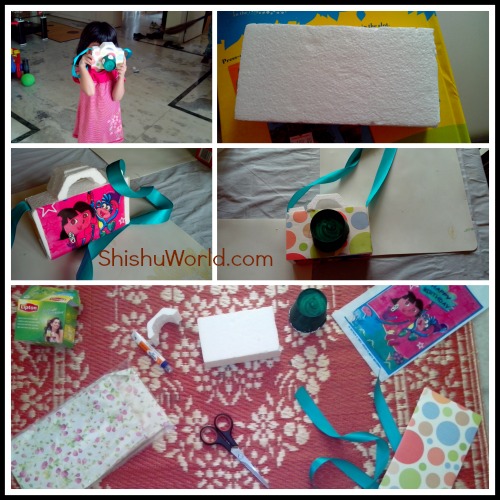 How to make DIY craft toy camera for kids
Cut thermocol into a 4 inch by 3 inch rectangle.
Carve a small top out of the thermocol using a paper knife.
Carve a small square to act as the shutter switch.
Paint the paper cup in your favourite color.
Cover the camera body with colored paper.
Attach the shutter button and top using glue and tape.
Attach the paper cup using double-sided tape to form a lens.
Attach the ribbon using glue and tape to form the strap.
Decorate with your favourite stickers.
This is such a simple project and perfect for toddler and pre-schoolers. I remember my daughter enjoyed this camera for a good few weeks. If you have DIYed a toy like this, we would love to know.