What do I need for formula feeding?
Essentials for formula feeding mothers
Unlike breastfeeding, where you just need yourself and your hungry baby to start breastfeeding, you will need some basic equipment to bottle feed. 
Read more on breastfeeding vs. bottlefeeding.
Formula Feeding Needs -Essentials needed for formula feeding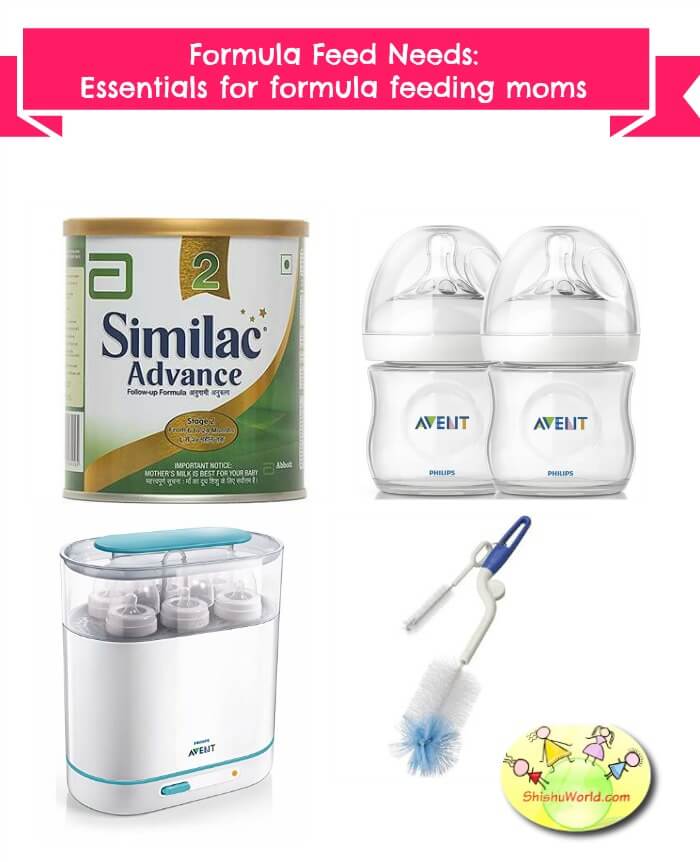 Feeding Bottles – You will need 6-8 feeding bottles of different sizes. You can take 3-4 bottles of 5 oz. and 3-4 bottles of 8 oz. size which will serve till much later. Ensure that the bottles you buy are from reputed brands and BPA free.
Types of feeding bottle available
Basic Plastic BPA free feeding bottles for baby
These are basic feeding bottles easily available in all baby stores. They come in different sizes. Most commonly used sizes of bottles are 4-5 oz and 8 oz.
Glass feeding bottles for baby
If you do not want use plastic bottles for your baby, you can also opt for glass bottles.
Steel feeding bottles for baby
You can also use steel feeding bottles in place of plastic and glass bottles. They are easy to wash and sterilise.
If your baby is prone to colic, you may opt for anti-colic feeding bottles. They are designed in such a way that it allows less intake of air thus
Nipples – You will get nipple with bottles, but you may need some extras to replace in case of damage. Nipples should be regularly changed to ensure they do not get damaged or dirty. Nipples also need replacing at regular intervals as they can harbor bacteria and are much more difficult to clean well. Follow manufacturer's advise to replace nipples and also replace if you see any cracks.
Bottle brush – You will need one or two bottle brushes. Take one which has an attached nipple brush as well.
Sterilizer – There are bottle sterilizers available ion markets today, although these are optional. You can easily sterilize baby bottles in traditional way by boiling in water or even in a microwave. But a steriliser can come handy if you are busy and sterilising your baby's feeding equipment everyday is too time-consuming.
Formula – Many brands and types of formula are available in market.
Powder formula – This is most common and least expensive of all types. You will need correct measure of lukewarm water and mix it with specified amount of formula powder.
Liquid Formula – These are ready-to-use liquids, which can be poured directly to bottles and fed to baby.
Concentrates – These concentrated formula require some dilution with water.
 Read more on types of formula and how to buy formula.