Apple Rice Baby Food
Lunch recipe for 6 months old baby
We have over 300 recipes for baby food and toddler food on our website and we still keep receiving requests for more and more recipes for babies and toddlers. So, I try and come up with newer recipes as often as I can.
Today we share one more baby food recipe which is very simple to make and can be given to baby as small as 6 months. This baby food is made up of rice and apple which can both be given to babies safely. Rice as well as apple are among the favourites when it comes to first solid foods for babies. they are both easy to digest and do not cause any allergies. When you combine these two, you get a delicious meal for a young baby. Apple rice baby food is a meal which is light on stomach and easy to digest.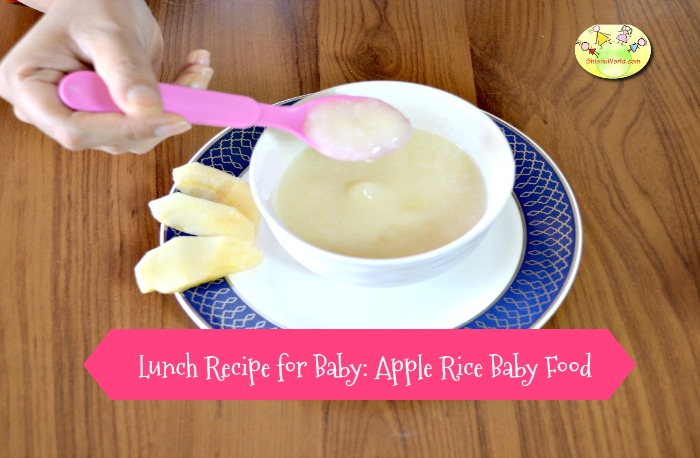 Apple Rice Baby Food
Ingredients
2 tablespoons rice( Use any rice that you use for baby otherwise)
Half apple
Recipe
Wash the rice thoroughly in water 2 to 3 times.
Soak the rice for about 15 minutes.
Wash ,clean and peel the apple.
Cut the apple into pieces.
Now take a pressure cooker and add chopped apple and drained rice into it.
Add 1 cup water.
Close the lid and cook till 3-4 whistles.
Turn off the heat and let the pressure cooker cool down on its own.
Now open the cooker.
Blend the prepared apple rice using a stick blender or a mixer.
Add water as needed to adjust the consistency.
Tips:
For babies who are used to lumpy food, do not blend to a puree. Mash using a fork or the back of a spoon.
For making baby food, use only boiled and cooled water.
Check the apple before cooking for taste. If it is too tart, then do not use it.
You can also use pear in this recipe in place of apple.
Recommended:
How to make dal water for babies
20 weaning recipes for 6 to 9 months old