Moong, Masoor and Spinach Khichdi for Babies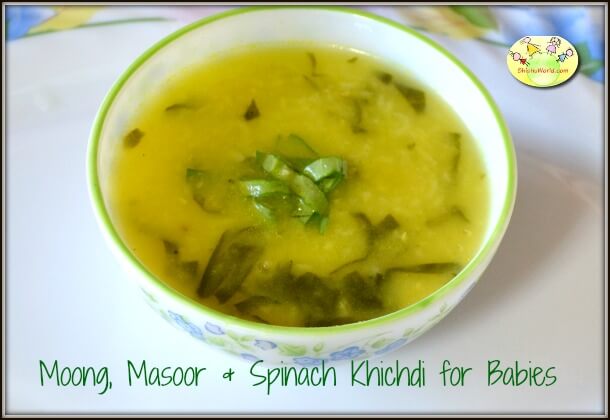 Khichdi is one of the most nutritious and wholesome meals for a baby as well as kids. Not many people realise that khichdi doesn't have to be the same boring old dal chawal, instead it can be the most versatile, delicious and wholesome meal.

As a matter of fact, we have khichdi for our lunch or dinner at least a week, simply because we  love it and it is so simple and quick to rustle up.
Anyway, coming back to baby food, once the baby has been introduced to plain khichdi, you may add this mixed moong, masoor and spinach khichdi as a meal option to your baby's meal plans.
This khichdi can be introduced around 9-10 months old. It has moong( green gram) and masoor (red lentils) dals, which are both easy to digest and it has garlic and spinach, so you are presenting your baby with plenty of new flavours.
Keep this moong, masoor and spinach khichdi well cooked and mushy, so it is easy for baby to eat. If you are still pureeing your baby's food at 9 months, consider stopping. The longer you continue purees, more difficult it will be to transition to solid foods later.
Moong, Masoor and Spinach Khichdi for Babies
Ingredients
1 tbsp Moong dal ( husked, washed and split green gram) 
1 tbsp Masoor dal ( red lentils)
3 tbsp Rice
4-5 tbsp Spinach leaves
1 Garlic clove
1 pinch cumin seeds
1 pinch pepper powder
1 pinch turmeric powder
1 tsp ghee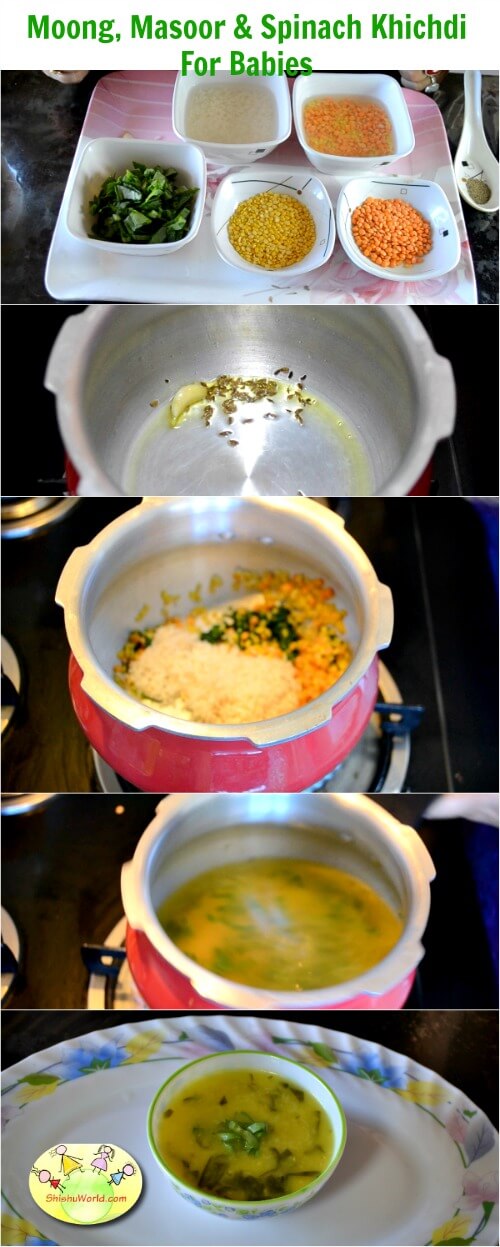 Recipe
Wash both dals in running water and keep them soaked in drinking water for 30 minutes.
Wash rice in running water and soak it in drinking water for 30 minutes.
Heat a pressure cooker.
Add ghee and let it melt.
Add cumin seeds.
When cumin seeds start spluttering, add whole garlic clove.
Saute for a few seconds and then add chopped spinach. Saute with spices for a few seconds.
Now drain the soaked dals and add them to cooker. 
Add a pinch of turmeric powder.
Mix the dals well with spices and spinach.
Now add rice and mix it with everything.
Finally add pepper powder and mix.
Now add 1-2 cups of water, depending on the constancy that you want. But it is best to have a thin khichdi for babies.
Close the cooker and cook for 4-5 whistles.
Open the cooker, mash it well with the ladle and take out to serve.
You may also top with a spoonful of ghee when serving.
Tips:
When you make this khichdi for toddlers or older kids, you can add salt as per taste to this.
You may remove the whole clove of garlic when serving it to baby. In case you want to give, you may mash the garlic and give.
For older children, you may also add red chilli powder or green chillies as per your taste, if you and your child prefers.
Accompany this khichdi with roasted papads and curd or raita to make comforting weekend meal.
How do you make khichdi at home? Do share your recipe with us all.
Hope this recipe will help your child and your whole family!
If you like this article, do share it in your circle. It helps us stay motivated. Do leave a comment to ask a question or let us know your feedback.  You can follow us on Facebook, twitter , pinterest and Youtube.