10 Tricolour Food Ideas to celebrate Republic Day/ Independence Day
Are you planning to do something special for Independence Day or Republic Day this year? It is great fun to hold a Independence Day/ Republic Day Party for your children and their friends.
Celebrating your Independence Day and Republic Day instils a sense of respect and pride for your country, rather than celebrating the day as just another holiday.
Here are a few ideas that we discussed and collated for a Republic Day / Independence Day themed party, particularly tricolour food to suit the occasion:
Dress code for Republic Day/ Independence Day party
This is simple. tell children to dress up as their favourite Freedom fighter! From Gandhiji to Subhash Chandra Bose and Chandra Shekhar Azad and from Sarojini Naidu to Rani Laxmibai, choices are endless.
10 Tricolour food ideas for Republic Day/ Independence Day party
No party is complete without yummy food!! For a kiddy party, it is best to have finger food and items which kids enjoy while keeping them relatively heathy. We have collated a list of 10 food ideas for appetisers, mains and desserts. Easiest things is to keep the snacks in tricolour theme.
Tricolor Fruit salad Republic Day/ Independence Day party
Place orange segments, sliced bananas and sliced green grapes or kiwis to form the tricolour salad. 
Tricolor Vegetable salad Republic Day/ Independence Day party
You may choose carrots for orange color, steamed cauliflower , babycorn or grated radish for white and broccoli segments, cucumber slices or steamed green beans for green.
Tricolor dhokla
Divide your dhokla batter into 3 separate bowls
For the saffron layer- Add carrot and tomato puree to one bowl  and whisk until smooth.
For the white layer– Finely grate coconut and whisk in to the second bowl of batter.
For the green layer- Make a green chutney using coriander leaves and a few spinach leaves and whisk in this paste into the third bowl.
Tricolor Cookies
Decorate your cookies with three colours of icing.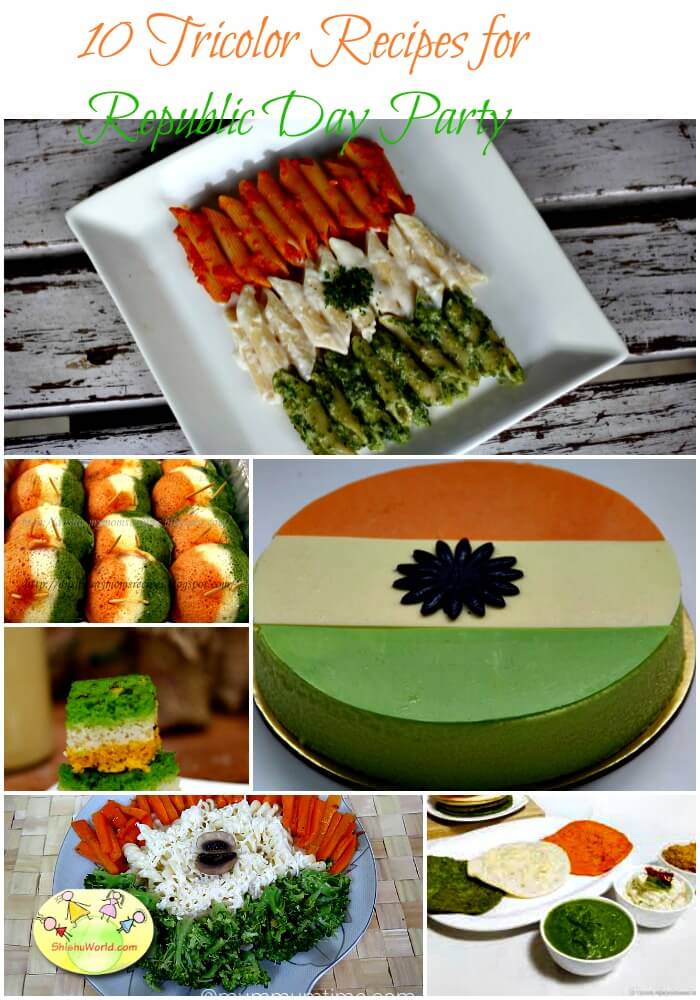 Tricolor Mains for Republic Day/ Independence Day party
Tricolor rice
Cook rice in three different containers by adding purees for saffron and green pastes in two containers while keeping the last one plain. Flavour them with your favourite spices and then use a mould to place first green, then white and finally saffron rice.
Tricolor pasta
Pasta is a favourite with children. Place tricolour pasta topped with cheese and it is bound to be a hit with kids.
Tricolor puri
Make dough in three different colors.
Make small balls of the three doughs.
Check out these tirangi puris for detailed recipe.
Tricolor Dosas and Tricolor idlis
How to:
Divide your dosa batter into three equal parts.
Add Orange food color to one part, and green food color to another part.
You may also use carrot paste and coriander paste to get color naturally.
Now use these orange, white and green batters to make dosa and idlis
You may also make mini idlis and put them into a skewer, which are great to look at and easy to eat.
Drinks for Republic Day/ Independence Day party
Drinks can be Orange juice, lemonade and Kiwi juice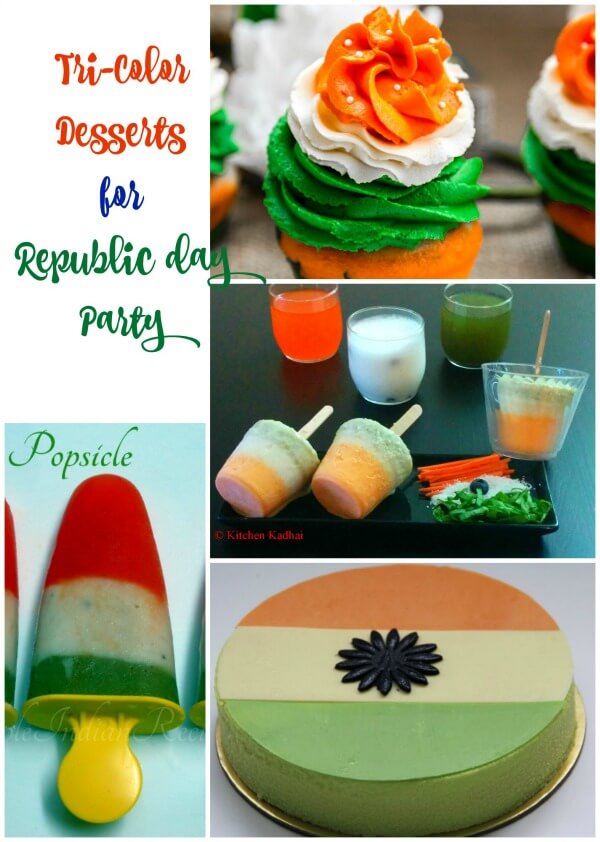 Desserts for Republic Day/ Independence Day party
You may get a cake baked and decorated in saffron, white and green colors.
You may also bakes cupcakes in three different colors
Or try these
Tricolor ice cream/ Popsicles
Divide ice cream mixture into 3 parts. Conor one saffron with mango puree and green with kiwi puree.
Freeze orange juice, lemonade and khus sherbet in layers to make tricolor popsicles.
Are you going to make anything special for this Independence day/ Republic Day? We would love to know and share with all our readers!!