Homemade Chicken Nuggets/ Chicken Pops Recipe for kids
Homemade Snack recipe for kids
Chicken recipes for kids
Homemade Chicken nuggets for kids – Every now and then, I keep receiving requests to share recipes for kid's snacks/ breakfast. That prompted me to create 50 simple breakfast recipes for kids.
I also get requests to share chicken recipes because I admit we do not have too many chicken, fish recipes on ShishuWorld website. So today I am going to try and satisfy both requests by sharing a snack made from chicken. Children are going to absolutely love this one. My daughter does!
Chicken nuggets/ chicken pops are available in market in frozen packs. All you have to do is fry them for a few minutes and they are ready. But I do not feel very comfortable with frozen and as you know I am trying to move away from packaged food as much as possible. Chicken nuggets are super simple to make at home. You can also freeze them and keep them in a zip lock bag in your freezer for the next time. They can be frozen and used for 1-2 months, but they never really last that long. I believe in finishing things as soon as possible and then preparing fresh again. That is also the reason I do not like very complicated and lengthy recipes. Most of my recipes for babies and kids use only a few ingredients and are very simple and quick to prepare.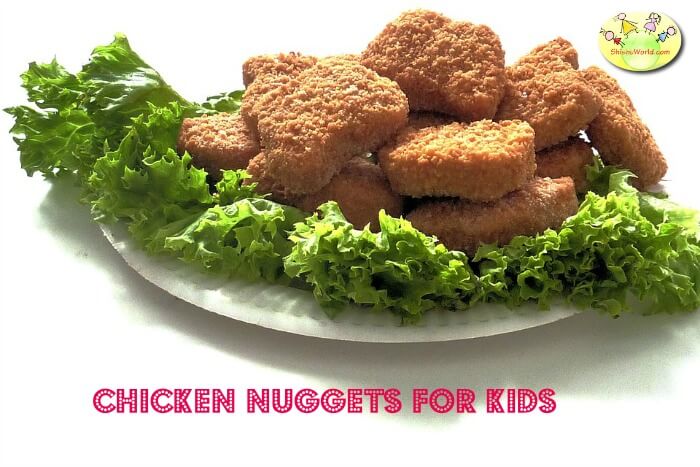 Let us see what ingredients we need to make chicken nuggets for kids. The same recipes can be used for making chicken pops as well. We can make chicken nuggets using bite sized pieces of chicken or chicken mince. My daughter prefers minced chicken ones. If you want to use chicken pieces, use breast pieces as they are the most tender part. 
I also make my own bread crumbs as I do not like the packaged ones and crumbs are just so easy to make, so why use the packaged stale ones.
I am using chicken mince here, but you may also use chicken breasts and blend them with other ingredients in a food processor.
Homemade Chicken Nuggets
Ingredients
Chicken mince – 1 cup
Salt to taste
Pepper to taste
Mixed herbs – to taste
Chilli powder (optional)
2 egg
Oil to shallow fry
5-6 slices of bread
Recipe
How to make bread crumbs:
Take as many bread slices  as you need (include the sides and the top and bottom slices). Stale bread works best for making bread crumbs.
Roughly break the bread into pieces and blend in a blender for a few seconds.. Ensure that the blender is completely dry. Do not over blend.
There you go! Fresh bread crumbs are ready. Take them out in a plate to be used later.
You may also season the bread crumbs with a salt and herbs if you like.
How to make chicken nuggets
Take the chicken mince in a bowl.
Add salt, pepper , herbs and any seasonings that you want.
Mix well. You may also add half a bean egg for binding in feel the need.
Mix every thing well and keep it in refrigerator for half an hour.
Once the chicken is chilled, grease you hands with a little oil and shape little nuggets using your hands. You can also make smaller balls to make chicken pops.
Break 1 or 2 eggs, add 2 teaspoons of milk/water and beat well.
Once the nuggets have been shaped, dip the nugget in egg mixture and then cover with bread crumbs. You may also double coat the nuggets for a crunchier coating. I prefer it once.
Repeat the same steps for all the nuggets and place on a plate.
Now pop them in a freezer for 1-2 hours.
After one hour, take the nuggets out of the freezer. At this point you can pack the extras in air-tight containers and freeze them for later use.
In the video, I could not keep the nuggets in freezer for long enough, so they did not form as well. Ensure that you freeze for 1-2 hours or more if possible.
Frying the chicken nuggets/ chicken pops
You may shallow fry or deep fry the nuggets.
Take appropriate amount oil in a pan and heat to medium hot.
Now place the ready nuggets one by one in hot oil and let cook on all sides on medium to low heat. You have to fry till they become golden brown on all sides and chicken should be cooked completely. It will take 2-4 minutes depending on the size of nuggets.
Remove the fried nuggets on paper towels.
Serve these nuggets with your chid's favorite ketchup, mustard or dip.
Do make these yummy chicken nuggets for your children and let us know how it was liked. 
Recommended:
Healthy meals for picky eaters