This yummy, protein rich recipe has been contributed by Charu Mehra. She is a full-time mom to a little girl of 5 years, Adwita. She is a paper filigree artist and her quilled jewellery is drool-worthy. She loves to dabble in various art-forms and loves cooking too.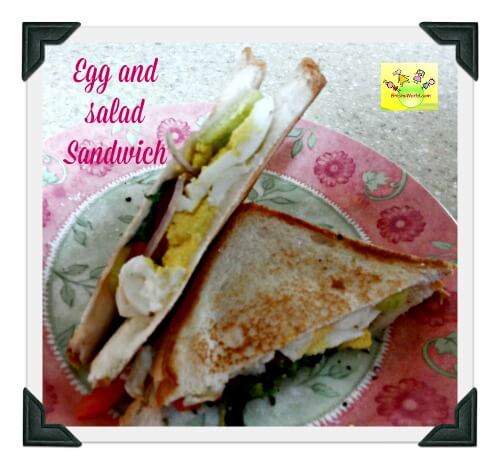 This drool-worthy sandwich is a complete meal in itself and is versatile enough to modify as per your and your child's preference. You may remove mayonnaise or add any other vegetables that your child likes. Egg is among the best source of protein and doctors recommend giving one egg to young children daily.
Ingredients
2 slices of bread
Mayonnaise as required
1 boiled egg
1 onion sliced
1 tomato sliced
Lettuce leaves
Black pepper 
Salt to taste
Oil/ Butter for grilling
Recipe

First we will spread mayonnaise on one  side of both breads.
Then we will cut boiled egg into four pieces and keep it on one slice .
Sprinkle some salt and pepper on top of it.
Now put slice of onion , tomato and lettuce on top of it.
Cover the sandwich with other bread and grill it on tawa .
After grilling cut it into two
triangular
pieces and
serve
it with sauce.
Related: