Puffed Rice cereal for Babies
Easy travel recipes for babies
We have shared many simple cereal recipes for babies and we still receive requests to share easy recipes for cereals for babies which can be prepared easily and can even be used while travelling. So, here is an easy recipe which can be quickly made for babies above 8 months old and above. This is a recipe which can be quickly prepared with some hot water and can be prepared quickly while travelling also.
Puffed rice or mumure is easily available in all parts of India and is very versatile food for babies and young children. It is prepared by heating soaked rice on high heat so that it puffs and becomes light. It is very ready to eat and is easily digestible. To make it more nutritious, we are going to add roasted gram dal ( bhuna chana) and almonds to this cereal.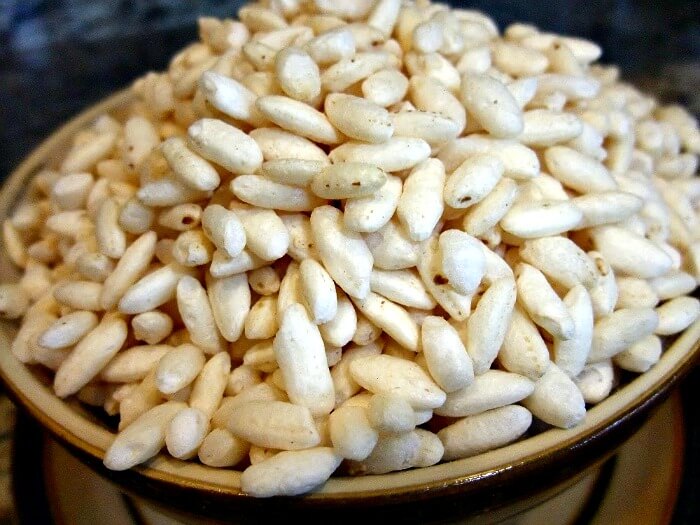 How to make Instant Puffed Rice Cereal for Babies
Ingredients
2 cups puffed rice
1/2 cup roasted gram dal
1/4 cup almonds
1/2 teaspoon cum in seeds
Recipe
Dry roast almonds in a pan on medium heat, till they turn golden brown.
Allow the almonds to cool down completely.
Once cool, crush the almonds roughly using a rolling pin to small pieces.
Dry roast cumin seeds lightly and let it cool down.
Now add puffed rice and gram dal, cumin seeds and broken pieces of almonds to a blender.
Now blend this mixture to a fine powder.
Blend in small spurts for 5 seconds and keep mixing with a spoon after every blend.
Store this powder in an air-tight container.
Video recipe for Instant puffed rice cereal in 2 flavours
How to Prepare Puffed Rice Cereal for Babies
When you want to prepare the cereal, take couple of teaspoons of ready cereal in a bowl.
Add hot water to this cereal and mix well.
Let it sit for 3-4 minutes and adjust consistency.
Different varieties of Puffed Rice Cereal for Babies
Applesauce puffed rice cereal
Once, you have prepared basic cereal, add applesauce to cereal and mix well.
Banana flavoured puffed rice cereal
Add banana puree to ready cereal to make banana-flavoured puffed rice cereal.
Date flavoured puffed rice cereal
You can add date syrup to this cereal to make date-flavoured puffed rice cereal.
You can also add breastmilk or formula to puffed rice cereal after preparing with water.
Sweet puffed rice cereal
Add jaggery syrup after making puffed rice cereal with water. This will make nice sweet cereal for baby.
Common queries regarding puffed rice cereal
When can I introduce puffed rice cereal to my baby?
Puffed rice cereal can be in introduced once baby turns 8 months and above. If you have any doubts , do consult your baby's doctor when you plan to introduce this cereal.
What kind of puffed rice can I use to make this cereal?
Ideally use organic puffed rice to make this cereal. You may also use brown puffed rice to make this .
Can I add ghee to this cereal?
Yes, you can add ghee as per you're preference to this cereal. Just add a few drops at the end and mix well.
How long can this cereal be stored?
You can store this cereal in air-tight container for 6-8 weeks. Store this cereal in a cool and dry place so that it does not catch any moisture. You may store it in refrigerator if your place is very humid and hot.
This cereal has chana dal. Is it easily digested?
We have add cumin seeds to help in digestion of dal. Also, roasted chana is easier to digest than regular chana dal.
This cereal is quite easy to make