Sorting activities for pre-schoolers – Holidays mean children complaining about having nothing to do. They don't want to play with the same old toys, which they have played numerous times. Finding something creative  and new for them can be a challenge. My little one loves to help around the house, so she wants to dust or water plants or just do something in the kitchen. So, we did some easy sorting activities at home during the winter holidays, with stuff from my kitchen and around the house.
It usually started like
Me: I need you help!
A: What help?
Me: See all of this got mixed up. Can you please sort it out for me.
And she world do it happily. And activity ended with big "Thank yous" and "Oh! What would Mumma do without you".
Here are 3 sorting activities for pre-schoolers that you can also use with your children.
Sort the nuts – Sorting activities for Pre-schoolers
In this activity, we had some nuts and raisins mixed up. I asked her to sort it out for me so that we can have raisins which are her favorite.
I gave her four pretty bowls to keep them in and she added one more large one to  keep the pistachio shells. She was happy doing this for some time and then decided she wanted to make a salad, so mixed them up again. A busy, happy and productive afternoon.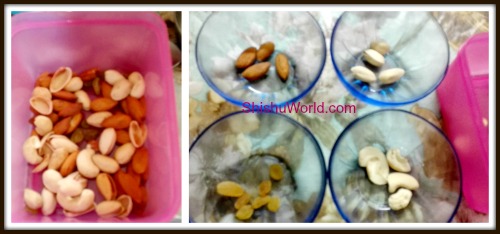 Sorting the hair accessories
I love collecting and making hair accessories for my girl and she has  plenty of them. Here we mixed some some pairs of clips and bands and I asked her to make pairs. She decided to sort them according same color family as well. So, all shades of blue go together and in pairs. 🙂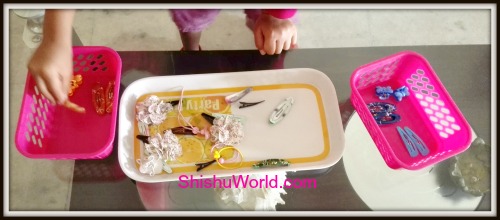 Sorting Beans activity for Pre-schoolers
We mixed up some kidney beans( rajma), chickpeas and vadis for this sorting activity. I chose these beans because they are not very small and it won't be frustrating for her to pick them up.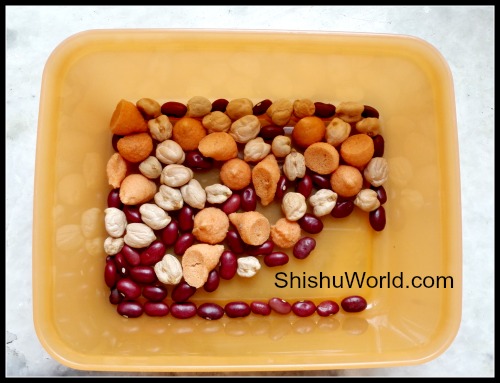 Other than these, I have mixed up spices like black pepper, cloves, cinnamon and cardamoms together and that makes a great sorting activity. Since, cloves and pepper corns are quite small, they are great for developing pincher grip too.
We love finding games and activities around home. Do your love creating sorting activities for pre-schoolers? What are your favorite activities for holidays?
Related:
Busy bag for a toddler – How to keep a toddler busy during outings
Everyday activities to engage children
17 fun activities to keep toddlers busy