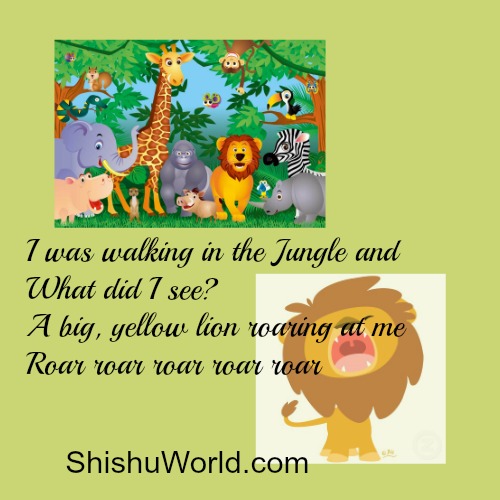 Teaching kids about animals in one of the first things that is done at home and school. We can make them understand difference between wild and domestic or farm animals and also make them aware of the importance of animals in the eco-system. We will look at some fun ways to introduce children to wild animals.
Wild animal puzzles
Puzzles are a great way to get our little geniuses' minds racing. Whether they are wooden puzzles with knobs or small jigsaw puzzles, they are a great way to introduce and inform them about wild animals.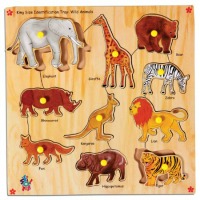 Skillofun Kingsize Identification Tray Wild Animals with Knobs, Multi Color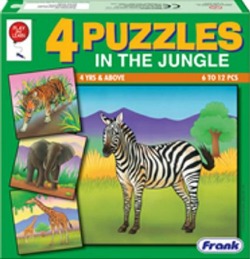 Frank In the Jungle
Books
Books with large pictures of animals are one of the first media we resort to when teaching children. Here are some recommendations.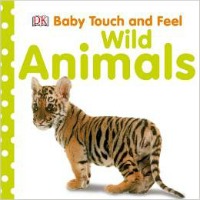 Wild Animals (Baby Touch and Feel)
Wild animal figures
These animal figurines will become your child's best friends. You can also use them to play-act zoo or make a model.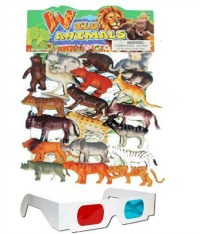 Wild Animals Plastic Toys for Kids ( 20 Pcs. Pack )
Here is a fun rhyme to help children remember the animal names, their features and sounds they make. Sing and dance with your kids to this song and they will never forget their wild animals again.
I was walking in the Jungle and
What did I see?
A big, yellow lion roaring at me
Roar roar roar roar roar
I was walking in the Jungle and
What did I see?
A huge, grey elephant trumpeting at me
Trumpet (5)
I was walking in the Jungle and
What did I see?
A long, black snake hissing at me
Hiss (5)
I was walking in the Jungle and
What did I see?
A lovely, red butterfly fluttering at me
Flutter (5)
Field trips
Take the child to zoo and have a picnic there, while showing her various animals which she has learnt to recognize in the pictures. A great way to bond and some learning too.
You can also do a show and tell with your pre-schoolers or make a 3-D model with animal figurines.
Please do add more ideas to this list.