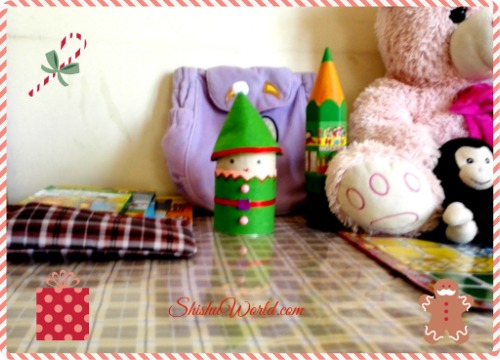 Christmas is round the corner and my soon to be 4 years old is very excited. This is the first year when she is actually looking forward to X-mas and keeps checking how many days it is to go. She has told me what she wants from Santa and new things keep getting added each day. We are planning to bring in a tree around 20th and do some baking, most probably a fruit cake which I make every year. This year, she can help me. 🙂
Besides this we also plan to read some books and do crafts. Last year we made a christmas card with scrub-pad and here is a craft we did using an old cookie box this year. Since, Santa is everywhere else and because I had green felt handy, leftover from her grapes fancy dress costume, we decided to make an elf. I told her that elves are Santa's helpers and she recalled an Umi-Zoomi episode where the team helps elves fix up their gift machine.
What you need
An empty cylindrical cardboard box (A cookie or chips box) with a lid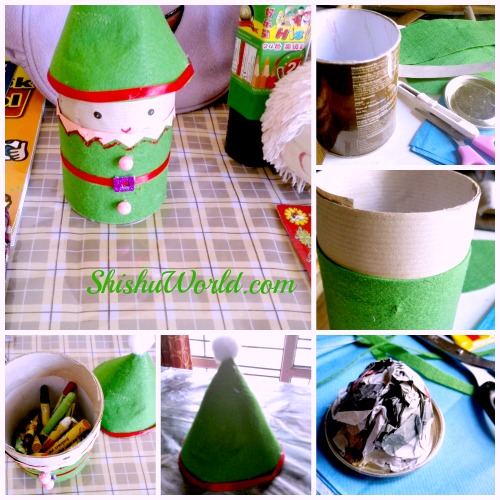 Green felt
Brown paper
Red satin ribbon(0.5' )
Colored glitter sheet
Colored sheet to decorate
White pom pom
Thermocol balls
Old newspaper
Strong glue/ hot glue gun
Black marker
How to
Box:
Remove the wrapping over the box, so that it is easier to stick felt and paper.
Cut the brown paper to a 1 inch wide strip, so that it can cover the whole box.
Stick the brown paper to the top of the box.
You can cover the inside too if you like.
Cut the felt in a rectangle, wide enough to cover the box till bottom and long enough to cover all around.
Using hot glue/ strong glue, fix felt all around the box.
Using black marker, make eyes and mouth on the brown paper to make face.
Now decorate the elf's green costume as you like. I used thermocol balls and glittery felt for the same.
Lid:
Scrunch up the newspaper and stick on the lid to make support for elf's cap.
Cut a semi-circle of green felt to make a conical hat for elf.
Make a cone, joining the ends using staples and hot glue.
Stick red ribbon to decorate the cone.
Stick white pom-pom at the top of the hat.
Once ready, use hot glue to stick the cap lip.
Your child can use this cute little box to store her crayons, pencils or any other stationary item.
This post is a part of the fab Christmas Bonanza!!