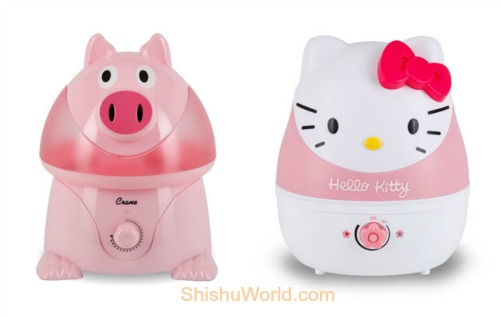 Winter is the season when most mothers brace themselves for repeated visits to doctors. Young kids below the age of five are known to catch as many as 5-6 colds per year on an average. As soon as the weather starts getting nippy, we begin resorting to home remedies to ensure our little ones do not fall sick.  
Steam is a time-tested remedy to ease congestion and stuffy nose, but hot steam can be dangerous and most kids do not take to it very well. I had known about humidifiers used abroad but they are not commonly available in India. Crane humidifiers, one of world's best known brand in humidifiers has now been launched in India.
What are humidifiers?
Humidifiers are gadgets to increase indoor humidity which can help relieve symptoms of cold and cough as well as reduce dryness of skin and lips etc. These produce cool mist as opposed  to hot steam produced by vaporisers. Humidifiers can make it easy for babies to breathe and thus ensuring a good night's sleep.
Benefits of Crane humidifiers
INCREASES MOISTURE IN THE AIR
Soothes scratchy throats, hacking and dry coughs that can keep your child awake at night.  A baby's skin loses moisture twice as fast as adult skin and humidity can help soothe dryness, chapped lips, and other irritations.
HELPS RELIEVE COLD & FLU SYMPTOMS
The American Academy of Pediatrics advises against using OTC cold medications for children under 6 years old.  Pediatricians recommend a cool mist humidifier.
CLEARS CONGESTION
Infants have very small nasal passages that can quickly become dry or clogged with congestion. Humidity helps your baby breathe easier for a good night's sleep!
HELPS TREAT CROUP / BARKING COUGH
A viral infection that affects mostly younger children (under 5-6) causing swelling in vocal cords
and barking cough.  Pediatricians recommend cool mist to help soothe the throat & swelling.
QUIET FUNCTIONING
I have been using it for a few days now and there is no sound unlike in vaporizers which ensures children have a sound sleep.
WIDE RANGE OF DESIGN OPTIONS
Crane has a wide range of humidifiers in various forms from drop to cute adorable range. There adorable range has humidifiers from hello kitty to penguins to elephants.
Check out their website to
ECONOMICAL
Compared to other options available in India, Crane humidifiers are reasonably priced.
MAINTENANCE
You should keep the humidifier at an elevated and non-metallic surface.
It is advisable to use filtered water if the tap water has lots of salt content.
Empty the water out after every use, as bacteria can develop in standing water.
Sterilize one a week with vinegar and water solution.
Check out their website and facebook page to get more information.