Himalaya prickly heat powder for babies
Last month was special for me. I was not as regular in posting because I was occupied with preparing for my younger brother's wedding. Well, it was a lot of fun and now I am back to the grind. Well, the wedding was in North India and I spent a lot of time shopping in Delhi markets. My 5 year old accompanied us on these shopping sprees and was very cooperative even in Delhi heat.
But the fallback of all this roaming around was the dreaded prickly heat. It was even worse for her because she had never experienced it in Bangalore. The only one time that she had got prickly heat was when she was a little baby and in North India. It reminded me of what had helped her then. At that time, I had switched to Himalaya products from another popular brand and used their prickly heat powder. It worked very well for her then and this time too.
So, today I bring to you my review of their prickly heat powder.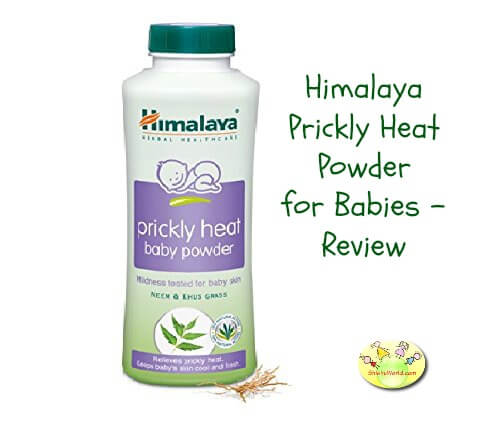 Himalaya Prickly Heat baby powder is plain white and comes in the trademark white and green packaging.
Key Ingredients of Himalaya Prickly Heat Powder for Babies
The best part about this product is that it is herbal and uses only natural ingredients. 
Yashada Bhasma
This is an ayurvedic medicine prepared from zinc, which has cooling and healing properties. It is anti-inflammatory, reduced excess sweat and soothes irritated skin.
Karanja
Helps in reducing itchiness
Nimba or Neem
One of the most important ingredients in Ayurveda which has natural anti-microbial properties. It is recommended for general skin health and helps in combating material infections like prickly heat.
Khus grass
Naturally cooling, this ingredient refreshes the skin.
Price of Himalaya Prickly Heat Powder for Babies
The price of Himalaya prickly heat powder for babies is very reasonable, which makes it affordable for everyone.
50 gms pack for INR 40
100gms pack for INR 70
200 gms pack for INR 125
Packaging of Himalaya Prickly Heat Powder for Babies
The Himalaya Prickly Heat Powder comes in the trademark Himalaya packaging in white and green container. The top is sealed with a removable sticker. There are holes for easy application of powder and top can be rated easily to open and close the holes.
Pros
Natural and herbal
No side-effects as it contains no chemicals
Cost-effective
Easily available across stores in most cities and towns in medical stores, health stores, super markets as well as baby shops. You may also order this on many online stores.
Another mom in our awesome mom and baby group, SW Mums and Babies also gave this review:  
"Didn't use talc for my boys till 15days before..but currently we are on vacations at my mom's place and temperature here is 43degrees and my boys got prickly heat rashes then I applied this himalaya powder for just 3 days twice and all the rash gone away."
You may order Himalaya prickly heat powder for babies here:
Have you used Himalaya prickly heat powder for babies? How has your experience been? We look forward to listening your views of this product.