This recipe has been contributed by Donna George. She enjoys cooking and believes in easy, simple cooking. She is mother to a 2 years old girl, Michelle. This is a yummy chicken recipe by her, which she learnt from her mother and it has the potential to be a kid's and everyone else's favorite.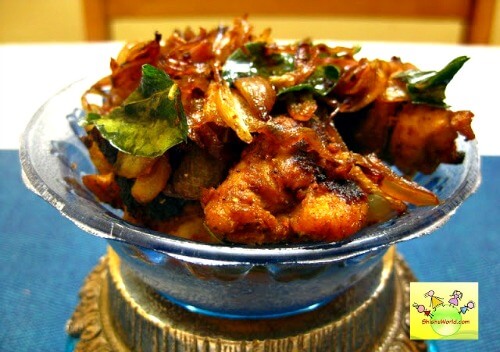 You can view more of her recipes on her awesome blog Culinary Experiments of An Amateur
Healthy dips and chutneys for kids
Ingredients
Boneless Chicken (cut into bite size pieces) – 250 gms
Finely sliced shallots /small onions  – 15-20
Curry leaves
Oil (preferably coconut oil)
Salt – to taste
For Marinade
Ginger & Garlic paste – 1/2 tsp
Red Chilli powder – 1/2 to 1 tsp (optional)
Garam Masala – 1/2 tsp
Coriander powder – 3/4 tsp
Turmeric powder – 1/4 tsp
Salt – a pinch
Recipe
Make the marinade by mixing all the marinade ingredients.
Marinate the chicken in this and keep aside for at least 1 hour.
Heat oil in a pan and saute shallots and curry leaves till onions become light brown and keep aside.
In the same wok, heat a little more oil and add the chicken pieces and shallow fry it till browned well on both sides. Now add the fried onions and curry leaves into it and mix well. Saut'e for a few minutes on a low flame till onions turn crisp and chicken is cooked well.