Homemade Peanut Butter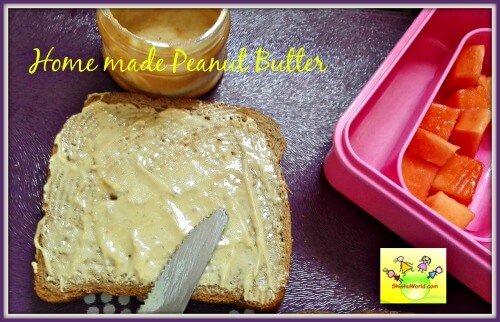 Few weeks back, I had mentioned how we are trying to move away from packaged stuff as a family. Here is our homemade pavbhaji masala suitable for kids.
Now my 4 years old loves peanut butter after she had tasted it once from a bottle. I realized, it was quite easy to make it at home. Homemade peanut butter is not only healthier but also economical. Peanut butter is not a traditional Indian food item and thus I have seen that we are quick to dismiss it as processed and unhealthy. Peanut butter when prepared at home is basically peanuts with a little salt and sugar to your taste. Basically, if taken in moderation, it can only be good for a growing child just like most other things.
More dips and chutneys
Let us also take a look at nutrition from peanuts and peanut butter.
Peanuts are very rich in protein
Peanuts are consumed in various forms like oil, roasted, boiled, fried.
A 2 tablespoon serving of peanut butter has 3.3 grams saturated fat and 12.3 grams of unsaturated fat, which is similar to fat ratio in olive oil.
Numerous studies have shown that people who regularly include nuts or peanut butter in their diets are less likely to develop heart disease or type 2 diabetes than those who rarely eat nuts.
Source: http://www.health.harvard.edu/press_releases/is-peanut-butter-healthy
When you are preparing peanut butter at home, you can choose to add or avoid any element as per your choice and taste. In our case, I keep giving my daughter a bit to taste before balancing the flavour. I usually make it in small batches and keep it in fridge. I use my regular blender to make it, but if you have a food processor, do use it.
What you need to make homemade peanut butter
Raw peanuts -250 grams
1-2 teaspoons peanut oil or any other neutral vegetable oil
Salt and sugar/honey to taste
Recipe
Roast the peanuts in an oven or stove top on a skillet. My daughter likes deep brown color in peanut, so I prefer to roast them well.
Once slightly cool, rub the peanuts between your hands to peel the peanuts.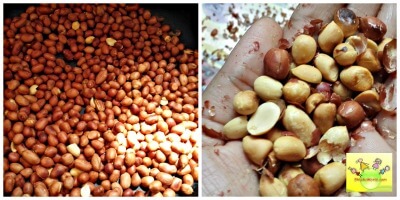 Transfer the peanuts to your blender jar.
If using your blender, blend the peanuts only for about 30 seconds at  a time.
Use a spatula or spoon to scrape from sides and blend again.
In about 3-4 minutes, you will see peanuts turning to a smooth texture.
Add salt, sugar or honey to taste at this point.
Add 1 teaspoon oil and blend some more.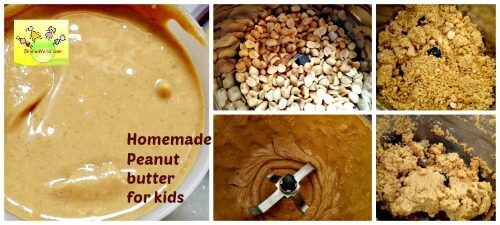 If your child prefers chunky peanut butter, you can stop now after balancing the seasonings.
You may need more oil if you want a smoother texture. Blend for more time in intervals of 30-40 seconds till you get desired texture.
And your homemade peanut butter is ready!!
Store it in a dry, air-tight container in refrigerator. It will stay for weeks.
Serve this yummy peanut butter in a sandwich or use them in cookies or muffins. My little one loves peanut butter sandwich for her snackbox in school.