15 (12-18) months Food Chart/ Toddler Food Chart
This 15 (12-18) months Food Chart / Meal Plan will help you plan your recently turned toddler's meals with ease.
At 15 months, you must be noticing huge changes in your baby in the last few months. Your little baby might be a proficient walker now. Even if she has not yet taken her first step alone, it is just round the corner. You will find that she wants greater control over everything and that includes eating. The baby might seem to want to move all the time and the memories of her sitting quietly in the high-chair while you feed her might appear distant.
15 (12-18) months Food Chart / Meal Plan
Feeding a toddler can be a challenge. They can suddenly start refusing their favorite food or may take fancy to something completely unlikely. Your baby who was eating like a dream might turn into a fussy eater overnight. Now is the time to allow her the freedom to feed herself by offering finger foods.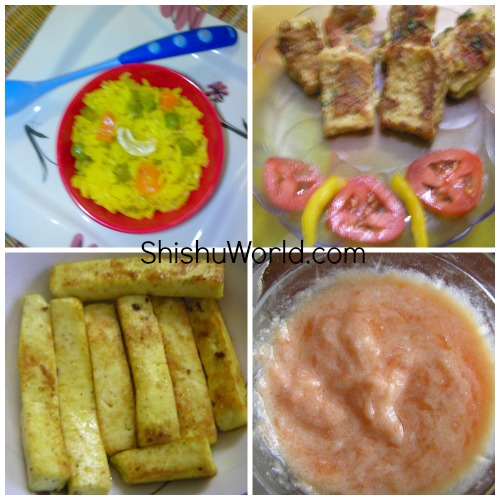 15 (12-18) months Food Chart
| | | | | | | |
| --- | --- | --- | --- | --- | --- | --- |
|   | Early Morning | Breakfast | Mid-Morning | Lunch | Afternoon | Dinner |
| Mon | 1/2 to 1 cup milk | | Banana slices | | Fruit Yogurt | Masoor dal khichdi |
| Tue | 1/2 to 1 cup milk | Suji porridge | Water melon scoops | | | Moong dal cheela |
| Wed | 1/2 to 1 cup milk | Plain dosa | Veggies sticks | Paneer bhurji sandwich | | Star parathas with aloo curry |
| Thu | 1/2 to 1 cup milk | | Cheeku pieces | Rice, dal and green beans sabji  | Orange wedges | |
| Fri | 1/2 to 1 cup milk | | | | Cornflakes with milk | Paneer parantha |
| Sat | 1/2 to 1 cup milk | | Cucumber sticks | Chicken soup with noodles | Cheeku smoothie | Dosa with aloo masala |
| Sun | 1/2 to 1 cup milk | Idli with chutney | Strawberry quarters | Rice with fish | strawberry milkshake | Spinach Khichdi with curd |
Points to remember when feeding a 15 months old
You may have switched to cow's milk by now or might still be breastfeeding. Remember to increase the quantity of solid meals now. If your toddler does not like milk, see how you can replace milk in her diet.
Limit your toddler's intake of milk to less than 2 cups a day( around 400-500 ml).
If you have been giving purees, stop them right away. At 15 months, your baby is capable enough to chew her food.
Give finger food which the toddler can feed herself. Small pieces of paranthas, rotis, vegetable sticks, paneer sticks, potato and sweet potato fries can form great finger food.
Try not to get too stressed over the amount being eaten or mess being made. This too shall pass!
Avoid temptation to feed sugary items just so the tot eats something.
Serve variety of food to ensure balanced diet.
Try to give a wholesome meal every time but do not count on it to be finished. Every child is different. Some might love one pot meals like khichdi, pulaos etc. while others might insist on separate food groups. Try and figure out your child's preference.
Try to make food interesting and fun by making different shapes out of chapatis and making food more colorful.
Try not to run behind your active toddler with a plate of food as it can set you up for next few years. Either let them feed themselves or feed in a chair.
Include raw fruits and vegetables (salads) in their regular meals. This is the age to inculcate good eating habits and taste towards healthy food options.
You will have some important vaccinations at 15 months mark. View and download the IAP approved Immunization Chart here.
 13.   You can safely give non-vegetarian items if you waited till 1 year to introduce them. Eggs, fish and chicken are usually safe to be given. Some recipes below:
Baked chicken lollipops – Kid-friendly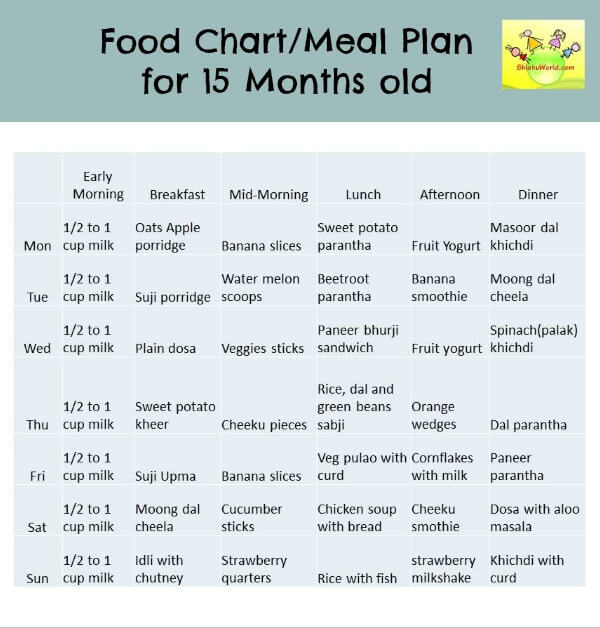 Hope this food chart will help you in planning your baby's food. If you like it, please share it in your circle. Please leave a comment to ask a question or let us know your feedback.  You can follow us on Youtube, Facebook, twitter and pinterest.
Further Read:
More Food Charts/ Meal plans for babies / toddlers
6 months baby food chart/ meal plan
7 months baby food chart/ meal plan
8 months baby food chart/meal plan
9 months baby food chart/ meal plan
10 months baby food chart/ meal plan
11 months baby food chart/ meal plan
12 months baby food chart/ meal plan
1.5 year baby food chart/ meal plan
Vegetarian food chart/ meal plan for 2 years old
Non-vegetarian food chart/ meal plan for 2 years old toddlers
Daily Routine/ Feeding Schedule of my 5 years old Preschooler