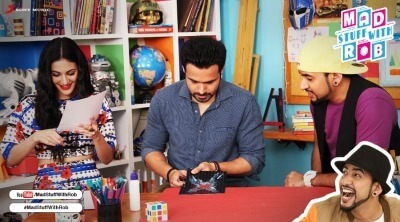 You know that I love doing simple science experiments and fun activities with Aanya without really drilling the science behind it. You remember the cyclone experiment we did some time ago. These are just some fun activities for her to indulge in and what better time than the summer vacation.
So, we recently did this sprinkler experiment that we saw in #MadStuffwithRob youtube channel . Now I had seen the MAD show onTV, but was not aware of their youtube channel. Love it for the fact that now the activities are available round the clock and can be accessed anytime. The show is also entertaining for adults as they keep inviting guests from Bollywood to join in the crafting fun. The latest to join them was Emraan Hashmi to promote his upcoming movie Mr. X
Well, The sprinkler experiment was super simple. Unfortunately, we were so excited that I completely forgot to take some pics. But here is what we did:
Take a plastic bottle and fill it with water almost to the brim.
Close the cap tightly and invert the bottle.
Now take some paper pins and use them to prick holes at the bottom of the bottle.
Invert the bottle right side up and remove the pins one by one and to your child's surprise, no water will come out. That's because the air pressure outside is higher than the air pressure inside which stops the water from coming out.
Next you open the cap and viola the water starts leaking. It is fun to see the kids in splits.
I am planning to do this again with her and my 9 years old nephew who is arriving this weekend for vacations. One of the things that he has made me promise him is to watch #MrX during his stay which is releasing this Friday on the 17th April. Yes, he is a superhero fan who loves his Krishh masks and Spiderman t-shirts and he and his friends are super-excited about this movie.  I sent him this video from Mad Stuff with Rob where Emraan Hashmi and Amyra Dastoor,  the stars of  Mr. X, came and made this cool optical illusion picture with Rob, which can actually disappear. And I hear he is itching to make it with his mother, who herself is an awesome crafter btw and so are we. The stars had fun and did some hands on crafting under Rob's  watchful eyes.
Here is that video. Optical illusion picture by Rob

Next our agenda from this channel are:

1) The toilet roll maracas – very, very easy to do. I am planning to let her do it by herself.

2) super cute pet jar piggy bank which my daughter just adored

 You can check out their channel below to see which one fascinates your little ones the most.

So, do you follow Mad Stuff with Rob channel on youtube. What craft channels do you follow for your kids activities? If you create your own optical illusion picture using the idea in the video, do share it on Facebook and Twitter with #MrX