Continued from: Kid-friendly chilli idli, Vegetable Tehri
Gur/ Jaggery Parantha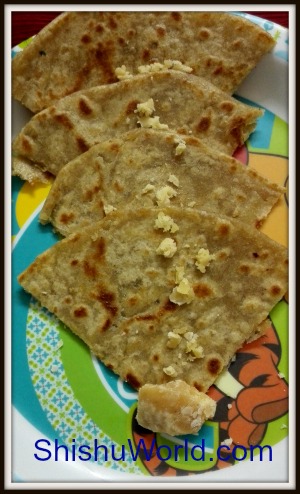 Winters mean craving for comfort food and this recipe is just that. Gur or jaggery is very good for winters and keeps body naturally warm. Ghee and gur have been advised in Ayurveda for their benefits and is very good for children in small quantities.
Ingredients
Wholewheat dough/ Atta
1 tsp grated jaggery/gur (good quality)
1 tsp ghee
Dry flour to dust
Recipe
Roll a golf ball sized ball of dough to about 4 inches diameter.
Spread ghee using a soon.
Pour grated gur in the center and join the sides to make a ball again, just like you do for any other stuffed parantha.
Now roll the parantha using the dry flour, taking care that it does not get torn.
Heat a tawa or skillet and put the parantha to cook.
Once roasted on side, flip and apply ghee.
Roast for about a minute and flip again and apply ghee on other side too.
This parantha is not only delicious but very good for your child too, especially during winter season.