After two months of summer vacation it's time for "back to school routine". Few school already started from first week of June and few will start from second week itself.
Does it feel very exhausting for kids to get back to school after  long summer holidays?
Is it difficult for Parents to catch up with the rhythm and feel nervous to get started again??
Its normal from a kids point of view to get anxious or stressed. Summer Vacation was lots of fun, pool time, water parks, lots of indoor and outdoor activities kept children occupied and happy. Now after the school restarts priorities will change, schedule will change and there will be major change in focus of the children. Parent's need to play a vital role here.
Parents can help kids to sail through this smoothly. Best way is to connect with kid by sitting and talking about school and informing them that school will reopen in few days time. we can  also educate children about the importance of being independent in the process this will help them in school to take care of little things.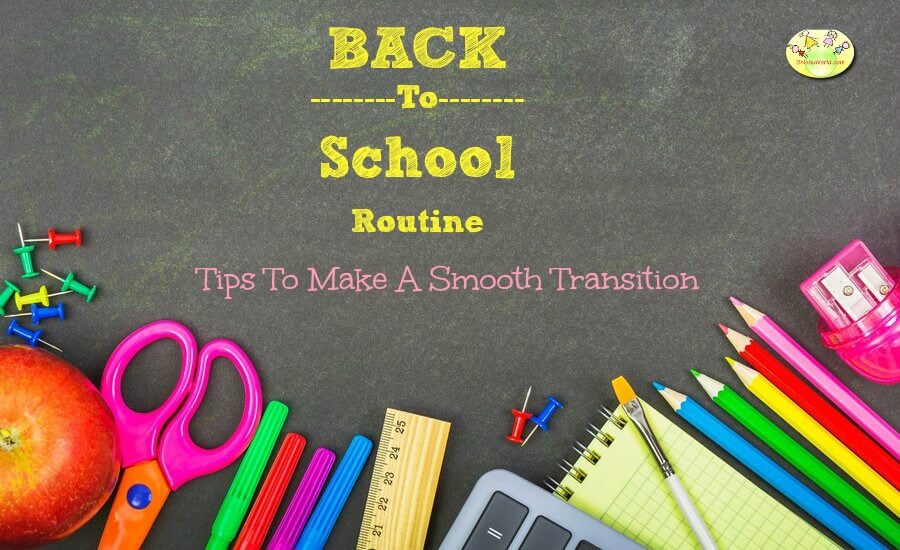 We discuss a few points that can help both kids and Parents to get back to school routine.
Back to School Routine : Reestablish sleep schedule and meal times
Most parents and children go easy on mealtimes and bed times during holidays. Bedtime gets a little later and sleeping in is common. However, this would not do during the school days.
Start the school routine just a week prior by  following the sleeping schedule. It's important to get our child to fall asleep earlier so that they can wake up early in the morning without any fuss.
As parents, it's also necessary to check how much sleep does our child need, accordingly we can make them sleep so that they don't have sleepy and irritable mornings.
The same goes for meal times also, specially dinner time and breakfast times. Gently ease them back into school time routine.
Back to School Routine: Positive communication about school
Positive communication with the child about school can be done to make them prepared for the transition.
After one and a half month of fun, pool time, water plays, it can be frustrating for a child to get back to school routine so we need to talk positive things about school. Encouraging them to go to school happily is very important. Talking about their favorite teacher or friend can make them happy and after returning from school we can reward them with a small smiley or any small gift to keep up their spirits high.
Back to School Routine: Organise and prepare all the items needed before hand
To avoid last minute panic it's good to keep everything organised like books, stationary, water bottle, snack box etc.
Label books, stationary boxes, lunch boxes and water bottle.
Also label uniform items like belts, ties and shoes. Kids often take out these items and then they get mixed up, so labelling helps.
Organising the wardrobe should be done to make mornings smooth.
Back to School Routine:Find out School timings, bus timings etc.
Find out what time the child is supposed to reach school. It is common for schools to change timings by a few minutes at the start of the year. Also, first few days may be half days etc., so keep an eye out for circulars, messages etc.
Attend parent orientation if school is organizing one.
Find out bus timings for your child if s/he is going to take the school bus.
Back to School Routine: Make a Snack box and Lunch box menu for the whole week on the weekend itself
Talk to your child about what snack he want to eat and pack something of his/ her choice.
It helps to make a menu plan for the upcoming week. It saves a lot of time in the morning and also helps in shopping for the right ingredients.
You may try our " School Menu and Recipes Ebook for the whole month" to help plan the menu for whole month.
5 Rice based Lunchbox Recipes
Back to School Routine: Accompany your child to school on the first day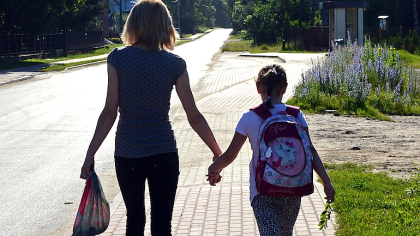 Try to accompany your child to school the day school reopens. He or she might feel much relaxed and motivated with parents around. It may seem a small thing for adults, but having the comforting presence of a parent can help ease the butterflies.
After School Routine
Once the child is back from school, talk more about teachers and what all activities are being done. Try to connect as much as possible so that the child develops self confidence and which makes transition easier. 
Connect with other parents
Try to connect with other parents whose children are in the same class as your kid. This can be very helpful when you need any communication etc. These days, it is common to form Whatsapp groups for parents, so you can join the same for your child's class.
So, wish all parents and children a happy transition. Hope this season will be full of learning and enjoyment.
Recommended:
6 Tips to help child adjust to preschool