Indian Independence Day, Republic Day Craft ideas
Independence day, Republic Day activities chart for kids
Books to read on Indian Independence Day, Republic Day
Independence Day, Republic Day Fancy dress ideas
How to dress up for Indian Independence Day, Republic Day party
Food ideas to celebrate Indian Independence Day/ Republic day
Indian Independence Day/ Republic day colouring pages
India themed crafts
We did this post when it was close to Independence Day and I thought it works perfect for Republic Day as well.
Indian Independence Day is approaching and soon shops, schools, apartments will all be coloured in the colours of Indian tricolour. Flags will be waving everywhere and most schools would have already started preparations for parades and cultural programs.
It is important to teach the children the importance of Independence day/ Republic day, so they do not consider it just another holiday. It is also a great opportunity to teach children about the history and independence struggle of India.
What is Independence day?
If you have young children, it is important to explain the significance of Independence day in the simplest of words.
India's Independence Day is celebrated on 15th August every year to commemorate the end of British empire's rule in India on the 15th of August 1947.
And if you have child like mine who has a why and what and wants a detailed explanation of everything, you might have make up stories and come up with an explanation that is appropriate for their age.
Activities that you can do with kids on Independence Day/ Republic Day
Attend flag hoisting with your little ones
Most schools and apartments have flag hoisting events on the morning of Independence day. So, sacrifice your sleep for that day and attend the event closest to you. The energy is electrifying and no other party or get together can equal the occasion.
Even during the lockdown, schools are conducting some activities online. In these times, we can do these activities with kids to fill that gap.
Independence Day/ Republic Day Coloring pages
Give these colouring pages to children as explain the various symbols of our nation.
Indian Flag, Freedom fighters
National symbols Peacock, Tiger, Mango, Lotus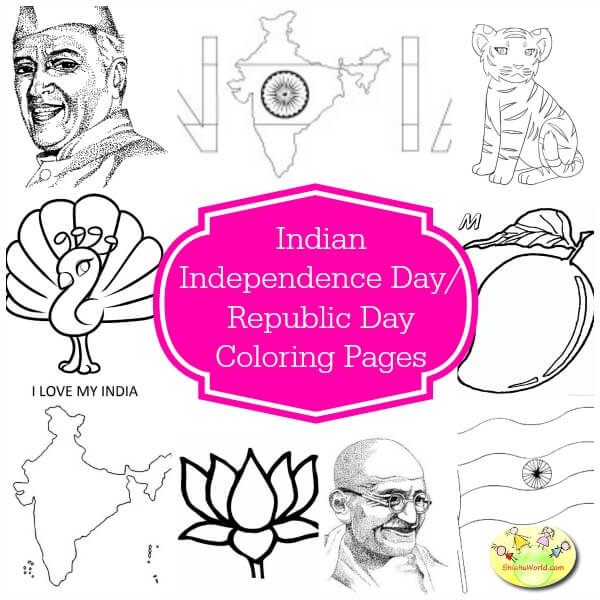 Independence Day/ Republic Day Crafts
Indian Flag Crafts
I and my 5 years old made few simple crafts at home last year & this year.
See in detail how we made these two simple Indian flag crafts.

Independence Day/ Republic Day Rangoli designs
Try these beautiful India-themed rangoli/ alpana/ kolam designs for decorating your home,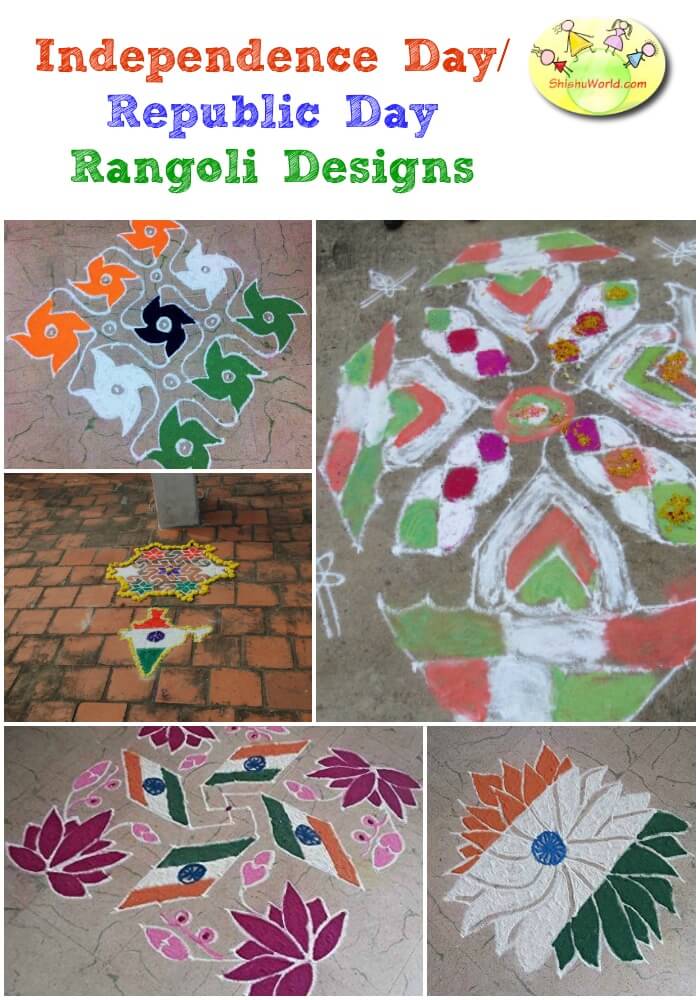 Independence Day/ Republic Day themed Food
If your are having an India themed party, then tricolour food is a no-brainer.
We did a round up of some lovely tricolour food items that you may include in your celebration as well. from sandwiches to dhokla , from cake to biryani choices are endless.
Our readers shared these wonderful ideas of tricolour food.

Do not miss our round up of 10 tricolour food ideas to celebrate Independence day/ Republic day.
10 Tricolour food ideas to celebrate Independence Day/ Republic Day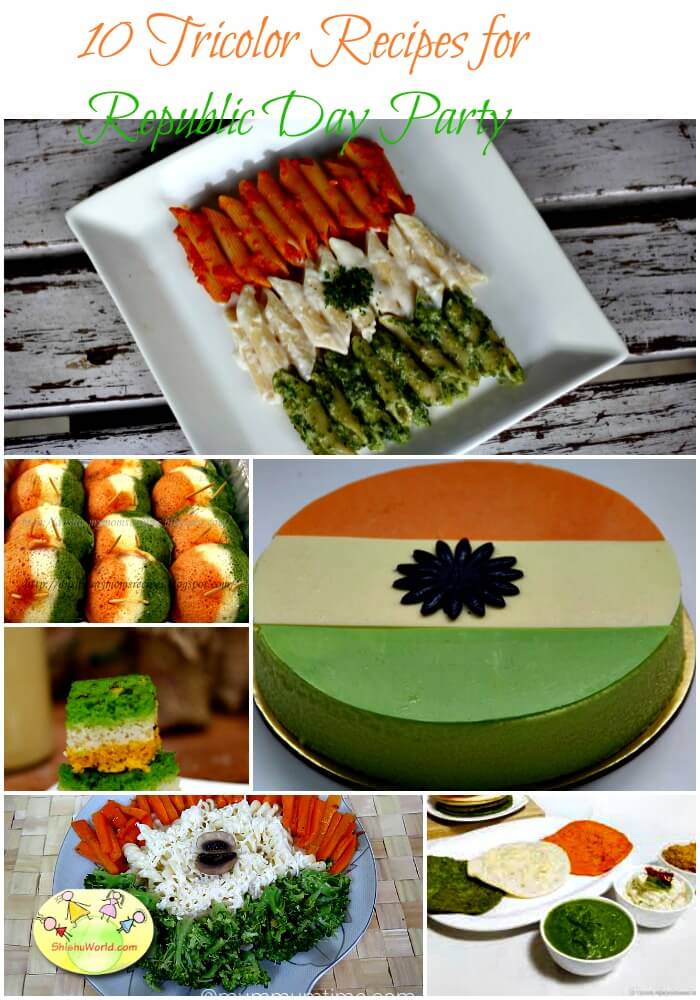 Independence Day/ Republic Day Dress up
Dress your children and yourself up in Indian colors. You may also wear ethnic wear and add tricolor accessories like head bands, scrunchies, bangles and scarves. For men, white kurta payjama is the most popular dress while women can choose from sarees to kurtas in the colors of Indian flag.
Fancy dress ideas for kids on Independence Day/ Republic Day
Most schools ask children to come in fancy dress for Independence Day celebration. You may choose to dress your child up like a freedom fighter. Some of the popular fancy dress ideas for Independence Day are:
Mahatma Gandhi – Dress your child up in plain white dhoti, a pair of spectacles and a stick in hand. You can tell your child to say "Hey Ram" on stage.
Pandit Jawahar lal Nehru – Dress your child up in kurta payjama, a jacket and a cap with a rose in button hole of the jacket.
Bhagat Singh – If you want your child to dress up as Bhagat Singh, then you simply need to dress him/her up in shirt and trousers with a hat. The typical moustache can be made using kajal pencil. The dialogue for this fancy dress can be "inquilab zindabad".
Dr. Bhim Rao Ambedkar – Dress your child in shirt, trousers and blazer along with a neck tie. Also add a pair of spectacles. Teach him/her to do the famous hand gesture on stage.
Netaji Subhash Chandra Bose – Dress your child in a green army uniform along with Netaji styled cap. Your child can mouth slogans like "tum mujhe khoon do, main tumhe azadi dunga", "dilli chill" etc.
Rani Laxmibai – A maharashtrian saree with dupatta to make the headdress is perfect to dress your child as Rani Laxmibai. She can shout slogan " Main apni Jhansi nahi dungi"
Mangal Pandey – Dress your child in long moustache accompanied by a white dhoti and shoulder- length hair along with a tall hat.
Sarojini Naidu – Dress your child up in a simple cotton saree for fancy dress as Sarojini Naidu. She was the first governor of the state of Uttar Pradesh. She was also known as the "Nightingale of India".
Not just school going child, you can also dress up your babies and toddlers to celebrate Independence Day/ Republic Day. A reader shared this lovely picture of her son dressed in Indian tricolour.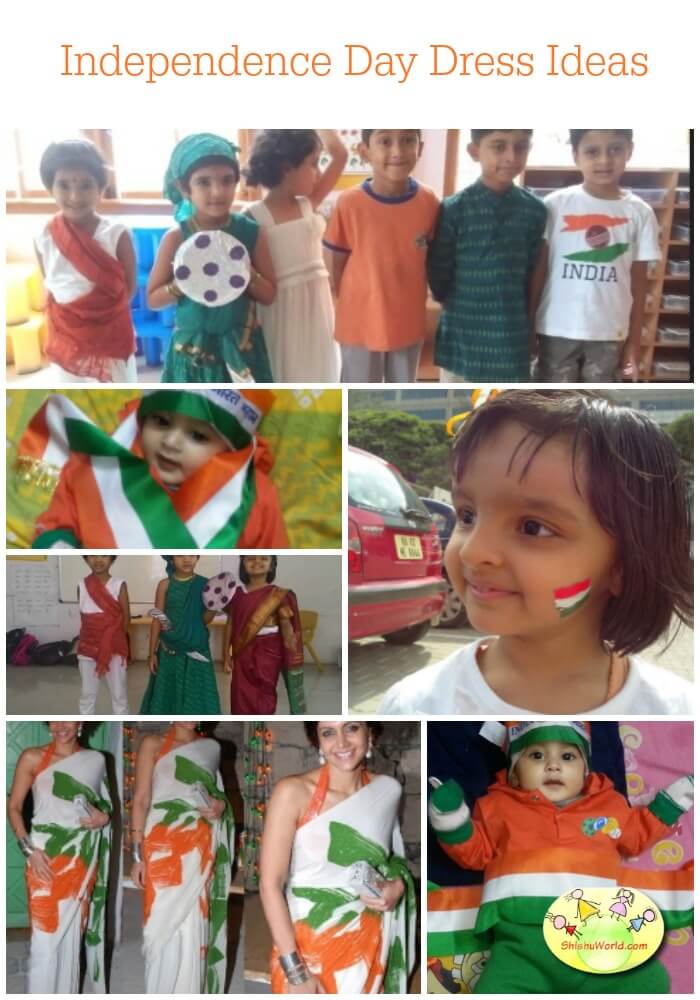 You can buy some tricolour stuff for yourself and your kids here:
Independence Day, Republic Day Jewellery/ Accessories
Your dress will be enhanced manifold with these tricolour jewellery and accessories.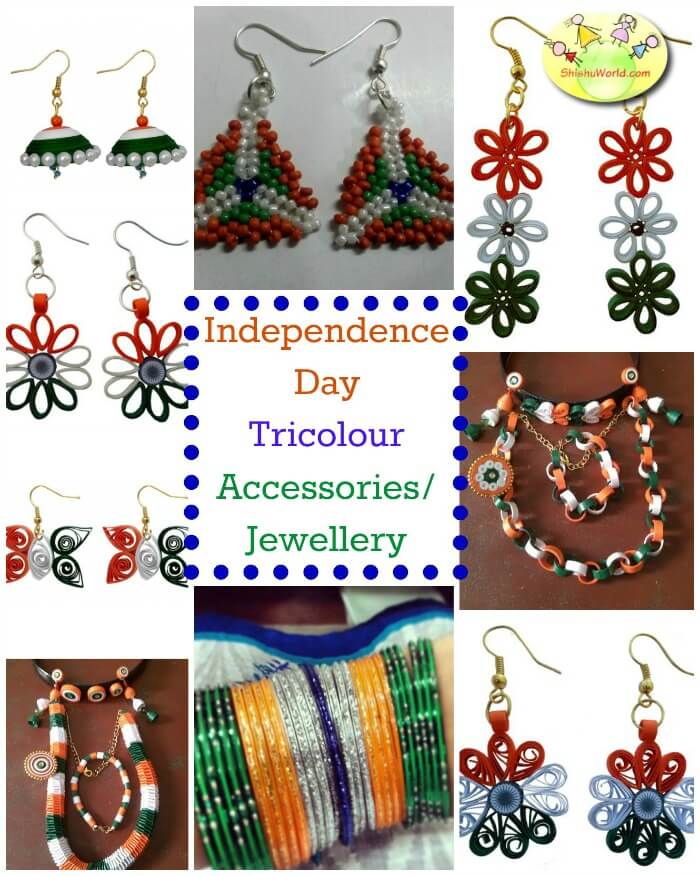 You may also do nail art in saffron, white and green colours.
Complete your Independence day/ Republic day look with these tricolour nail art ideas.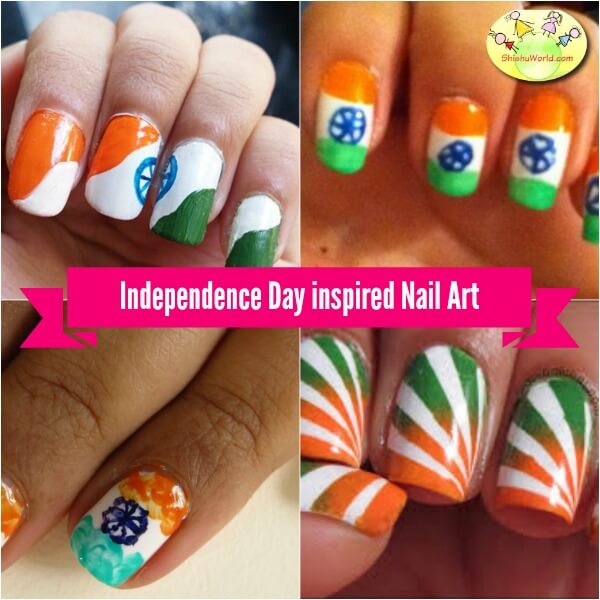 Books to read on Independence Day/ Republic Day
We love books!! You might know that by now and there is no better way to drive paint home than to read an engaging and entertaining book with your kid that talks about history of India and India's freedom struggle.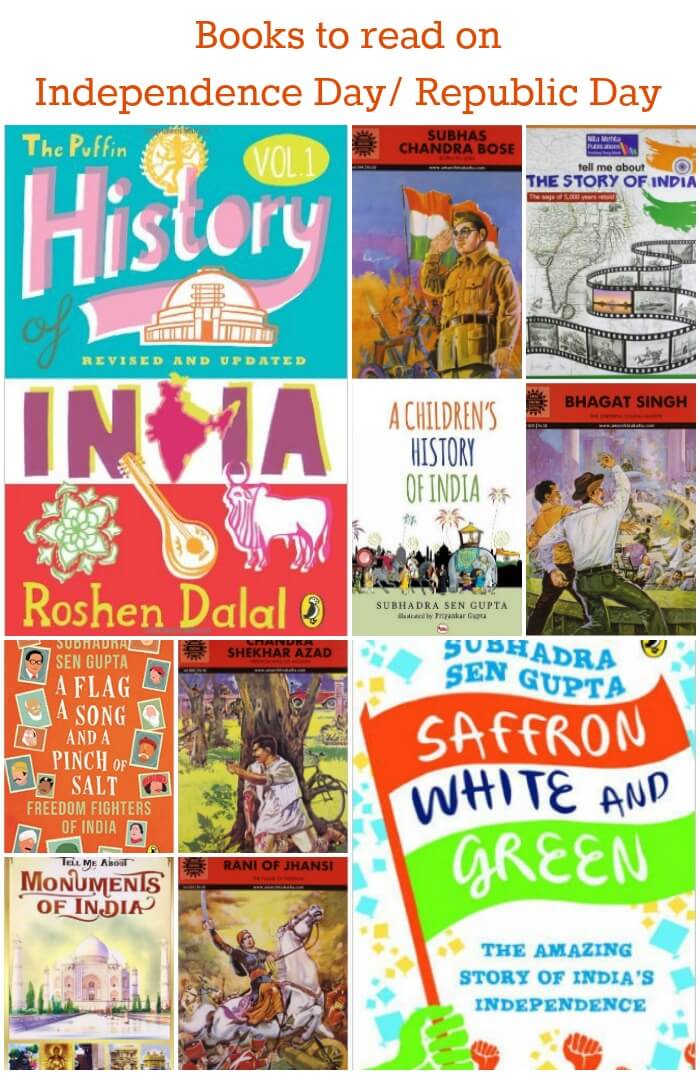 The Puffin History of India by Roshen Dalal
A Children's History of India by Subhadra Sen Gupta
A Flag A Song and A Pinch of Salt: Freedom Fighters of India by Subhadra Sen Gupta
Saffron White and Green: The Amazing Story of India's Independence by Subhadra Sen Gupta
Subhas Chandra Bose (Amar Chitra Katha)
Bhagat Singh (Amar Chitra Katha)
Rani of Jhansi (Amar Chitra Katha)
Chandra Shekhar Azad (Amar Chitra Katha)
Mahatma Gandhi: Special Issue (Amar Chitra Katha)
Tell Me About the Story of India
Tell Me about Monuments of India
Patriotic songs for Independence Day
Play some evergreen patriotic songs on the occasion.
Jhanda ooncha rahe hamara
Hind desh ke niwasi, sabhi jan ek hain
Ye desh hai veer jawano ka
Sarfaroshi ki tamanna ab hamare dil hain
Vande Mataram
Desh mera rangila
Ae mere watan ke logon
Mera rang de basanti chola
Patriotic poems for Independence Day
If your child is dressing up for Independence Day fancy dress, then  you may help her to learn some of these poems.
Independence Day Quiz questions for kids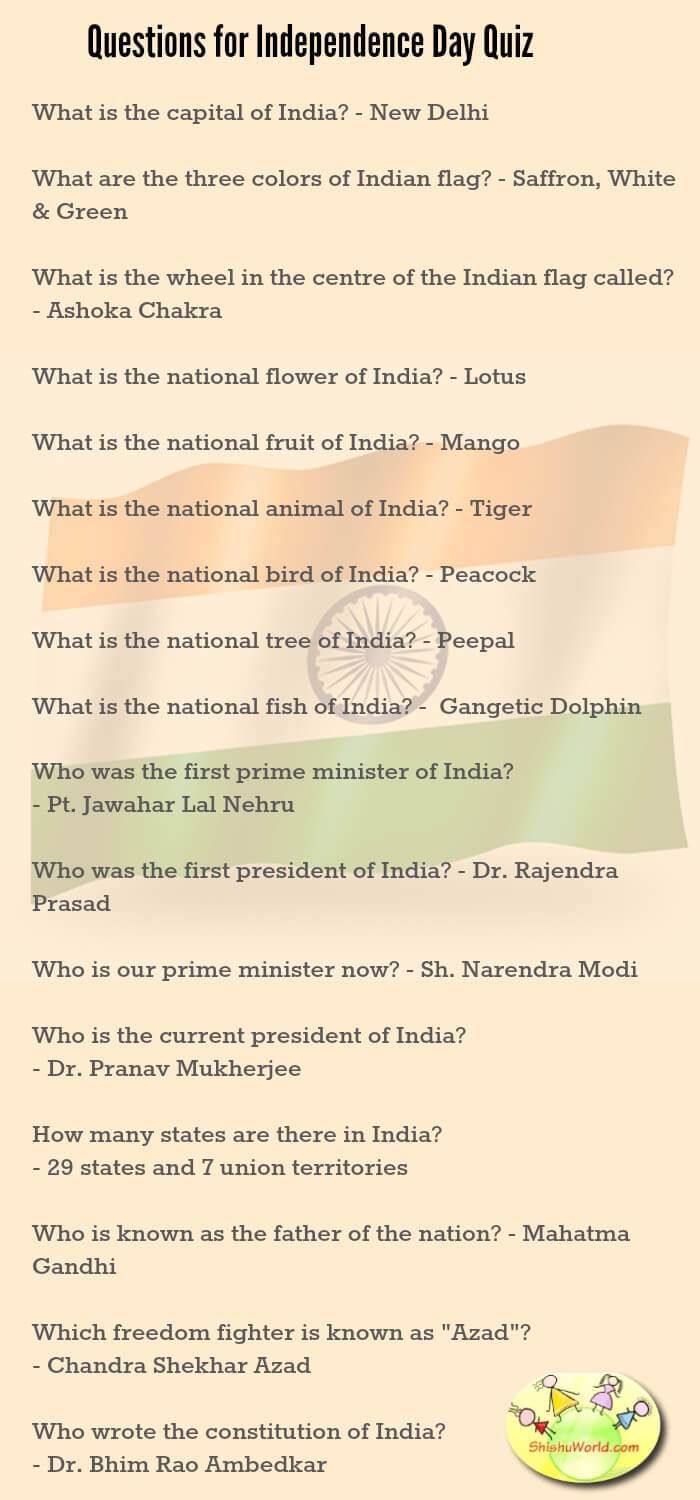 Independence Day quiz questions for pre-schoolers to primary students
What is the capital of India? – New Delhi
What are the three colors of Indian flag? – Saffron, White & Green
What is the wheel in the centre of the Indian flag called? – Ashoka Chakra
What is the national flower of India? – Lotus
What is the national fruit of India? – Mango
What is the national animal of India? – Tiger
What is the national bird of India? – Peacock
What is the national tree of India? – Peepal
What is the national fish of India? –  Gangetic Dolphin
Who was the first prime minister of India? – Pt. Jawahar Lal Nehru
Who was the first president of India? – Dr. Rajendra Prasad
Who is our prime minister now? – Sh. Narendra Modi
How many states are there in India? – 29 states and 7 union territories
Who is known as the father of the nation? – Mahatma Gandhi
Which freedom fighter is known as "Azad"? – Chandra Shekhar Azad
Who wrote the constitution of India – Dr. Bhim Rao Ambedkar
Recommended Read: